Step into the spotlight at the world's largest book fair
From 14-18 October, the entire city of Frankfurt becomes an enthusiastic extension of Frankfurter Buchmesse. The media event of the year attracts thousands of visitors, exhibitors, artists, stars and journalists. One of the most exciting event programmes is BOOKFEST. This international festival of culture takes place in attractive locations throughout the city each evening after the book fair ends. Our motto: BIGGER, BETTER, BOOKFEST.
Celebrate with us and submit your proposals for BOOKFEST events by the end of April. Are you the owner of a cool event location? Then apply now to make your location part of the festivities. Because when it comes to celebrations: the more the merrier.
25

k

visitors from Germany and around the world

60

events

500

k

views on Facebook

55

participating publishers
Here's what BOOKFEST offers
BOOKFEST lets you put your brand centre stage in front of your target audience. Depending on the location, your event can reach anywhere from 40 to 1,850 culturally interested visitors. Large events can be held in the Harmonie Hall at Congress Center Messe Frankfurt.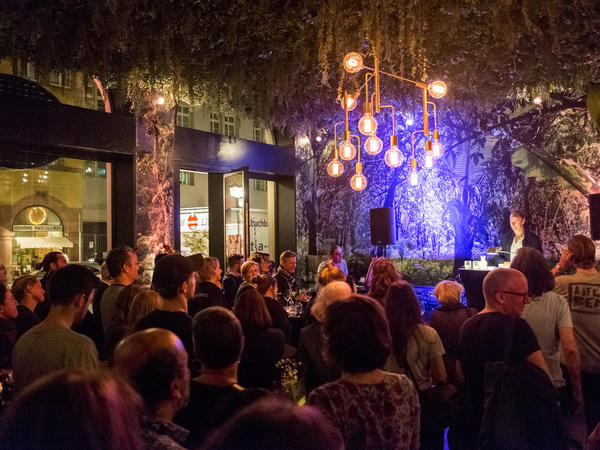 It pays to be there
Support us as a partner, sponsor or location owner. If you want to be part of BOOKFEST, simply write an e-mail to bookfest@book-fair.com
How BOOKFEST generates awareness for you
Flyers & programme booklets

Posters in selected locations

Social media
Press releases
Website
Advertising by media partners

Be there with your idea at BOOKFEST 2020 until 30 April
Call for Participation
You would like to host an event during the Bookfest?
Please submit your event idea via this form (please complete in full).
The Call for Participation for the BOOKFEST 2020 is now open until 30 April 2020.
Please also note the FAQs at the bottom of the submission form.
FAQ: BOOKFEST
What is BOOKFEST? | When is BOOKFEST? | Why a Call for Participation?...
What is BOOKFEST? | When is BOOKFEST? | Why a Call for Participation?...
What is BOOKFEST?
BOOKFEST is Frankfurter Buchmesse's international cultural festival for literature, stories and ideas. For each of the five days of the fair, events take place at various locations, including many popular venues in Frankfurt. Besides offering the perfect stage for authors and ideas during the day, the festival also creates an opportunity for exciting evening events with a unique atmosphere. The types of event can vary wildly, but include bestseller presentations, poetry slams, tastings, concerts, parties, discussion rounds, workshops and many other offerings for an audience of 40 to 1,850. Throughout the city, events are hosted by participating locations. Frankfurter Buchmesse also hosts larger events in the Harmonie Hall of Congress Center Messe Frankfurt. All events are held in cooperation with publishers and other partners.
When does BOOKFEST take place?
BOOKFEST takes place from 14-18 October 2020.
Why is there a Call for Participation?
In 2019, BOOKFEST attracted a total of 25,000 visitors to 60 events at approximately 50 locations. Due to the past success, we have received many requests to participate. To make sure we don't miss out on any great ideas and to give everyone the same opportunity to participate, we decided to initiate a Call for Participation.
Who can submit to the Call for Participation?
Anyone who has an appropriate idea for an event can become part of BOOKFEST.
How does the Call for Participation work?
First, submit the form by 30 April 2020 to propose your idea for a BOOKFEST event. The BOOKFEST programme organisation team will evaluate the proposals to curate a multifaceted, international programme. The goal is to fill about half of the BOOKFEST programme using the ideas submitted.
What are the deadlines?
The BOOKFEST Call for Participation is open from now until 30 April 2020 (23:59 CET). Towards the end of May and early June, the full programme should be complete.
The programme curators will evaluate all suggestions almost immediately after they are received. That means the earlier you submit, the better your chances.
How do I find out whether my idea was accepted?
The BOOKFEST programme should be completed by the end of May or early June 2020, and the first marketing and communications activities will follow soon thereafter. We will make every effort to get back to you and provide a binding response very quickly following the receipt of your proposal. That means you'll hear back from us by the end of May at the latest.
What if I change my proposal or want to cancel?
In such cases, please get in touch with us bookfest@book-fair.com
What happens with proposals submitted after the deadline?
We cannot take any proposals into consideration if they are received after 30 April 2020. The programme is connected with our communications and advertising activities and the deadlines for these measures cannot be delayed.
How many suggestions can I submit?
To avoid an excessive number of proposals, each partner may submit no more than one proposal per location type (city location, Congress Center). If you want to submit additional proposals, please get in touch with us, as we can only make very few exceptions:  bookfest@book-fair.com
What kind of events can I propose?
We are happy to receive out-of-the-ordinary proposals for all genres: Non-Fiction, Self-Help, Literature, Art, Music and more. People of all genders, nationalities and ages are welcome to apply. We pay special attention to ensuring diversity within the programme. Please be sure to plan out your entire event. This could mean that you will have to arrange for a moderator, if needed.
What languages are allowed for the event?
Events can be held in English and/or German. Please also submit your proposal in one of these two languages.
How long can a single event last?
The length of events can vary whether they are held in the Congress Center at the fair or elsewhere in the city. Events in the city usually last around 60 to 90 minutes, but individual events can vary. We recommend starting no earlier than 8.00 pm.
How big is the auditorium in the Congress Center?
Harmonie Hall can be found in Congress Center Messe Frankfurt, right next to the fair. The auditorium contains 1,850 seats.
Equipment: standard event equipment
How large are the locations in the city?
Locations in Frankfurt can vary in size, and can generally host 40 to 500 people. We can help you find the right location depending on your event.
Equipment: standard event equipment (please check with each location).
What happens if my desired location is fully booked?
We are committed to finding the perfect location for your event that best meets your needs. To give your event the attention it deserves, we also have other stages that are available during the day within the fair, which could, if needed, also accommodate your BOOKFEST idea. Please refer to the overview of our stages: https://www.buchmesse.de/en/market/stages
Who can I contact if I have questions?
If you are unsure whether your idea is exciting enough, or you are debating whether it's a good fit, please get in touch with us at bookfest@book-fair.com
What costs can I expect?
The events in the Congress Center are invoiced at cost, but there is no charge for using locations in the city. Frankfurter Buchmesse charges a flat rate of 150 euros for its pre-organisation, handling, placement and advertising services. Frankfurter Buchmesse does not cover expenses such as royalties, travel and accommodation costs for artists, authors, moderators, publisher's employees, etc. Nor can we cover other costs such as tickets for the book fair.
Book table
We are currently looking for a partner for book tables at all BOOKFEST locations, and we will inform you as soon as we have news.
Frankfurter Buchmesse (FBM) services
FBM connects selected locations within the city to an author, artist or publisher. FBM provides a book table for the event and offers publishers advice as needed.
FBM advertises for the event at its own cost as part of the planned BOOKFEST communications and marketing measures. All of these services are included in the €150.– flat service fee.
Services at city locations
The locations are responsible for providing space and equipment for the agreed event at their own cost. Technical requirements are coordinated between the location and partner/publisher. The location acts as the organiser and therefore assumes responsibility for any associated legal requirements.
The location advertises for the event at its own expense using all means available to it (social media, print adverts, website, newsletter, press, etc.).
During the event, the location manages access to it. If tickets are to be sold, the location also manages ticketing.
Services of the publisher or partner
The publisher/partner commits to providing the author or artist for the event and to cover the associated costs.
The publisher/partner advertises for the event at their own expense using all means available to them (social media, print adverts, website, newsletter, press, etc.).
The publisher/partner ensures that the participating author(s) consent to media coverage of the event, whether via TV, radio or online. Furthermore, the partner ensures that the author(s) consent to the possibility of live coverage via any media channel.