Peter Diemer, Sales Manager at Frankfurter Buchmesse gives tips on how you can get the most out of your time at the fair and win new and interesting contacts through sending targeted invitations.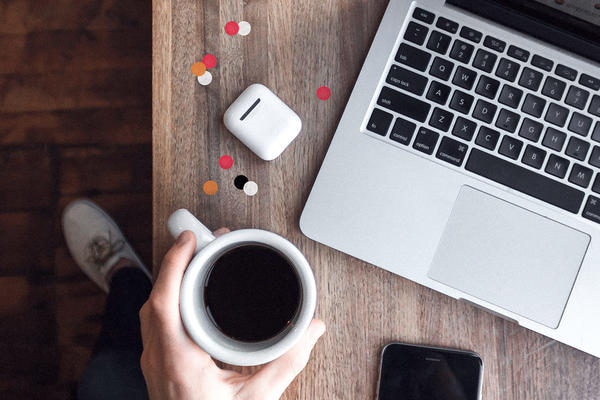 Making a success of your time at Frankfurter Buchmesse depends largely on the people you talk to. It doesn't always have to be sales talks; sometimes it's just about getting to know each other first. After all, success ultimately grows from personal contacts. We give you the tips you need on how to generate effective discussions and on who you should invite.
1. The value of meeting face to face.
Often, we hear, "Do we really need to meet there? Can't we just do it online?" Sure, but when it comes to doing business or successfully landing an interesting project, direct contact is extremely important. Especially in this day and age when everything is becoming more and more digital, meeting face to face can make all the difference when it comes to determining success or failure. Good chemistry is also important if you want to work together – and there's really no better place to test the waters than Frankfurter Buchmesse.
So be sure to make dates in advance. You want to make this exploratory appointment with your business partner as appealing as possible. A beautifully designed or creative, individually tailored invitation helps you stand out.
When people from other industries come to the book fair, I always hear the same thing: wow, it's crazy here.
Peter Diemer Sales Manager Frankfurter Buchmesse
2. It all comes down to a personal invitation.
Do you really need to send out invitations when everyone working in the industry comes to Frankfurter Buchmesse anyway? Short answer: yes. One good example: a small publishing house invited 25 booksellers, although it didn't have to, because the booksellers already had free tickets. But the reception was overwhelmingly positive, and the discussions that ensued valuable. Conclusion: sending invitations makes a good impression.
For you, this means inviting everyone you would like to do business with and those who are on your radar but with whom you haven't crossed paths directly. For example, that promising self-publishing author you recently heard about. Send an invitation and strengthen your relationship. Even Sebastian Fitzek started out as a self-publisher before he became a star author.
And who is going to invite all those book fans from Instagram? You don't necessarily have to invite a famous influencer with thousands of followers. But there are many smaller influencers on Instagram, or bloggers who have an audience in your subject area and are looking forward to an invitation. For example, the Bookstagram group consists of several hundred Instagrammers who love books and like to post photos on Instagram. Why don't you invite them? Especially for those with smaller budgets, this can be a good way to get more publicity.
3. How do I even find new contacts?
Search for colleagues and interesting new contacts on digital portals such as XING, LinkedIn or Facebook. You can find them there by doing a normal search – or you can also join relevant groups and start networking in advance. This is one way of checking out whether it makes sense to work together.
Naturally, you can also invite people you have met at other fairs – even if they are contacts from outside the book world.
Plus, Frankfurter Buchmesse will be publishing its Exhibitor Catalogue online beginning in the summer. Here you can see, for example, which Italian comic book publishers will be there, or which promising crime novel publishers from Norway, or which publishers offer digital children's books. It's definitely worth taking a look, because many contacts can already be made here.
Particularly important to remember when you invite people who have nothing to do with the book industry: expect some negative preconceptions about a "book fair". For example, a publishing house that invites a game developer to whom it wants to sell its content, might first hear, "Oh, books are so 19th century."
People from other sectors often don't know how modern, digital and progressive Frankfurter Buchmesse is. Everyone will have an opinion of course, but they should simply see it with their own eyes, so make them curious.
Point out the diverse programme of events, the range of exhibitors from all sectors and challenge them to broaden their own horizons. Ultimately, Frankfurter Buchmesse showcases state-of-the-art storytelling across all media. And that's bound to be interesting for nearly everyone.
Once you experience the vibrating atmosphere of Frankfurter Buchmesse live, you usually dive right in.
Peter Diemer Sales Manager Frankfurter Buchmesse
4. First and foremost – plan appointments in advance.
A day at Frankfurter Buchmesse has one big catch: it's only 24 hours. This means that the time slots allocated to you, your business partners and competitors are limited. It's a bit like musical chairs, whoever comes last doesn't get a chair. I don't want to stir up a panic, but just to prepare people for the necessity for early planning and preparation of appointments.
By early, I mean, you should have your meetings planned by the summer, which means in the coming weeks. This is when most appointments are made, and when book fair calendars get filled up. Remember, most major publishers have an absolutely full schedule that is planned in detail, down to the half hour. There's no room for improvisation or spontaneity – at most in the evening after the fair, when you meet again at the hotel bar. But that's a whole other topic!
Sending an invitation pays off.
Take advantage of the invitation to make new contacts and to discover new business opportunities.