CONTEC México November 2021 CDMX
CONTEC México: Sharing Innovation
The Frankfurter Buchmesse is the place where the key players of the content industry gather to share trends, developments and experiences.
One of the aims of the Frankfurter Buchmesse is to strengthen and consolidate the international book market through seminars, workshops and conferences, bringing the "Frankfurt Experience" to other parts of the world.
CONTEC is a trade mark of the Frankfurter Buchmesse that pursues to create a space for reflection on the challenges and opportunities in the content industry.
It is a meeting point for professionals from publishing as well as cultural and creative industries, a space for exchanging experiences and generating synergies among the players and a hub for exploring new business opportunities.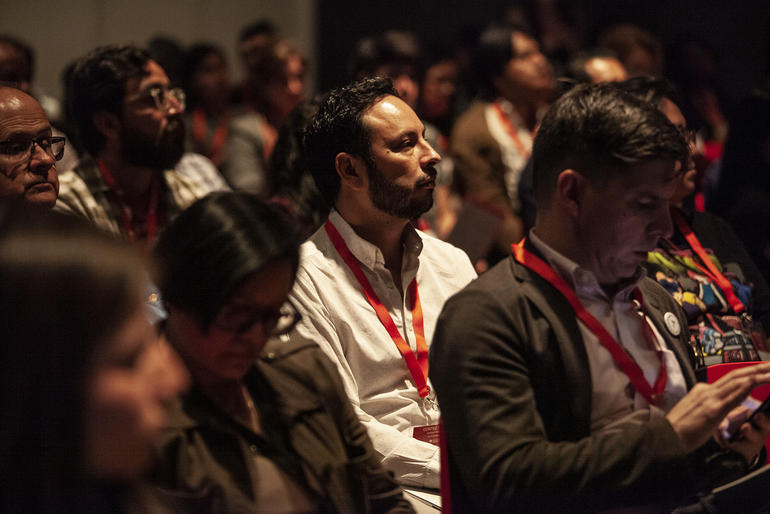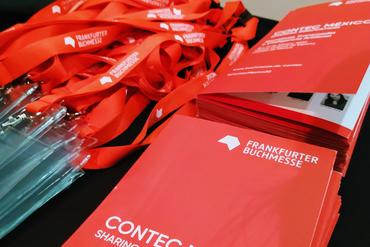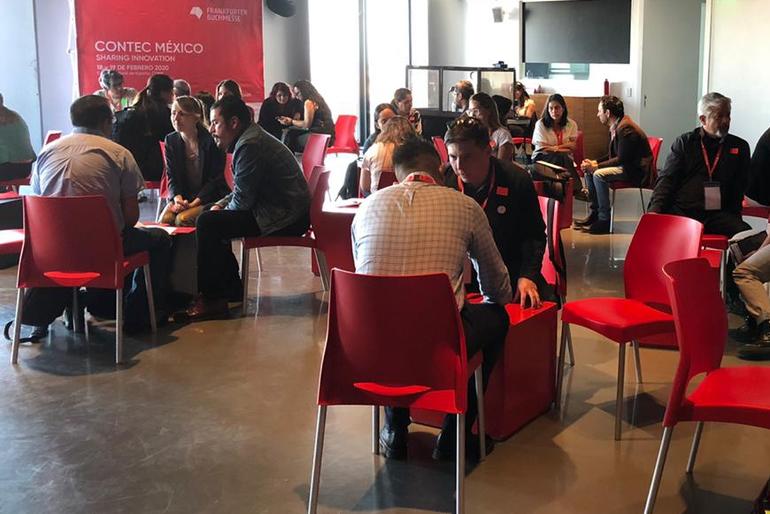 CONTEC México: Sharing Innovation
The Frankfurter Buchmesse is the place where the key players of the content industry gather to share trends, developments and experiences.
One of the aims of the Frankfurter Buchmesse is to strengthen and consolidate the international book market through seminars, workshops and conferences, bringing the "Frankfurt Experience" to other parts of the world.
CONTEC is a trade mark of the Frankfurter Buchmesse that pursues to create a space for reflection on the challenges and opportunities in the content industry.
It is a meeting point for professionals from publishing as well as cultural and creative industries, a space for exchanging experiences and generating synergies among the players and a hub for exploring new business opportunities.
La construcción de un proyecto transmedia cautiva al lector utilizando diferentes plataformas, soportes, formatos y dispositivos a través de su entrada en acción en procesos interactivos.
Belén Santa-Olalla
Las historias que ya han pasado por el filtro editorial son las que más visos tienen de funcionar en otros formatos, adquiriendo nuevas vidas que causarán un mayor retorno económico.
Belén Santa-Olalla, Rodrigo de la Calva, Ana Luiza Beraba, Yael Weiss
Creadores atrevidos, capaces de apelar a nuevos públicos recurren al transmedia como forma de forjar una experiencia compartida y la interlocución con el público.
Rodrigo de la Calva, Rocío Cerón y Gina Jaramillo
Las herramientas y plataformas siempre se eligirán en función de la historia, convirtiéndonos en narradores totales de contenidos líquidos.
Roger Casas-Alatriste
Pasar del libro a la pantalla no es un proceso simple que, sin embargo, los editores deberían intentar probar y convertirse así en guías en un mar de historias para los productores.
Quetzalli de la Concha
Gracias a la posibilidad de dirigirse directamente a los expertos nacionales e internacionales, el público profesional pudo plantear dudas concretas.
Belén Santa-Olalla, Rodrigo de la Calva, Roger Casas-Alatriste, Ana Luiza Beraba, Rocío Cerón
La inteligencia artificial permite conocer mejor el contenido, al usuario individual y también sus similitudes, las interacciones usuarios y entre estos y el contenido.
Andrew Baev
La irrupción de la tecnología nos invita a repensar nuestro lugar en el mundo, pero esta siempre debe estar al servicio de los humanos, sin dejarnos doblegar por ella.
Mónica Nepote, Juan M. Zafra, Arcangelo Constantini, Nidia Chávez
La inteligencia artificial puede ser un herramienta eficaz en muchas tareas que no sustituye el valor infalible de la creatividad humana sino que la refuerza.
Colin Lovrinovic
La industria editorial necesita generar, organizar y compartir información para fomentar un mejor diálogo entre actores y agilizar la cadena del libro en beneficio del propio ecosistema.
Marianela Camacho, Rodrigo López. Tomás Granados, Carlos Rojas, Alejandro Ramírez
Funcionando como una red social, se trata de unir a aquellos que buscan historias con los que las ofrecen, acortando los tiempos de selección y negociación.
Ana Luiza Beraba, Diana Narváez
A través de la información generada por los hábitos de consumo de usuarios se pueden generar recomendaciones y estudios de mercado acerca de productos audiovisuales.
René Rosado
Este encuentro entre productores de audiovisual y editores mexicanos facilitó el acercamiento entre ambos de cara a posibles colaboraciones en el futuro.
 

18 February 2020

10:00

Registration

10:45

Welcome

Miguel Utray, Centro de Cultura de España en México, Mexico

Marifé Boix García, Frankfurter Buchmesse, Germany

11:00

Keynote: The use of immersive Storytelling for attracting the audience

For introducing the star HBO series, Game of Thrones, to its subscribers, Canal+ went for transmedia narrative. The result was a real success. Under the motto "if you live it, it is true" a parallel multimedia universe was created and coordinated among others by Belen Santa-Olalla, an international expert in transmedia storytelling. The core motif of the campaign was the claim 19 Reinos, that contained social media profiles, real events, competitions, a fan site, a mobile app and a web series in which Edwyck had the charge of training the "warriors". As a result of this, 19reinos.com, received more than 11,000 views every week and 5,000 people played on this platform.

Belén Santa-Olalla, Transmedia Storyteller Ltd., Spain

11:30

Round Table: The impact of transmedia narratives on cultural industries

Each way to tell stories is a possibility to reach new audiences, whether it is through new mise-en-scène's and productions or new strategies on social media. Which business models are latent in the transmedia universe? What are the difficulties and working methods when coordinating and adapting a book-based content? What are the criteria for deciding which written content can work in audiovisual and the other way around? Why do producers see in adaptations a lower risk for their business?

Belén Santa-Olalla, Transmedia Storyteller Ltd., Spain

Rodrigo de la Calva, Stroke114, Spain

Ana Luiza Beraba, Film2b/WePlot, Brazil

Moderation: Yael Weiss, Revista de la Universidad, Mexico

12:30

Coffee Break

13:00

Diálogo: A new grammar: the contribution of audience and actors to creating new stories

In traditional theatre plays, writers create characters that are brought to life by actors on the stage. Actors replicate what others created. In Transmedia creation borders are not that precise. In this kind of experience, the actor emerges from an existing text but the interaction with the audience and its grade of intervention can change the course of the plot. The actor plays an even more important role, as he is now co-writers and co-creator of the character. Under this model, creation is conceived as a cooperation so not only writers create characters but actors and the audience do contribute too.

Rodrigo de la Calva, Stroke114, Spain

Rocío Cerón, Visual poet, Mexico

Moderación: Gina Jaramillo, Ibero 909FM, Mexico

14:00

Keynote: Transmedia narrative as innovation in marketing and business

Presentation of transmedia project allows many opportunities for marketing and business. As an approach, it offers new business partner windows, which are making as an obligation for the editors and producers to learn and to get in contact with other disciplines and sectors.

Roger Casas-Alatriste, El Cañonazo Transmedia, Spain

14:30

Lunch

16:00

Seminar/Workshop: Audiovisual rights

In cooperation with CEMPRO

Many writers dream that their book will become a movie, but to get content from the book to the screen is not a simple process.

What is an adaptation option? How much is paid for rights for a film adaptation? What are the most important elements of a contract? Who negotiates and who receives the money: the author, the agent the publisher? Does the author control the content of the movie?

Upon registration

Quetzalli de la Concha, CEMPRO, Mexico

Conversations: Meet the Experts

Belén Santa-Olalla, Transmedia Storyteller Ltd., Spain

Rodrigo de la Calva, Stroke114, Spain

Roger Casas-Alatriste, El Cañonazo Transmedia, Spain

Rocío Cerón, Visual poet, Mexico
 

19 February 2020

10:00
Registration
10:30

Keynote: The human factor of machine learning

How to offer readers relevant and quality recommendations?How to follow reading trends or even encourage them to have an impact on readers? Can artificial intelligence be an ally to reach the reader as an individual and as a group? Nowadays it is possible to design customized algorithms that learn from each user's navigation and that even take into account the recommendations of opinion leaders. Artificial intelligence is a powerful tool for an editorial team when taking the curatorial work to new levels so readers are able to find the books they are interested in, and users can take advantage of synergies where the human aspect combines with machine learning.

Andrew Baev, Bookmate, UK

11:00

Round Table: Application and use of AI in humanities

The collaboration of the human with the machine has given rise to a new type of creator. Machines give the possibility of expanding artistic practices and therefore generate other emphasis on thought and analysis. These technologies offer speed, connectivity, hypermediality and transmediality. Robotization free us of repetitive labour. Specially A.I. offers humanity the opportunity to develop more creative aspects, although it can be an entrance to the whole registry of our data in a dystopian way.

Mónica Nepote, Programa e-Literatura, Centro de Cultura Digital, Mexico

Juan M. Zafra, Telos, Spain

Arcangelo Constantini, Transdisciplinary Artist, Mexico

Moderation: Nidia María Chávez Montiel, Fundación Telefónica, Mexico

12:00

Coffee Break

12:30

Keynote: Deep waters of knowledge: Artificial Intelligence

How the AI is transforming the publishing industry as we know it. A quick look at the current state of AI and its future implications for the publishing sector. One of the central topics of this year's events is the performance of AI in the integration of media and how the impact on media industries advances. Colin Lovrinovic, general director of Gould Finch GmbH, will present the results of a global survey on AI applied to publishing conducted by Frankfurter Buchmesse and Gould Finch.

Colin Lovrinovic, Gould Finch, Germany

13:00

Round Table: The era of intelligent data for business in the book industry

Being discovered is the key for success in the publishing market. High-quality metadata is the basis for making books visible. With an optimal metadata management, publishers have a very powerful tool to promote and sell their titles and booksellers can look into any information they need for making decisions that boost their sales.

Marianela Camacho-Alfaro, Editorial Costa Rica, Costa Rica

Rodrigo López Ramírez, Librerías El Sótano, Mexico

Tomás Granados, Editorial Grano de Sal, Mexico

Carlos Rojas Urrutia, MVB Latin America, Mexico/Germany

Moderation: Alejandro Ramírez, CANIEM, Mexico

14:00

Lunch

15:30

Keynote/Presentation: WePlot - Matchmaking: author + format + channel

Why is a matchmaking-focused company created and what is its business model?

Ana Luiza Beraba, Film2b/WePlot, Brazil

16:15

Keynote: The journey of publishing content towards the audiovisual world

Parrot Analytics supports creators to catch, process and analyse millions of daily data related to consumption habits and interests, generated by thousands of TV Programs in many countries. Making use of Artificial Intelligence, the Parrot Analytics team observes and extracts consumers interest and trend patterns with the aim of generating insights that serve as raw material in the creation process for the next hits. In this keynote, the content genome of thousands of TV programs will be explored with the goal of identifying key success factors for the audiovisual industry.

René Rosado, Parrot Analytics, USA/Mexico

17:00

Matchmaking: B2B meetings between publishers/agents and producers

Presented by: Roger Casas-Alatriste, El Cañonazo Transmedia, Spain

In cooperation with Canacine

Upon registration

Conversations: Meet the experts

Colin Lovrinovic, Gould Finch, Germany

Andrew Baev, Bookmate, UK

Rodrigo López Ramírez, Librerías El Sótano, Mexico

Carlos Rojas Urrutia, MVB América Latina, Mexico/Germany

19:00
Closing
Articles and interviews
Rodrigo de la Calva, turning the audience into a further element
Rodrigo de la Calva, born in Madrid in 1973, is the creative director of Stroke114 a theatre company based in Madrid and Malaga which specializes in interactive pieces and experiencial theatre. One of the most notable creations is The process, by Kafka. 
Another experience piece was likewise created out of a book: "Rethropy" by Zygmunt Baumann, which took the name of Retrotopía o cómo morir de nuevo, a piece constructed through the application of design thinking to the scenic creation and the integration of binaural sound.
Moreover, Rodrigo has been since 2019 responsible of the executive production at Factoría Echegaray, the creative incubator of  Malaga. He is a member of the commission for selection of projects.
He was part of the jury at the Bogotá Web Festival, in the category documentaries for piece and reconciliation. As an actor he is the sole performer in MACHO: Crónicas de identidad perdida,  a piece of devising theatre on the construction of male identity.
What is immersive theater and how did your passion for it arise?
Immersive theater is the evolution of a new approach that originated in the more conventional theater, which seeks the total immersion of the audience. It tries to overcome the distance of the Italian or conventional theater approach breaking with all theatre structures such as the outlook, dramatics, spaces and interpretation.  The spectator can enter an immersive experience, a real 360-experience where he or she feels like the main character and so the story gains in plausibility, and the audience can receive auditive and other sensorial stimuli. The audience is able to touch and change the story, to feel as an additional character. My passion for it comes from my very evolution as creator, I had the intention and the need to reach the audience and overcome that distance. I want the audience to be part of what we are trying to convey to it.  
What are the transmedia elements used in your projects and why those?
I use everything within my reach and everything that comes to my mind because each element seems applicable to me. We have used Tinder for characters to relate, Wallapop for selling items, Airbnb, E-mails, SMS, phone calls for all the spectators coming to the theatre play. We have also conducted actions on the street, handing over notices to possible spectators as if there were legal notifications so they had to come to see our own trial, which was The Process by Kafka where Josef K. is being judged. We did it, so the audience itself was divided into defendants and judges. We have created exhibitions with materials of Josef K, the main character of the play, that were done by other artists contributed their vision too. They were poets, illustrators, painters, anyone that could give a new turn to this universe we were creating. We have also used a web exclusively for The Process. We sent packages by airmail to the most influential judges and we are always willing to try new things. Anything can be used, from Instagram to handing over entrance tickets to people who bought them.
How does the use of transmedia language change the traditional language?
A conventional theatre approach has always a predominant lineal structure. It is aimed at a third element watching it from the outside. It is necessary to transform that element, the audience, from being a mere spectator as in traditional theatre, to become part of the show. It should be included by this grammar and language which has to be closer to him, and more real. We have considered this in the rehearsals of The Process. We included this element into our staging because we were going to need it. The spectator should experience the play in a different way, he or she should be on the stage too, before and after the show so his or her view and feelings can change the story. We have to be on the lookout for the spectator, so we can integrate him or her into our play, by modifying and integrating in a real way, as much as possible, for this proposal to really touch this individual, this spectator who comes to our play eager to participate. There are many situations that arise during the experience and the exhibiting that cannot be foreseen. There will always be unforeseeable situations, and this is what specially calls my attention. This is what makes theatre thoroughly immersive. From the viewpoint of creators, it is interesting to be open to integrate what each person experiences in his or her own way. This is very enriching and original, particularly if our staging allows almost everything. All walls of theatre have fallen down at that very moment, only the bared skin and the people perdure. It is very exciting.
What other examples of transmedia or immersive theatre do you know?
There are many examples. Although it is still a niche discipline, it blossoms every day and there is an increasing range of pieces. One international reference company called PunchDrunk has several productions on 4-floor-buildings with incredible resources. They are authentic experts at this kind of approaches. One of their works is Sleep no more, which I have recently seen in New York. In Málaga, a piece called "La vida es sueño 2.0" is being currently performed. The classical work is turned upside down with a very interesting proposal: the audience can drink and eat available food, they can play videogames with the main characters, etc.
Marianela Camacho, the strategic position of the Costa Rican book market
Marianela Camacho is a philologist, linguist and editor. Since 2015 she collaborates in the Advisory Board of the Costa Rican College of the Ministry of Culture and Youth. She has worked independently as an editor and proofreader, also as an editor in academic journals. Since 2007 she has been the head of editorial production at Editorial Costa Rica, and she has published more than 350 works; coordinating among others the development of new collections and promoting digital publications.
The most important Costa Rican institutions in terms of reading and book promotion are represented at the Board of Directors of Editorial Costa Rica. Are there efforts or projects in Costa Rica to integrate new digital tools to the local publishing industry?
Editorial Costa Rica, due to its legal nature (it is a public company, subsidized by the state, but competing in the publishing market with other state and university presses as well as private and independent publishers), has a board formed by the Ministry of Culture and Youth, the Ministry of Public Education, the University of Costa Rica and the National University. Nevertheless, coordination among all those organizations is rather conducted in communication activities (dissemination of events), or coordination of specific projects for reading promotion.
Two initiatives should be specially outlined:
- Last December, the ISBN agency (affiliated to the National Library, both of them financed by the Ministry of Culture and Youth) together with CERLALC, launched a new platform that integrates the international standard THEMA into ISBN requests. This a big step forward, since the thematic classification used previously for books was the Dewey system (a librarian classification).
-Currently, the legislative power has being promoting a bill, that seeks to strengthen the publishing industry. It mainly aims at generating public policies in the fields of book and reading promotion, and providing financial benefits to all parts of the book value chain – from creators to readers. This will surely include the possibility of investing in initiatives for the development of digital tools that might have a positive impact on the local publishing industry.
Has Editorial Costa Rica recently implemented any digital tools for improving the sales, distribution and commercialization processes?
Yes. As a result of a project focused on e-book publications initiated in October 2013, Editorial Costa Rica invested in a digital content distribution platform, associated with our website and a basic metadata XML system for e-books and audiobooks based on the ONIX standard. Nowadays, more investments are planned so this system can be updated with the latest ONIX version, strengthening the classification diagrams (extending the quantity of titles) and extending the use of the commercial catalogue of print books.
In the Mexican case, publishers are not fully aware of the new possibilities that the digital era offers to the industry. Nevertheless, they have been forced to take this unavoidable step to integrate these tools in their daily work. At which stage of this unavoidable process Costa Rican publishers are in your opinion?
From what I have read about the Mexican publishing industry, I would say it is some steps ahead of the Costa Rican industry: in Costa Rica efforts for integrating digital tools or improving editing, commercialization or distribution process of print and digital books are still incipient. Efforts are made individually by each publisher according to their financial resources. In this regard there are no national projects, public policies or plans driven by publishers, distributors or booksellers' associations.
The Mexican publishing industry is the largest or second largest in the region. It faces its own problems but tries to be more competitive. Does Costa Rica monitor best cases or processes coming from Mexico that might be applied in the local industry?
Yes, we are interested in how CANIEM has been investing from 2014 onwards financial and human resources in the development of reports consisting of indicators and statistic data of the industry regarding production and consumption. This is essential for decision-making. CANIEM focuses as well on offering professional training in certain sensitive areas of the publishing industry.
These are two areas of expertise that should be implemented in the local publishing industry with continuous programs that enable on the one side to gain a better knowledge of the local market and on the other side to meet the needs of the market through better publishing approaches.
What is your assessment of the Costa Rican publishing industry in comparison with other industries in the region?
Regarding its size, it is one of the smallest markets in the region due to the low population (approximately 5 million inhabitants for the internal market). It has a strategic position in geographic terms though that would enable to extend its market, making an appropriate use of the different technological tools (POD, development of digital content for multichannel distribution, etc.)
Fostering appropriate public policies and well-structured trade efforts would strengthen the industry, making the most of the conditions the country has: a reasonable reading rate (50% of the population), high index of educational investments compared with other countries of the region, a stable political and social development context due to its long-lasting democracy.
What are the biggest challenges the Costa Rican book market faces for being competitive in the international market?
In my opinion,  the Costa Rican publishing industry should focus on three essential areas: quality and variety of contents published – this includes conceiving them for new markets- , quality of publishing products or books themselves (extending the variety of materials used that might include competitive advantages such as environmental quality certifications), and, finally, reducing production costs using technological solutions to break the current access barriers.
Ana Luiza Beraba, the growth potential of books as audiovisual product
In 2010 Ana Luiza founded FILM2B, the first Brazilian agency focused on content research and licensing for audiovisual. In 2012 she partnered with the lawyer Eduardo Senna, gaining legal autonomy and becoming the audiovisual branch of the Agência Riff, the main literary agency in Brazil. Together, they licensed over 60 titles for the main channels and film production companies of Brazil. In 2015, they partnered with the producer Kiki Lavigne, establishing the first Creative Hub for the Development of Audiovisual Projects. With this project they have five projects in stage of development and one on demand by Fox/Warner Local Productions Brazil. In 2018 she met Diana Narváez and together they decided to launch WePlot
You have worked in one of the biggest publishers in Brazil. How has this experience benefited your current projects?
I joined the marketing team of Grupo Editorial Record after 10 years in the audiovisual industry. I quickly realised about the similarities between those two markets and the lacking of communication between them. This was a key factor when I entered the content industry.
Tell us about the challenges your work at Film2b faced, the first Brazilian company that breaks the gap between the publishing and the audiovisual market.
Each year, 50 times more books are published than films. We already know that the most sucessful films are adaptions of previous works (whether literary, research or film). Surveying powerful stories that might overcome this gap is without a doubt a big challenge.
What are the challeneges and opportunities you recognise in the book and audiovisual markets in Latin America so new business models that offer a link between traditional content and cinema and tv platforms can be leveraged? 
There are not many literary adaptations in Latin America. However, if we look at the blockbusters, we find a high number of adaptations. This a market with a huge growth potential due to the quality of local stories and the growing international interest in content coming from our continent. Everyone wins: book and audiovisual professionals.
How can cinema and TV survive with the streaming platforms?
I don't see a conflict, but rather opportunities if you take the sector as a whole, where I would also include virtual reality, which is still emerging, but has a big growth potential. The market is changing, but talents move from formats and screens. What the industry seeks are good stories. And Latin America has plenty of them. They just need to be arranged.
Quetzalli de la Concha, audiovisual rights to avoid non-authorised use of works
Quetzalli de la Concha is member of the National Board of Lawyers and President of the Mexican Center for the Protection and Promotion of Copyright (CeMPro). She is graduated in law, and specialised in Copyright by the Autonomous University of Mexico. She completed her Master´s in Copyright at the Latin America University in Buenos Aires.
She is currently consultant at Editorial Clío and Letras Libres, and she has a specialised bureau on Copyright and Intellectual Property. She is legal and copyright manager at Penguin Random House Grupo Editorial.
¿Could you give us more information about the work done by CeMPro?
 Our aim at CeMPro consists in generating legal access for partial use of literary works through licenses. Following should be considered:
·       Licenses for using content in digital format are a modern tool teachers use for enriching their courses.
·       Licenses for partial use through reprographies or digital texts provide an opportunity to diversify the bibliography used in courses.
·       CeMPro is an excellent way to generate agreements regarding content exchange with other educational institutions or publishers.
·       CeMPro promotes licensing for the use of content in print and digital anthologies.
·       CeMPro promotes culture of legality and respect for copyright through three principles: accessibility, enrichment of contents and legality.
  ¿What are the particularities of the Mexican CeMPro?
CeMPro is a collecting society that represents writers and publishers from whole Mexico. We think that culture must be accessible to everyone and this can only be achieved respecting copyright. We are aware that a Mexico of readers is Mexico with a bright future. But we also know that without copyright and intellectual property rights, we would face a deterioration in every aspect of culture, knowledge and intellectuality.
 In which aspects is your work important when defending copyright? Which specific actions do you  take against piracy?
On the one side, CeMPro carries out promotion activities concerning copyright such as awareness campaigns for the final consumer, etc. On the other side, it takes actions against piracy such as research or decommissioning operations of printers in possession of apocryphal material, seizure of illegal works sold on the street, legal actions against the production and selling of pirate works. We also file criminal complaints against sites offering this material in internet. In case of illegal use of works in digital format, we notify this, so this platforms and internet sites are suspended. In case this request is not attended, we proceed to make a legal denunciation. 
 How do you cope with the big number of formats in which content is consumed nowadays (audio, series, games, apps)? Has there been a rise in royalties or in persons involved in its distribution due to the increase of formats and devices?
 CeMPro strengthened its communication and dissemination through digital media so people consuming in that formats are aware of us. Actually, royalties have not risen, the book market simply diversified. The most important variation in the distribution of royalties is derived from the increasing number of creative participants along the value chain, such as designers, animators, dissemination platforms and digital sales. 
To what extend do new streaming platforms represent a new paradigm when it comes to defending copyright?
They are an option that should be further explored in the field of humanities. Up to date, these platforms mean only new consumption options with payment methods based on read percentage of books,  monthly subscription or audiobooks.  These new options surely create the need of regulating things such as the contract conditions for authors and guaranteeing safety measures on streaming platforms in order to avoid non-authorised use of works offered here, including DRM (Digital rights management).
CeMPro was forced to increase modalities and formats of works represented and implement licenses for regulating the use of literary works in digital format.  
Alejandro Rojas, dissecting the content genome
Alejandro serves as Director of Applied Analytics at Parrot Analytics based in New York . In his current role, he oversees initiatives that transform massive amounts of data into data-centric products adapted to serve specific needs of Parrot Analytics' clients and partners.
How would you describe the main activities of Parrot Analytics?
 We're the leading data science company that provides understanding of the world's rapidly evolving media landscape by empirically measuring consumer demand for content that competes and thrives in the global attention economy.
 How do data obtained by your tool influence the decision-making in terms of content?
 Our exclusive datasets combined with our industry expertise positions us as trusted advisors for not only leading media networks but also players across the content value chain, including: investors, producers, distributors and agencies and advertisers.
 You coined the expression "content genome", what do you exactly mean by that? 
 Apart from measuring the demand for more than 20 thousand titles, we can dissect each title into its "content genome": each title has many factors that set it apart, much like the human genome. The content genome includes elements  such as genre, sub-genre, director, cast, if it is an adaptation from previous book, etc. Given our large dataset of titles we can then assess the value that each gene contributes to the success or failure of any given show.
 Are there differences regarding preferences for content depending on the device or platform used for its consumption?
Yes, audiences express their preferences for content differently across all platforms. By leveraging the content genome, we're able to pinpoint most of these differences. Finding differences in audience behavior helps creators and distributors find more optimal ways to monetize their content.
 Does digital content always lead to an increasing flexibility in terms of reacting to people's demands?
 The availability of content on digital platforms provides a dynamic environment that we track constantly to assess how content creators and distributors are reacting to consumer demand. Since we track over tens of thousands of titles present in more than 200 catalogues from platforms globally, we're in a unique position to see how this flexibility is reflected as some titles are added and removed from these catalogues. 
Belén Santa-Olalla, The democratization of transmedia tools
Belén Santa-Olalla is one of the key figures in understanding the language of transmedia narratives.  She is an associated artist of the scenic center Conde Duque, chief creative officer at Transmedia Storyteller LTD in London and creative director of Stroke114. She initiated the transmedia experience 19reinos.com for the launch of the 4th season of Game of Thrones in Canal +.
What does it take for a project to be considered transmedia?
We work with a definition of transmedia that is usually based on three pillars. First, the project needs to have a rich narrative universe with different stories in it. Second, it has to be a multiplatform project, this means, different channels must be used to access to this narrative universe. These channels or media are like windows used for looking into this universe that should give us a sensation of integrity. Third, there must be participative narrative worlds, that means the audience must interact, co-create or be part of the experience in some way.
What do you think when transferring transmedia narratives to an apparently more static format such a series? This format is expected to make the audience interact with the series.
A series is a very rich narrative material that is based on a universe, understood as a canon of forms, factions, locations, eras that contains that narrative universe and into which one can invent different stories. This canon provided by series are the very limits within which we play to generate transmedia narratives, a way that the audience or fans can interact with the universe of that series. Something more static, the manifestation of that universe represented by an episode's series is the basis for generating a participative universe using the channels we consider adequate in each case.
How do you get investors for this kind of projects and what possibilities exist for launching them?
I would not talk about investors but rather those who manage intellectual property who are also the holders of the series right and those who decide to bring the project to a further stage due to marketing, marketing reasons or just because the followers need to be rewarded. They decide to invest in generating transmedia narratives so they reach an audience this kind of series would not reach. Once the narrative universe exists, those who hold the rights of the intellectual property decide to generate transmedia narratives around. If these transmedia narratives are not associated with a series, but they are rather transmedia narratives in themselves, there are different investors that usually bet on this kind of participative stories: the creators of these narratives themselves or the sponsors are the ones who decide whether this narrative universe has a philosophy in consonance with the brand, and for whichever reason decide that it is interesting to build this community or communicative narration to reach the audience.
What possibilities does the democratization of tools provide?
It brings a lot of possibilities because it does not only allow independent creators with low budgets to develop transmedia narratives, but it also enables audience to turn into cocreators of stories through the content generated by users. Fans and followers are able to create their own funny fictions or even expansions of this universe. If a series is a product exclusive to big producers, an indie transmedia narrative project is able to appeal creator with less financial resources.   
How does the book industry leverage from these possibilities?
In many cases, the book industry tries to use transmedia narratives to reach different audiences. We conducted a project with Harlequin Mills & Boon, called The Chatsfield. We created an interactive fictional hotel where readers could follow an online interactive narrative and act as characters and discover stories and secrets of these very characters. Readers could unravel out several mysteries related with a series of books that had been recently published. Another example would be Plot28, a story known in Spain for addressing many channels, one of them books.
How does the concept of transmedia narratives change the business model of creative industries?
New monetization possibilities arise as this type of narratives appear on different channels. The business model unfolds, and so content sold in bookshops can be offered to readers for free through a webseries or social media pills. By doing so, we generate interest for this narrative universe, so users want to buy the books. This benefits and provides new monetization possibilities that a traditional channel might not have provided.
Andrew Baev, Bookmate Quality of recommendations makes a difference
Andrew is the CEO of Bookmate since 2014. Previously, he was Director of International Business at Global PS (2011-2014) and General Director of the British company MEDIAnywhere (2008-2011) after having led the Research and Development Center in Russia and Operations Center in Europe and Latin America. Andrew has a wide experience in the development of international business, especially in IT, Media and Operations Management.
Bookmate is already a successful platform in many regions of the world. What are the expectations for Bookmate in Latin America?
Bookmate is a reading app for mobile phones that allows to read and listen to millions of books, audiobooks and comics. It was created 10 years ago and was mainly developed in Europe. Today, Bookmate is available in every country of the world and has offices in eight countries (London, Copenhagen, Stockholm, Moscow, Belgrade, Istanbul, Singapore and Mexico).  
Two years ago, we launched Bookmate in Latin America, a growing market for e-books and audiobooks. It should be noted, that for instance in Mexico, there are approximately 500 bookstores for 128 million of inhabitants and one public library per 15,000 inhabitants. 49% of the population claims not being able to read as much as they would like to because they can't afford books (National Survey 2015). It was more than necessary to launch here a low-cost subscription app.
Firstly, we sought to have a good catalogue in Spanish, so we offered free digitization services to publishers. By doing this, Bookmate features currently around 50,000 books in Spanish: from larger publishers such as Anagrama to smaller such as  Almadía, Antílope, Cal y Arena, Ediciones Era, among many others. Then, we focused on developing alliances with local brands, such as the coffee chain Tierra Garat or the cinema chain Tonalá in Mexico, as well as with other telecommunication companies. These strategies have definitely worked.  As a result, we have 40,000 users in Latin America and the number is expected to treble until the end of the year, specially thanks to the alliances forged in Southern America, that will be soon announced.
How do IA tools interact with the human criteria in Bookmate so clients are kept satisfied?
The use of the expression "artificial intelligence" seems to me a little bit premature for the publishing industry. What we have done, is developing several "machine learning" technologies that are able to make proposals about the next book our user might like to read. There is a wide range of books and the quality of recommendations makes the difference between different reading platforms.
We can't certainly do without human criteria, so Bookmake combines three kinds of recommendations so users can find the book they need. Firstly, Bookmate has developed an algorithm that works with different parameters, such as genre, authors, subjects and extensions each user likes so they can have new proposals. Secondly, Bookmate works as a social media where users can share and comment on their favorite readings and search what their friends or other readers with an alike profile have read. Thirdly, Bookmate has always a local team dedicated to curate the platform in countries where it is officially launched. The team proposes new book  shelves according to trends or preferences of local users; it maintains relationships with local opinion leaders so they put together their own suggestions list; and finally it has alliances with local media, so there are weekly and/or monthly proposals on special selections of Bookmate that readers of media like Gatopardo or Letras Libres in Mexico might find appealing.
The combination of technological and human criteria enables us to customize recommendations for our users.
How do you conceive the incorporation of IA tools in the daily use of a platform with the goals of Bookmate?
Nowadays, data is the king, and that is why Bookmate dedicated a significant part of its budget to research and development. Thanks to the collected data we can better understand who our users are, what their needs are, enabling us to make recommendations about the next book and so produce exclusive custom-made content on our platform. We relied on the data we had about the likes of our users when we launched Bookmate Originals and our own publishing houses in Europe in 2018 (Individuum and Pop Corn Books). And it works! Last year for instance, we have produced/published three of the most read books in Russia. I can tell you that 65% of books added to our users' libraries follow the recommendations of the algorithm.
Diana Narváez, WePlot organizing talents and stories
Diana Narváez is together with Ana Luiza Beraba, co-founder of WePlot. In Colombia, Diana worked in sales in LaDiana, a boutique company that seeks to match producers and their contents to various channels and platforms in Latin America. This allowed her to map a catalogue of projects in several countries of the continent and a strong network of the audiovisual world. When both Diana and Ana Luiza met, it didn't take long until they realized that they had similar and complementary jobs in their respective countries.
How did the idea of creating WePlot come around and how did you build its business model around matchmaking in Latin America?
We created WePlot when we saw that time for finding good stories and the decision-making process of players is too long. This is partly due to the fact that information is neither centralised nor curated. On the other sides, talents are disseminated. We work an audiovisual "Tinder" and a "Uber" for screenplay writers. Our main goal is to organise talent and stories so business agreements can be sped up.
From which matchmaking projects in other regions did you draw your inspiration as you decided to establish this project in your own region?  
What makes our model different, is the fact that it is not a subscription one, this means we index, classify and filter projects, guaranteeing its curatorship. WePlot shortens the selection process of players looking for their next hit in this big sea of content and proposals by authors. 
What is the universe of potential clients that a project such as WePlot takes into account?
Our clients are executives from channels and platforms but also independent producers, advertising agencies, directors and even actors, all those who seek to bring their project to the big screen.
Rodrigo López, a bookseller in love with his bookshop catalogue can't be replaced by an algorithm
Rodrigo López was born in 1976 surrounded by books and booksellers. He still remembers how he had to put aside a stack of books to watch the World Cup Mexico 86 in his own room, which served as branch office of El Sótano in Coyoacán. He studied Spanish Philology at the Havanna University and pursued his studies in Mexico City. He moved to Berlin in 2004 to study cinema. From 2005 and 2010 he worked in the audiovisual industry together with the Mexican rock band Panteón Rococó, as documentalist and cameraman of the band. In 2012 he founded with his wife La Granja, a farm aimed at producing organic animal protein. He runs Librerías El Sótano since 2018, which has nowadays 16 branches and features a bookshop-library system that enables to transport books anywhere in Mexico at a low price.
It seems that El Sótano has recently started to improve its workflow to adapt better to the book market. What does the need for new strategies and tools arise that serve to reposition this bookshop chain?
Adaptation of a bookshop to the surrounding environment does not only imply digital chances but also changes in the cultural product creation chain. Talking about books, this translates into changes in distribution channels, clients, markets and human teams working with the cultural product. All this requires modifications in the way of managing and leading a bookshop. Reading habits and practices change, so do the spaces where readers encounter books. It is fundamental to incorporate continuous open innovation in this transformative process and to respond to social demand for values, good practices, environmental protection and sustainability. A bookshop needs to overcome the rivalry between print books and e-books. We take the responsability of paving our own way, open and inclusive.
Given your experience in the Mexican book market, why is it important to shape a new business model based on data and information?
The digital era has unleashed an unexpected tsunami that we are still trying to comprehend and manage. Rules of the game for doing business change almost on a daily basis and it is difficult to adapt to a vertiginous environment in constant transformation. The most important challenge bookshops must face nowadays is the inclusion of a wide range of online-services in the physical bookshops in order to give a better response to the clients' needs, no matter how they read (in digital or print). The rapid introduction of all kinds of smart devices such as tablets or smartphones changed the habits of discovering new books for many readers.  The true added value an online bookshop provides beyond the mere commercial transaction is the direct knowledge of the client and his behaviour during the purchase process, as well as a subsequent analysis of the sold book. When somebody buys a book it does not mean that person is going to like it, but it leaves a trace of his purchase habits the bookseller can monitor. This behavioural  data and the sense of the reader´s degree of real satisfaction was not possible to grasp in the analog world, and they will be the main asset and competitive advantage of bookshops in the new digital era.
Nowadays, bookshops tend to focus on small niches creating bookshops integrated in the neighbourhood that satisfy the demands of the closest environment. In the case of El Sótano, a bookshop chain, how can be this idea adapted so the customer service is improved?
Manuel Rivas says "many people are able to live without books and nothing happens to them, but a city could not live without bookshops". Bookshops are privileged spaces. Inside them co-exist the advocacy of use of the written word and the understanding of the world contained in those texts. We work in bookshops to distinguish passable roads among the multitude of available readings and to offer tools to people so they seize what is useful to them or what will give them new opportunities to discover themselves, to know themselves better or to transform themselves. We live in a world overloaded with texts and readings, particularly in the digital world. People read. They read a huge amount of things: from news, to medical prescriptions or cooking recipes. The philosopher John N. Gray asserts that the human species tends to be misled by the mythm of progress,  facing again and again the same recurring problems through history, despite the illusion of advance. We have learned out of our history and draw on the bookseller as somebody who reads and recommends.  Leaving aside all the definitions and missions of what a bookshop should be and have, we think that, at least in our bookshop, it is possible for readers to establish a relationship with the bookseller, to plan their visits, to feel listened to, and to remember the shelf or table where the book that changed our life was.
 What is your short- and long-term vision for El Sótano?
Going beyond customers to convert them into usual visitors is not easy. Passionate booksellers might succeed, they know their titles, they are passionate about their catalogue and are good at providing non-focused customers the book they cannot find. We think that a bookseller in love with his bookshop catalogue cannot be replaced by an algorithm. Far beyond the fascination caused by a book recommendation, it is necessary to admit that we live in difficult times, dramatic even. All this is caused by the overproduction of titles in constant rotation, that does not only suffocate many novelties that do not make it to be read, and goes against something essential: the possibility of creating real backlist bookstores. I see El Sótano as a cultural space where you can find all voices that the market does not integrate, the alternative and independent expressions. We join the national debate through our job, we seek to maintain our identity and evolve as bookshop. The essential goal of this renewal is to put high-quality books within reach of everyone in a fair way.
What is your evaluation of the Mexican book market status?
According to assesments of publishers and booksellers in Mexico, it can be said that the publishing industry has faced many problems, but it does not constitute a business failure. Some of the problems are core elements such as high paper costs, lack of fiscal incentives, low impact of public libraries, school and reading programms. Although some of the problems related to the digital gap and the juridic context have been overcome, considerable efforts should be made so Mexico can move toward a stronger network of cultural companies, essential to the dissemination of knowledge. Culture starts in its more incipient form of industralization with the invention of the printing machine. The consolidation of education and technological development will enable the possibility to identify the cultural horizons of mankind. The concept of cultural industry encompasses a huge and complicated universe of industries that have existed for no more than one century and a half. In the particular case of Mexico, cultural industries have developed gradually. Regarding the book industry, within the mexican culture system those activities carried out by the Secretary of Public Education or the Fondo de Cultura Economica at the national level should be especially outlined. In the current bookselling sector there are too many titles in bookshops and a high rotation of titles in sales points. There is a dictatorship of market caused by a logic of novelties imposed by big publishing companies that leaves aside smaller publishers. Given this situation, publishers choose to publish books that guarantee a rapid rotation. In Mexico the publishing sector is formed by publishers, printers, booksellers, the National Book Chamber, institutions that promote the publishing industry (government-run and non-governamental as well as promotion of reading institutions). We are an actor responsible of developing policies, strategies and actions that bring cultural goods closer to citizens.
Tomás Granados, the enhancing potential of digital tools
Tomás Granados Salinas was publishing manager at Fondo de Cultura Económica and director of La Gaceta. He currently runs the imprint Libros sobre Libros and leads Grano de Sal, a collection that offers books "that help establishing an open and plural discussion and promote individual and collective change, providing data and context for attaining a better understanding of today's reality, keeping alive a reasonable doubt." He is also member of the directive board of the Mexican Book Chamber.
You are a member of the directive board of the CANIEM (Mexican Book Chamber). How do you assess the position of the Book Chamber regarding the integration of new digital tools into the business model of traditional publishers?
In the last decades, digital tools have entered all fields of the publishing work, from content creation to communication with readers. The CANIEM has sought to stimulate the implementation of those tools and so it is thoroughly convinced of their usefulness in terms of strengthening a traditionally weak sector. The big challenge for this trade institution remains to understand new initiatives and innovative models, and then convince key players of betting on them.
There is still uncertainty and unfamiliarity in the publishing industry when it comes to adapting to the digital era, however, publishers have been forced to make this inevitable step forward. How has the vision of publishers about themselves changed?
Many sides of the publishing activities are opposed to the fugacity and frenetic speed of the digital era. Writing, editing, designing are actions that take time. This is why it has been difficult to adapt to the speed of new technologies. Luckily, there is an increasing understanding towards the supplementary and enhancing character of digital tools: there is no more distrust or fear, but rather a willingness to experiment.
How do you see the Mexican publishing industry in comparison with other industries in the region? What is its position compared with other large and middle-sized regions of the world?
In Mexico we are "spoilt" partly due to state grants and easy access to new technologies. This prevents us to see many other advantages the country has (relatively speaking). There has been many companies and institutions in Mexico willing to experiment with sales models, editing forms, distribution strategies, that put the country in the avantgarde – at the same time there are some medieval practices enduring.
The trend in the book market seems to be the concentration of publishing imprints in a handful of monopolies. How can a small publisher compete with big transnational corporations in the current market?
It cannot really compete: a small publisher invents its own space, sometimes in the vicinity of those corporations, sometimes very far away from them.
What are the biggest challenges in the Mexican book market so it can keep up with the international market?
The absence of public policies that make possible to exploit our common language-based market.
Rocío Cerón, transforming texts with nature
Rocío Cerón, born in 1972 in Mexico City, is a poet, essayist, and transdisciplinary creator. Some of her most recent works are "Materia oscura" (Parentalia, 2018), "Borealis" (FCE, 2016), "La rebelión. O mirar el mundo hasta pulverizarse los ojos" (UANL, 2016). She received the US American Best Translated Book Award in 2015 for her book "Diorama", translated by Anna Rosenwong (2015), and the  See America Travel Award (2005) for her journey report, as well as the Mexican National Literature Prize Gilberto Owen for her first poetry book "Basalto" (2000). Her poetry and visual and sound poetry pieces have been presented at the Cervantes Institutes of Berlin, London, New York and Stockholm, the Centre Pompidou in Paris, the Southbank Centre in London, the Museum Karen Blixen in Denmark and the Museum of Modern Art in Mexico City. Her work has been translated into more than 8 languages. Her work can be viewed at rocioceron.com
Which ingredients are necessary to adapt poetry to a transmedia language? How do texts change when they are transformed into other formats?
Texts, as any other raw material, are transformed and imbued with other artistic languages and platforms. It turns into sound, form, image, body into multiple combinations.
How does transmedia open new common and more accessible spaces?
Transmedia expands the possibility of text, it appeals to the multiperceptual possibilities of the reader, spectator and listener generating layers of multiple meaning. A text opens itself to the possibility of interrelated levels, of a converging construction where media and languages generate a universe of simultaneities.
What has been the reason for transferring poetry to other media? Is this a way of creating new readers in this genre?
It is a new way to make people get closer to poetry in its most original sense: language, voice, body, image, sound. This communication ritual was formerly conducted among Greek choruses or around fires. It occurs nowadays in immersive and transmedia spaces featuring analogue (i.e. voice) as well as digital technologies (i. e. live cinema or videomapping). The body of the poet and the body of the contemporary reader who is seeking a 360º experience are interlinked.
Which transmedia elements do you use? why precisely those?
All those that are within my reach, from videomapping screenings or audiovisual and voice improvisations to voice, text, and image processing; from performances based on screenings of simultaneous processed sound landscapes, live articulated images and random computer texts. The whole process intimately relates to each project or book of expanded writing I am immersed in. 
Roger Casas-Alatriste, the narrative and business possibilities of transmedia
Roger Casas-Alatriste is the founder and director of El Cañonazo Transmedia, a Madrid-based company specialized on three business areas: design of online video strategies for brands, development and production of transmedia formats, and audiovisual multi-platform content producer.
Under Casas-Alatriste's guidance, El Cañonazo Transmedia, initially launched in 2010 as a digital producer, has expanded and diversified to become one of Spains's leading transmedia companies.
Which new narratives are currently being consumed and developed?
All kinds of narratives are being developed nowadays. There is an increasing number of new formats in different platforms. All this endows many possibilities to creators regardless of the discipline they specialize.
One of the most interesting aspects is the ability to mix and combine narratives, formats and platforms, trying to take the most out of each of these elements.  What we call transmedia narratives, sounds a little bit like PR rubbish, but it describes the ability to think how stories run through platforms at the same time as the spectator's attention.   
A transmedia approach can be applied to different environments, from a more commercial and advertising-based one to purely narrative settings. It can also be applied to other disciplines where stories with a different nature, such as scientific dissemination, education or even religious worship.
 Transmedia presents an advantage, which is a problem at the same time: it is a fashionable concept, so everyone wants to use it, or pretends to do it. This situation might end wearing up the concept, its true sense might be emptied. Nonetheless, it is also important to mention that its bottom-line transcends by far a mere fashion. It is a way to tell stories that is here to stay. We like to call it Total Narration. 
  How does the advertising way of brands have changed with the boom of instagramers and virtual influencers?
 Commercial communication is going through a dramatic change with the extinction of the broadcast paradigm that in the last century was imbued with big massive communication media, most of them unilateral.  
The new paradigm of consumption on demand is characterized by the appearance of smartphones in 2007. This paradigmatic change is based on the fragmentation of audiences and their multilateral participation. This means that instead of bringing together masses of people watching the same channel at the same time, one person can choose among completely different content options at any time of the day, in any place and he or she can even generate his or her own content. And all this using the same device.
This is being leveraged by persons that turn themselves into small micromedia and acquire a certain level of relevance in their communities. They are known as influencers. Brands, institutions and anyone in need of spreading a message, turn to them so they can disseminate stories among their followers. This is a very interesting communication option at the same time brands are realizing that their target audience spends more and more time on platforms which are impervious to advertising.   
Should publishers bet more on influencers or transmedia?
Influencers are a channel, and transmedia is a communication approach. So, they do not exclude each other.
A transmedia approach gives a response to an on-demand consumption model. The person chooses the story he or she wants to consume, the format and platform that is more suitable or interesting.
 Influencers represent a fast way and, on many occasions, an effective way too when communicating, especially concerning new products for specific audiences.
So, when using a communication strategy based on a transmedia approach, influencers can be surely an element to be considered for attaining certain goals.
 Given the boom of audiovisual and transmedia, do you think this format should be used to sell books?
Communicating using a transmedia approach entails many advantages: not only in terms of commercial benefits for selling more products, but also creative possibilities for creating stories or enriching experiences. It also involves practical benefits regarding production, resources can be optimized, and financial benefits too, since using a transmedia approach can bring new business opportunities through the multiplication of platforms and devices. It should be specially outlined that the transmedia approach cannot be only used as a commercial or marketing tool, but it provides new narrative and business possibilities people don't even imagine.
How can a traditional sector such as publishing be encouraged to innovating using transmedia formats?
Publishers own real treasures, especially regarding stories and intellectual property. Many of these stories have a great potential to live in other devices beyond books. Using new platforms means imagining new commercial and monetization opportunities, too. Through transmedia narratives new, more complete narrative experiences can be generated, so that readers are increasingly satisfied, and the business possibilities might be increased.
Mónica Nepote on machines replacing mankind
"There is no innocent technology, and no technology that reflects the person who thought of it and programmed it"
The following text is an extract of an interview published in Magazine Telos, number 112 in December 2019.
Do you believe in the possibility of creative machines, an artificial creativity?
Will this ever exist?
I see creative machines as the ancestral dream of human beings of inventing a machine that generates by itself language, writing or art. I might refer to different moments of history (…). I see those as approximations to what we see now, as an obsession for developing intelligences independent to the human one. I think that is what we see in different artists and writer-programmers shaped by an idea: cooperation between humans and machines.
Will there be always a human in charge?
There is certainly software for writing and generating information, artistic objects, but that is not possible without a human head designing and feeding them (with databases, for instance). Their design is imbued with ideology, political positions, gender questions and a world view. I was recently reviewing a printed book with stories generated by a writing software, an artificial intelligence system that generated stories based on data obtained by a complex system of data association. It had deep patriarchal lines, the narratives generated in the case of male characters outlined courage, enmity, battles and those assigned to female characters had a romantic touch that sought to be treated in a certain way and was object of seduction. Where do these ideas come from if not from culture? Where do they originate if not in the world of its creator? Technology is the space where we spread our worldview. Technology includes the human agent, or the non-agent, the patriarchal agent, which is even worse. There is no innocent technology, and no technology that does not reflect the person who programs it.
This is a key aspect. A new catastrophist view of the future seems determined by technology or fear of new transformations, as if humans themselves were not the ones to build those machines and provide them with a purpose.
Another issue to be discussed is how algorithms are prepared to mechanize us, but this process has to be with our unknowledge about the use of tools and their programming, or with the low interference we have on them if we limit our relationship to them to the corporative and commercial focus. The world projected by us through these technologies looks very much like the capitalist world. These "creating" technologies are imbued with by inequity and have a deep consumerist character with political goals related to surveillance and control. We should fantasize about machines creating other worlds but starting with us as agents, with our own construction of other world possibilities before starting to dread dystopic technologies.
Is there a language for this time? A creative code for the Internet era? What are the essential components?
Theoretically, if I think of the internet, a media of media that interests me a lot, the idea of an infinite and collaborative text attracts me; a text made out of natural and computing languages. But this is only partially true. In reality, not all users know this computing language, but several do manage it: programmers and those who know and generate tools that respond to market laws. There is the possibility, or at least we could have the perspective of gaining literacy in this field. But what for? For creating our own creative code. We have the possibility of using a multiplatform language, but not always, or rarely, we have the abilities to be our own agents and put those components at our service. Hypermedia platforms are within reach: images, images in motion, text, audio, but we depend on the architectures that are given to us or on those into we mindlessly deposit our data, without reading terms and conditions. I would like to think that the net could be ours, but we need to learn to make it ours and for that it would be necessary to acquire skills or to work in collaborative teams with the intention of generating other spaces.
Colin Lovrinovic, do publishers use Artificial Intelligence?
Colin Lovrinovic is an Australian/German serial entrepreneur with a passion for new technology in media (and in general) - and having fun while making the world a more interesting place. He is Managing Director at Gould Finch. Gould Finch supports companies throughout their digital evolution with intelligent products and services. Prior to Gould Finch, Colin worked for companies such as Amazon, Apple, Universal and Bastei Lübbe - one of Germany's largest trade publishers. And successfully (and unsuccessfully) started companies in the digital media space. He holds an MBA from Mannheim Business School, as well as an M.A. in Creative Industries Management and is an active member of the German Federal Association of Artificial Intelligence. He told us that J.K. Rowling once wrote about a project he managed in one of her books. (No, not in Harry Potter)
What is one of the most popular misconceptions regarding the use of AI?
It seems to be a common first instinct to think about some kind of super human AI that has incredible powers and that will take over the world – or at least our jobs. And in terms of publishing, many ask if AI can write (bestseller) books. However, at the moment we exclusively see so called "weak AI" that is very limited in terms of its abilities and those scenarios remain in the distant future.
What are the benefits of using AI in publishing in monetary terms?
That completely depends on the use case. But the potential is huge. We have worked with publishers that became much more efficient in certain business areas and were able to free up their staff from repetitive tasks – resulting in e.g. more book publications, licensing deals, etc.
In another instance, AI can help publishers to determine trends, evaluate certain titles or optimize their marketing strategy. There are cases where publishers increased backlist sales by 20% through AI.
Does the use of AI always lead to better sales through a better identification of reader´s interests and demands?
Of course, if including the right variables and data points, that is definitely a possibility. That is basically what companies like Netflix, Spotify or Amazon have already been doing all along with their audiences. There are many use cases that can also work for "small" players.
How does AI combine with creativity when it comes to the creation process?
At the moment I don't see machines writing great pieces of literature. But there are many cases where AI is used for content creation or adaptation, e.g. for translation, or writing of fact-based news. Sometimes AI can be used to automate a part of the creation process and then let human creativity add to it.
What are the most important results of the whitepaper you did for the Frankfurter Buchmesse?
About 25% of publishers said that they currently work with AI – but I believe the number is much higher. Many simply didn't realize they were already using the technology. Personally, I was happy to see that the survey highlights the same growth areas for AI that we have also discovered: The most obvious ones being sales, marketing and editorial. I believe it's also important to look at the challenges, fears and hopes that the publishers shared. Only if they are addressed, the industry's full innovation potential can be harnessed.
And the good news is: Those publishers who have already started working with AI are overall very satisfied with the results. So I expect an increase in experiments and projects. Especially because it is possible to start with relatively small budgets. It's not always necessary to invest a lot of money to gain first results.
Juan Manuel Zafra, the adaptation to digital processes
Juan Zafra works as strategy and corporative communication consultant, and is founder and manager of the consultancy company Análisis, Inteligencia y Comunicación (AIC). One of his most recent works dealt with digitalization of foundations. He cooperates with Digital Future Society, a programmed boosted by Barcelona Mobile World Capital Foundation (MWCapital) in the elaboration of reports on the ethical, legal and social challenges derived from digital transformation and technological development. He is director of the magazine TELOS, published by Fundación Telefónica, which focus on the analysis and impact of technoscientific progress in our lives.
 How does data analysis replace basic skills relying on intuition when it comes to satisfying user´s demands?
Data analysis has modified the decision-making process in all fields, but especially in the relationship with users, whether these are consumers, when we talk about companies, or citizens, in the realm of public administration. Citizens are nowadays at the center and thanks to information and communication technologies, big data and data analysis it is possible and even indispensable to meet their demands at any time. Organizations that do not work this way head towards extinction, they are outside the modern world.
On more than one occasion you have coined the expression that neither your work nor your clients define yourself, what do you exactly mean by this?
I mean that each of us has to develop his own abilities, his identity, goals and the best way to interact with the environment. I say that in a provocative way: since we are in a moment of dramatic changes, we have to get rid of many fears: fear of losing a job, of developing new abilities, or facing different situations with different relationship models that are not anchored in the industrial society. We are going through a cultural crisis; crisis considered as an opportunity,  and we have to leverage from it, leaving behind ways of thinking and acting typical of a world that is already behind us.
Why do you prefer to talk about digital disruption instead of digital transformation? How does this become tangible in the book industry?
Actually, I prefer to talk about a journey, a process. Adaptation to the digital context has been happening for some time – even if we don´t realize, or what is even worse – we don´t want to come to terms with it out of fear or resistance to change and to the loss of dominant positions. In some fields, this adaptation happened abruptly, as a breakup with the past, even if there are still some loose ends due to the desire to cling to what is irrevocably behind us. We have seen this in the music, media and audiovisual industries. Publishing still fights back, but experience in other subindustries of the cultural and content industries help us to witness change processes. Unfortunately, change processes are slow because of the resistance of traditional players to loose dominant positions in favor of new operators.
What should a company never do wrong when focusing on its digital strategy? Do users always determine strategies?
Management of people can´t never be wrong.  It can never be about applying the technology first and leaving empathy towards people working at the organization and people this technology serves for the very end. It seems obvious, but it is quite normal that the very persons, the employees of an organization urged to carry out necessary changes, forget about the most important thing: consumers, customers (I like the English concept of buyer person because it puts the focus on the value of the person), that are indeed those who determine how is the present and the future of organizations.
How can companies satisfy ever-changing demands and users in continuous movement ?
With flexibility, agility, conversation and data. Placing the focus on users, monitoring their demands and giving immediate response to their needs: giving up many working models typical of the industrial era, establishing new internal organization models – less pyramid and department-based and more focused on cooperation – with fluent communication channels that allow creating new internal processes and relationships with stakeholders. But, above all, the world is not liquid anymore, but volatile. Old structures collapse, even if sometimes reality seems different for traditional powers.
In an interview for Be-Digital, you mentioned that traceability is one of the keys for the future, how can this be applied to publishing apart from existing tools such metadata?
I was referring to transparency as a determining factor for sustainability in the relationship between companies and people in this new context. The concept of privacy itself has changed worldwide – as Jeff Jarvis said in his book Public parts in 2011 –citizens demand an ethical approach by institutions they deal with – companies, administrations or even persons – to know what their intentions and goals are, what they are going to do with our data or how they use information we submit each time we log in a reading platform. I mean of course educated and curious citizens, and not sheep that are carried away. They are those who we should worry about so our lifestyle remains sustainable and balanced. I claim that the digital society has an engine in GTR energy, generosity, transparency and reciprocity. These are three basic ethical principles that all cultures share.