Frankfurt Conference and curated B2B events
The digital B2B live programme by Frankfurter Buchmesse
Save the Date: Frankfurt Conference will take place from 12 to 15 October 2020!
This awaits you in October 2020
B2B events and conferences with international publishing and content experts are at the heart of Frankfurter Buchmesse. Our new digital conference format Frankfurt Conference and further curated B2B events on a wide range of publishing topics offer you discussions, Q&A sessions, and brief presentations featuring international experts, along with many chances to interact and make contacts.
You can look forward to even more ideas, contacts, inspiration and new business: Our conference and event programme offers profound knowledge and contacts related to your branch in the industry – and helps you to think bigger and outside of the box. 
Academic & Scholarly

Rights & Licensing

Publishing Insights

Audio

12 Oct 2020

3.00 – 5.30 pm CEST

 

13 Oct 2020

3.00 – 5.30 pm CEST

14 Oct 2020

3.00 – 5.30 pm CEST

15 Oct 2020

3.00 – 5.30 pm CEST
This year, Frankfurter Buchmesse's first purely digital conference series – Frankfurt Conference – will offer a digital programme of events for publishing professionals from Monday to Thursday (12–15 October 2020). The discussions, Q&A sessions and brief talks with international experts will be geared towards members of the international publishing industry, providing them with a virtual platform for gaining additional professional experience and making new contacts. Participation in the conference programme is free with a My Book Fair profile. Experience top-class speakers, learn more about developments, trends and business models in international markets and exchange ideas with industry experts worldwide - "Frankfurt Factor" guaranteed!
The conference programme in detail
Further curated B2B events
Take part in further events of our digital trade programme to seize all  opportunities for further education and and industry-specific exchange in individual areas, such as THE ARTS+, Frankfurt Kids, Frankfurt Academic, Frankfurt Authors and Frankfurt EDU. You will find the complete programme here shortly.
n addition to the events on which the IPA partnered with Frankfurter Buchmesse, IPA will also be hosting further online events during the book fair week. More information about these events can be found on the IPA website.
Get ready for our B2B networking events!
| Event format | What to expect | Date |
| --- | --- | --- |
| The Hof | Live music, interesting discussions, networking with the community and the occasional drink - registration is now possible! | 24.09. – 15.12.2020 |
| Kuratiertes Networking | Meet as many relevant contacts as possible in our thematically oriented networking sessions. | 12.10. – 16.10.2020 |
Meet our #fbm20 speakers!
Show more
New ideas. New contacts. New business.
Insights & Inspiration
Meet top speakers from the publishing and content industries
Business & Contacts
Discuss new business models and network with international experts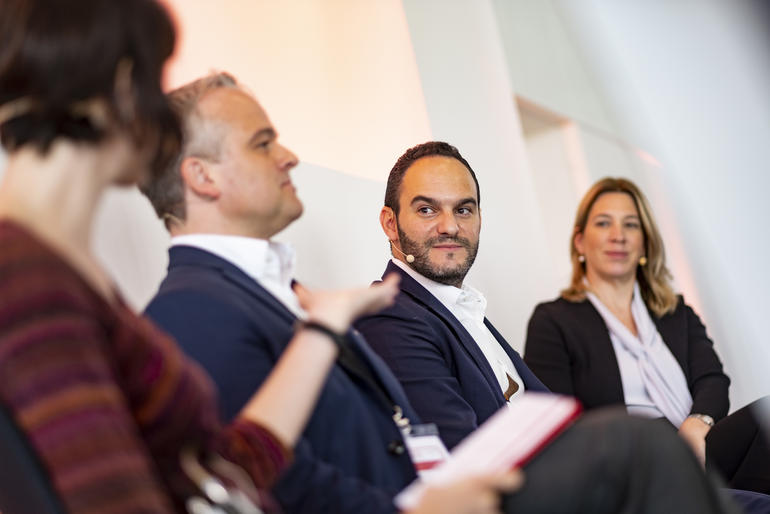 The digital conference and event programme of the #fbm20 Special Edition
Save the Date: Take part in our digital B2B programme from 12-18 October 2020!