Writing, reading, translating: how are these possible in exile? Hopes of return, artistic productivity away from home — writers in exile have gathered complex and diverse experiences. Women authors living in Cities of Refuge examine the opportunities for creativity in temporary or longer-term situations of exile, and assess the problems that prevent a quicker return to their home countries.
/ Cooperation: International Cities of Refuge Network ICORN; German PEN Center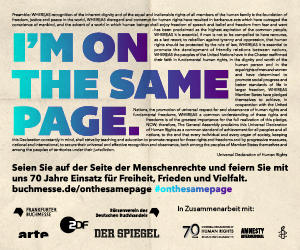 Panel discussion
iCal
-
Messegelände
Ludwig-Erhard-Anlage 1
60327 Frankfurt am Main
Germany
German
Speakers:
Schriftstellerin, Journalistin, Physikerin, mehrere Monate in der Türkei inhaftiert, 2018 ausgezeichnet u. a. mit dem Simone-de-Beauvoir-Preis
Lyrikerin und Übersetzerin, 2009 bis 2011 Stadt-der-Zuflucht- Stipendiatin in Frankfurt, zuletzt erschien ihr Gedichtband "Wucht" (Sujet Verlag 2018)
Journalistin und Menschenrechtsaktivistin, seit September 2017 Stipendiatin des Writers-in-Exile- Programm des deutschen PEN
Moderation:
Autorin, Präsidentin des PEN-Zentrum Deutschland e.V.