Freedom of opinion in Putin's Russia
According to Sergej Lebedew, Russia is "sick with fear". Lebedew analyses
the current situation in novels about Russia's most recent history; his colleague Dmitry Glukhovsky uses dystopias as a means to the same end. The two well known authors speak about opportunities for political engagement in the Russian Federation. What bolt holes exist? What can literature achieve in the country of propaganda wars?
/ Cooperation: German Literary Translators' Association (VdÜ)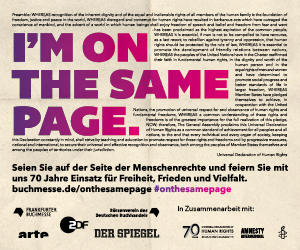 Talk
iCal
-
Messegelände
Ludwig-Erhard-Anlage 1
60327 Frankfurt am Main
Germany
German
Speakers:
Journalist, Autor, international bekannt durch seinen Science-Fiction-Thriller "Metro", soeben erschien "Sumerki" (Heyne 2018)
Journalist und Autor, veröffentlichte mehrere Romane über die jüngste Geschichte Russlands
Moderation:
Übersetzerin aus dem Russischen und Herausgeberin russischer Erzählungen