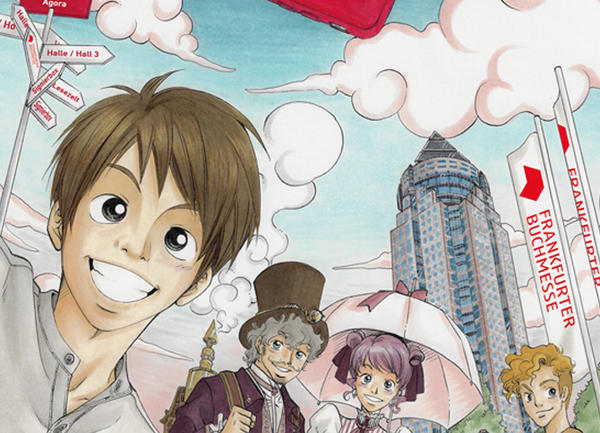 Frankfurt Cosplay
A unique opportunity to see and be seen by the growing number of Cosplay fans who visit Frankfurter Buchmesse every year.
Book your stand now
Welcome to Wonderland 2019
Cosplay throughout the entire book fair! Thanks to the new International Frankfurt Cosplay Concept, the scene is moving into the traditional book fair space for the first time: Halls 3 & 4, along with the Agora and the Guest of Honour Forum will all host parts of the Cosplay programme. And it will always be in the right neighbourhood, such as near the Asian publishers in Hall 4.0.
Join in the new wonderland for fans of manga and anime at Frankfurter Buchmesse!
It's not just a fair: The whole world is waiting for you
Agora
- Cosplay Infopoint
- Selfie Wall/ Photobox
- Itasha Cars
- And much more
- Cosplay Infopoint
- Selfie Wall/ Photobox
- Itasha Cars
- And much more
Hall 3.0
- Frankfurt Authors will host fantasy authors
- KOCCA stage with international Cosplay Stars
- Frankfurt Authors will host fantasy authors
- KOCCA stage with international Cosplay Stars
Hall 4.0
- Retail area
- The Cosplay Stage with international Cosplay stars (organised by: CosDay e.V.; Wie.Mai.Kai e.V.; and Lawsman e.V.)
- Maid Café in cooperation with Maido no Kisetsu
- Exhibitors from Japan, China, North Korea and other Asian countries
- Retail area
- The Cosplay Stage with international Cosplay stars (organised by: CosDay e.V.; Wie.Mai.Kai e.V.; and Lawsman e.V.)
- Maid Café in cooperation with Maido no Kisetsu
- Exhibitors from Japan, China, North Korea and other Asian countries
Level 4.2
- Cosplay workshops in two conference rooms (organised by: CosDay e.V.; Wie.Mai.Kai e.V.; and Lawsman e.V.)
- Cosplay workshops in two conference rooms (organised by: CosDay e.V.; Wie.Mai.Kai e.V.; and Lawsman e.V.)
Congress Center
-German Cosplay Championship on 20 October 2019
- Fantasy Fan Event on 19 October 2019
-German Cosplay Championship on 20 October 2019
- Fantasy Fan Event on 19 October 2019
Join the cosplay universe at Frankfurter Buchmesse
The fantastic world of cosplay