Become a digital exhibitor now – at no extra cost
Reach the world – expand your business.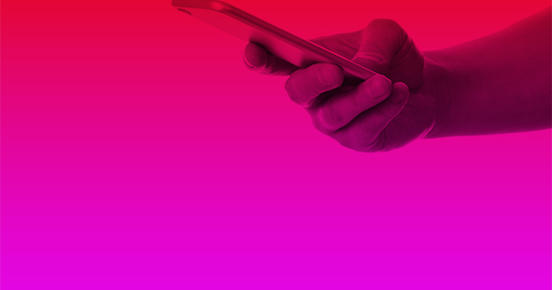 Last call! Become a digital exhibitor now and benefit from all the free services.
Hurry up – Join #fbm20 Special Edition as a digital exhibitor and enjoy worldwide presence.
For this year's Special Edition of Frankfurter Buchmesse, existing digital formats have been functionally upgraded and new digital offers developed. This opens up many new possibilities for you as a digital exhibitor – and this year, it's free of charge. Benefit from an enormous reach and take part in numerous events and matchmaking sessions.

These offerings provided by Frankfurter Buchmesse are supported by the German Federal Government Commissioner for Culture and the Media as part of the economic stimulus package NEUSTART KULTUR (new start for culture).
Book your participation for free
Download our registration form and register to participate.
Manage all services online
Manage all digital services centrally in your MyBookfair account.
Benefit from a certain range
Reach a wide audience with our services - worldwide and digitally.
Your advantages as a digital exhibitor
Questions & answers on digital presentation options for exhibitors
1. Registration for Exhibitors
When will Frankfurter Buchmesse Special Edition will take place and for how long are the digital offers online?
Frankfurter Buchmesse Special Edition Digital is being organised by Frankfurter Buchmesse GmbH and takes place from 12 to 18 October 2020 on the internet. Advertising Tiles will be online till the end of October. Use of the Exhibitor  Directory, the Calendar of Events, and matchmaking tools remains available until April 2021, use of Frankfurt Rights until the end of June 2021.
From when on and how can I register my company as Digital Exhibitor?
From mid-August, registration forms will be available for download www.buchmesse.de/en
Who can register as Digital Exhibitor?
Terms & Conditions for Digital Exhibitors
1.1 All German and international companies involved in the creation, preparation and distribution of content via media such as books, newspapers, magazines, teaching materials, audio, images, data carriers, or online platforms may become digital exhibitors at Frankfurter Buchmesse. This includes agencies and service providers for media sales and production, non-book suppliers, merchandisers, as well as institutions or associations active in the fields of culture and education. 1.2 Companies whose right to use their company name or essential parts of their company name is disputed by a previously exhibiting company with the same or similar company name can become digital exhibitors if they prove their right to use the company name  by means of a legally binding title issued by  a court of law of the Federal Republic of  Germany or whose enforcement has been declared admissible. 1.3 Companies that are subject to judicial insolvency proceedings cannot become digital exhibitors. If such proceedings are opened after registration for Frankfurter Buchmesse Special Edition Digital, the Organiser must be informed immediately.
What is part of my registration?
1. An entry in the Exhibitors Directory, with a catalogue text, banner, social media buttons, embedded video and 4 links as well as a document upload:
Link to your company website.

Another weblink of your choice (entry is customizable).

Link to your Frankfurt Rights entry (where applicable)

Link to your virtual exhibition stand, in case you have one.

One document upload - for example your publishing programme or press releases

Social Media Buttons

Option to embed a video (YouTube)

Banner
2. Posting your events in the Calendar of Events: physical, digital, or hybrid events   
3. Presenting your company and titles on the Frankfurt Rights platform.
4. Advertising your events, publishing content and more on the Frankfurter Buchmesse Highlights pages (advertising tiles within the B2B and/or B2C sector).
5. Participation in matchmakings, professional programme and the Frankfurt Conference.
Will I receive an order confirmation?
You will receive a confirmation of your participation by e-mail.
Which of the digital services are free?
All services included in your registration as Digital Exhibitor are free.
2. Exhibitors Directory
Who has an entry in the Exhibitors Directory?
All companies that are registered as digital exhibitors at FBM 2020.
How can I present my company in the Exhibitors Directory?
Here are a few hints on how your catalogue entry could look like:
Company profile (up to 1000

characters

)

Register imprints as separate exhibitors for increased reach

Link to company website

Social media buttons

PDFs of programme previews or other documents (e.g. sample chapters)

Any further content that is relevant for your company

Link to your presence on the Frankfurt Rights platform

Link to your virtual exhibition fair stand
Who can view the Exhibitors Directory?
The Exhibitors Directory can be viewed freely and does not require a separate login.
3. Calendar of Events
Who can enter / manage events in the Calendar of Events?
Only the person named as organiser ("contact person" on the registration form) on the Digital Registration has authority to enter / manage events in the Calendar, by logging on to their My Book Fair account with the contact email given on the form. If you do not yet have a My Book Fair account, please register here, for free:  https://services.book-fair.com/login
Can the authorisation to register events also be transferred to someone else within the company?
If someone else within the company, other than the organiser, should have access to the Calendar of Events entries, then please write an email – quoting your customer number – to servicecenter@buchmesse.de, with the name and email address of the person in question. We will then activate this new person.
Please note:
Activation can take up to 24 hours and will be done during working days only

the right of care and administration for events will pass from the organiser to the new person, and the organiser will no longer have access to the Calendar of Events
When can events be entered in the Calendar of Events?
The Calendar of Events is scheduled to open for entries from mid-September.  
Which details about my events can I display in the calendar of events?
You will be able to enter the following information per event. Please enter the information in German or English.
- Title of your event (max. 100 characters)
- One sentence summary of your event (max. 100 characters)
- Description of your event (max. 800 characters)
- Your website or website of the event
- Link to the event on your digital platform of choice if your event is digital or digital/physical hybrid
- Address of the event if your event is physical or physical/digital hybrid
- An image illustrating your event (e.g. a portrait of the author for readings)
- Name, biography and other information on each of the participants and speakers
- A pre-registration link/link to ticket shop, if any
- A link to the recording of the event after it has taken place
How can I indicate whether my event is digital or physical?
You can choose from a drop-down menu.
For which days can I enter events?
You can enter events for any day before, during, or after the Frankfurter Buchmesse.  
Can I enter physical events outside Frankfurt?
Yes, if the events are in context with the Frankfurter Buchmesse.
How can participants pre-register for my event?
Please make sure to add a link to a pre-registration website when uploading details for your event.
Can I add a link to the Calendar of Events after an event has taken place that leads to the recording of the event?
You can edit your events at a later date and add a link to the recording, so people who were not able to attend your event can watch it at a later stage.
Will it only be possible to include links to recorded events or also to live events?
Both will be possible.
Will the Calendar of Events also be displayed in the Frankfurter Buchmesse App?
There will a link between the Calendar of Events and the app.
Tutorial:
Instruction video for the Calendar of Events.
4. Frankfurt Rights
Who can use Frankfurt Rights?
Any company that is digitally registered with FBM 2020, with an interest in selling / buying rights.
How do I use Frankfurt Rights?
1 – Make sure you register your publisher or agency as a digital exhibitor for FBM2020.
2 – Tick "Yes, we would like to place our titles available for licensing in Frankfurt Rights" in the registration form's section 05 "Contact Rights & Licenses".  
3 – If you have already registered as a Digital Exhibitor but did not specify a contact for Frankfurt Rights you can email digital@buchmesse.de with the details, and we will add this to your registration.
4 – With Frankfurt Rights, you can create a profile and upload titles, cover pictures, and preview materials, and you can authorise additional administrators. Users will have access to support and video tutorials.
Step-by-step: How can I add my information to Frankfurt Rights?  
1  - Have your rights catalogue ready.  
2 - You will be able to upload titles individually, or by bulk upload. Prepare a list of the titles you will want to upload with the columns: title / author / ISBN13 / description / imprint. Once Frankfurt Rights is open for entries, you will be able to download an Excel template, copy the information in there, and upload it to your profile.  
3 – Prepare JPG files (no larger than 3MB) for the covers of your titles and name them with the corresponding ISBN13. This will allow you to upload files in bulk, and the system will link them to the correct title entry. You will also be able to upload single covers without using an ISBN.   
4 – You will be able to show previews of your titles, either open to everybody on the platform or visible after permission only. You can prepare these in advance as well. You will need a PDF file with a maximum size of 30MB. Name them with the ISBN13 of the title to facilitate bulk upload.
5 - All information about the Frankfurt Rights platform and how to prepare for your participation can be found at a glance in our one-pager.
Can a company name more than one rights manager to use the Frankfurt Rights platform in the registration form?
Unfortunately not. Only one user per company can be designated on the form; this will be the Key Account. However, you do have the option to generate up to 4 more user accounts on Frankfurt Rights itself.
How do I get access?
When registering as an exhibitor, please enter the details (name & email address) of the designated user for the Frankfurt Rights platform. After receiving the confirmation of your order for FBM 2020, this person can then log on to Frankfurt Rights via their My Book Fair account (they need to create one if they are not registered on My Book Fair yet).
How many titles can be uploaded to Frankfurt Rights?
There is no title limit.
Is there a deadline by when the rights catalogue should be uploaded?
There is no deadline per se, however it is recommended to upload titles well before the actual fair, so interested partners will be able to find them in good time.
Will there also be the possibility of entering audio rights/film rights, i.e. individual rights, if necessary, or will Frankfurt Rights primarily serve the "book" rights trade?
The platform is there to present book contents, regardless of the medium into which they are to be licensed.
What exactly is included in the "Basic" package offered on the Frankfurt Rights Platform?
Exhibitors are given access to a rights portal where they can present their company and upload rights catalogues, titles, programme previews and other relevant documents.
Company profile: Company name and description, link to company website, social media buttons, rights information, banner, logo, rights guide and much more

Categories: Book genre, content-related keywords, etc.

Title: Books to be offered

Legal documents

Additional documents: cover variations, preview (PDFs of text excerpts), etc.
Can I upload a link to external content, such as a video pitch?
Yes, this will be possible.
5. Advertising Tiles - Submission phase closed
Please note that submissions for 2020 are no longer possible.
Submitting Advertising Tiles
Who can submit Advertising Tiles?
Tiles can be submitted by anyone exhibiting digitally at Frankfurter Buchmesse 2020.
How do I submit Advertising Tiles?
First you need to have a My Book Fair account as well as a customer number. Please login to your My Book Fair profile using your e-mail address. If you don't have a My Book Fair account yet, please register here: https://services.book-fair.com/login
Login to your

My Book Fair account

(

https://services.book-fair.com/lang/de

)

Select "

Exhibitor

" on the overview page
Click "

Continue

" under "

Submit Advertising Tile

"

This will take you to a form that you can use to submit an Advertising Tile
How many Advertising Tiles can be submitted?
Each digital exhibitor may submit content for an unlimited number of tiles, even within the same Business World or Theme World category. However, Frankfurter Buchmesse reserves the right to reject submissions if the number of tiles booked reaches a number that no longer guarantees the visibility of the individual tiles.
Will the Advertising Tiles provide contact details?
No. Advertising Tiles are published with a picture, headline and link submitted by the exhibitor. Other content, such as the exhibitor's contact data, will not be visible.
Is it possible to see how often an Advertising Tile has been clicked?
No, buchmesse.de does not track how often an Advertising Tile has been clicked on.
How long do I have to submit Advertising Tiles?
Advertising Tiles can be submitted up until 7 October 2020.
What materials and content do I need to provide?
A headline in German and English (max. 43 characters

with

spaces)

A link for the German version, and a link for the English version of the Advertising Tile.

Please note: only https:// links will be accepted.
A picture without text (it will appear on both the German and English page. The lower image area is overlapped by the text overlay. Tile examples can be found here, for example, under the point "Offers from our exhibitors".


Pixels: min. 542 (

width)

x 406 

(height)

(aspect ratios must be considered)


There is no maximum size.

No subsequent changes are possible. Neither picture replacement, link change nor change of the picture section. For further information, please refer to "Changing or deleting Advertising Tiles".
Which Frankfurter Buchmesse webpage will feature my Advertising Tile?
You can select the topical area for your tile. You can choose among our B2C-focussed "Reader Delights" pages or our B2B-focussed "Business Insights" pages. You can also select a category to enable visitors to filter tiles. Please see the table below for the exact topics and categories.
Selection of Reader Delights: Focus B2C
Audio
Suspense
SciFi & Fantasy
Literature
Entertainment
Independent Fiction
Young Adult / New Adult
Children's
Lifestyle & Travel
How-To
Art & Photography
Comic & Illustration
Politics & Society
Selection of related categories:
digital event
live event
new publication / preview
author portrait / talk
podcast / audiobook
reading sample
white paper
sweepstakes
Guest of Honour
other
Selection of Business Insights: Focus B2B
Frankfurt Academic
Frankfurt Audio
Frankfurt Authors
Frankfurt EDU
Frankfurt Kids
Frankfurt New Generation
Rights & Licensing
Rare Books & Fine Art
International Markets
THE ARTS+
Selection of related categories:
Business & Markets
Companies & Products
Topics & Discussions
Marketing & Influencers
Authors & Books
Content & Rights
Parties & Entertainment
Guest of Honour
When and how long will the tiles appear online?
When will my submitted tile appear online?
All submitted tiles will be reviewed by our legal team before they are published. There are three dates on which all submitted Advertising Tiles will be checked and subsequently activated.
Submitted by: 28 Aug. 2020 – Review and publication: 01 Sept. 2020

Submitted by: 10 Sept. 2020 – Review and publication: 14 Sept. 2020

Submitted by: 24 Sept. 2020 – Review and publication: 28 Sept. 2020

Submitted by: 7 Oct. 2020 – Review and publication: 12 Oct. 2020

Do you want guaranteed visibility?
You can find more information about our other online advertising options here: https://www.buchmesse.de/en/market/advertising-promotion
How long do Advertising Tiles remain online?
The Advertising Tiles will be visible on the Frankfurter Buchmesse website until the end of October 2020. All Advertising Tiles will automatically go offline at the end of October.
 
How often will a submitted Advertising Tile appear?
The appearance of tiles is randomised. Their actual reach will depend on the number of page impressions and the overall number of Advertising Tiles submitted. No tiles will be given preference, nor will they appear in alphabetical order.
Changing or deleting Advertising Tiles
Can I make changes at a later date?
It is not possible to change a tile once it is submitted. Please check all the information for accuracy before submitting your Advertising Tile.
Can I delete my Advertising Tiles?
All Advertising Tiles will automatically go offline at the end of October. If it becomes necessary to remove a tile, please write an e-mail to website@buchmesse.de with the subject line: Advertising Tile
6. Matchmaking Tool - via Frankfurter Buchmesse App or Desktop version
When will the Matchmaking Tool be available?
The new service is available now.
How long will the Matchmaking Tool be available?
The Matchmaking Tool will remain available via the app and also as a desktop version until the release of the 2021 Frankfurter Buchmesse App.
Who can participate in the matchmaking?
Exhibitors and trade visitors taking part at FBM 2020
How can I participate in the matchmaking?
Create a free account at My Book Fair, in case you have not signed up already.
Does the matchmaking also work on the smartphone?
Yes, via the Frankfurter Buchmesse App.
Are my contact details visible to everybody?
No: Your details will only be displayed to a new contact once you have confirmed their contact request.
What about data protection?
The use of the Matchmaking Tool is subject to the European General Data Protection Regulation GDPR.
How can I contact someone via the Matchmaking App?
The Matchmaking App has a chat and a video telephony function.
How can I protect myself against unsolicited contact requests?
As with the common social media platforms, only people whose contact requests you have confirmed can connect with you. It will be possible to block contacts if necessary.
Can I meet my usual business partners in the Matchmaking Tool?
Of course, provided they are also registered with My Book Fair and users of the Matchmaking Tool.
Tutorial: 
Instruction video for the Matchmaking Tool.
7. BOOKFEST digital
When does BOOKFEST digital take place?
All day on 17 October 2020.
What is the BOOKFEST digital?
The new BOOKFEST digital will be a unique cultural show that will be broadcast live on online channels worldwide. Publishers were able to apply for broadcasting slots, which are thematically grouped and moderated for the relevant target groups. This makes BOOKFEST digital an extraordinary platform for current topics and exciting stories for culture and literature fans around the world.
What happens to submissions now?
Unfortunately, now the deadline has passed we can no longer consider programme ideas submitted for BOOKFEST digital 2020, as we have have already arranged our programme communication and advertising measures accordingly.
What if I want to change or even withdraw my submission?
Please contact us via bookfest-digital@buchmesse.de
In which languages are the contributions being broadcast?
The festival will take place in German and in English.
Are contributions also being interpreted?
Translations or interpreting services would have to be provided by the organiser of the event if required.
How long do the individual contributions last?
Each contribution is supposed to last 10-20 minutes.
What contributions will there be to BOOKFEST digital? (in terms of content)
The content structure of the contributions will have a wide scope; the full programme is available here.
On which channels can I view the BOOKFEST digital contributions?
In addition to the BOOKFEST digital website, livestreams will also be available on social media like Facebook and YouTube.
Can the events also be viewed at a later stager?
Yes – all events will be uploaded and available via the Frankfurter Buchmesse YouTube channel.
Does it cost anything to follow the BOOKFEST digital?
No – all the BOOKFEST digital events are free of charge to everybody who is interested.
8. THE ARTS+ digital
What is THE ARTS+ digital?
THE ARTS+ is the gateway between the publishing and creative industries. On trade visitor days at Frankfurter Buchmesse, THE ARTS+ offers a digital professional programme with master classes and pitches, aligned to daily special topics, such as film, licencing, merchandising, and AR/VR.
How can I participate in THE ARTS+ as a digital exhibitor?
This year, we're introducing many new virtual offers that you can access free of charge after registering as a digital exhibitor. Simply register here:

What is Pitch your CIP, and how can I participate?
Pitch your CIP is THE ARTS+ platform that brings publishing and content experts together. This closed Facebook group lets you exchange ideas, opening up new marketing potential for creative content. Become part of this diverse B2B community. Find out more here.
9. I am attending the digital book fair as a trade visitor
How do I register?
I register as a trade visitor via My Book Fair.
Which offers of the digital book fair can I access as trade visitor?
As digital trade visitor, you can access a wide range of B2B offers:
- Search the Frankfurter Buchmesse Exhibitor Directory for companies, and browse through publisher's previews and reading samples.
- Search for new titles in the Frankfurt Rights Catalogue.
- Stay connected via the Frankfurter Buchmesse Matchmaking Tool
- Check out all the events on offer by searching the online Calendar of Events.
- Take part in our Livestreams: Professional Programme, Frankfurt Conference, Networking Sessions
- THE ARTS+ digital features virtual offers for professionals in the form of live events – free of charge. Log in to My Book Fair to unlock the benefits.
Can I also enter events if I am not an exhibitor?
All trade visitors whose business activities fall under §1 of the General Terms and Conditions (see point 1 of the FAQs) can register via a web form and, after activation, enter an event in the Calendar of Events via their My Book Fair profile. You will find more information here shortly.
Do you have any further questions as a trade visitor about the digital fair?
You can find your answers here.
Instruction video: Matchmaking Tool
Instruction video: Calendar of Events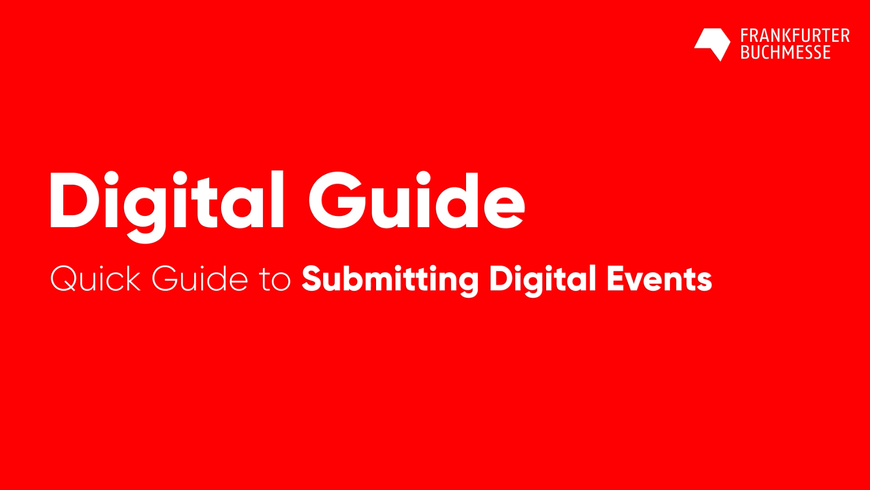 Join us! At the new digital fair 2020
If you have any further questions, please ask.
Give us a call or drop us a line. We will be happy to help you.
Send Message