Your author at the Agora
Take the opportunity to put your authors in direct contact with their fans.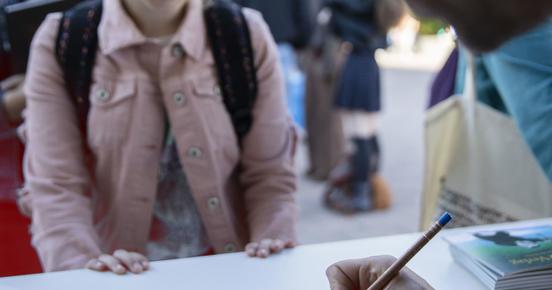 This year, you still have the opportunity to book our popular signing boxes right in the middle of the Agora, the heart of the fair. Boost your authors' visibility and put them in direct contact with their fans with a book signing hour. They can buy books with a signed personal message from their favourite authors directly at the fair. We will take care of everything on site, answer your questions, and handle visitor management.
It pays to be quick: your advantages at a glance.
From 500 down to 250 euros: benefit from a 50 percent discount thanks to funding from the German Commissioner for Culture and media (BKM).
In the spotlight: give your authors 45 minutes of total fan attention.
Your choice: book a slot for your authors in one of our two signing boxes.
Available now: Log in on My Book Fair to book signing boxes today.
Author signing options
Where can I have my authors sign and what does it cost?
Two author signing spots are available to you in the signing boxes. You can book slots for your authors directly in the online reservation tool. The login to the reservation calendar is done via My Book Fair

The signing opportunities at the Agora in 2021 are in part financially supported by the Federal Commissioner for Culture and Media through the "Neustart Kultur" (New Start for Culture) stimulus programme. This allows for a 50% discount on the slot prices.

45 minutes + 15 minutes setup and cleaning time = €500  / Customer price in 2021 = €250
What are the cancellation conditions?
Cancellation of your booked slot is possible at any time. To do so, please contact us via e-mail at stages@buchmesse.de. In case of cancellation before 04.10.2021, cancellation fees amount to 20% of the event price, from 04.10.2021 the cancellation fees amount to 100% of the event price.
Which time slots can be reserved?
Due to increased safety restrictions and hygiene guidelines, we can offer only 45-minute slots (60 minutes including set-up and cleaning). We use the 15-minute break to clean and disinfect the signing area.

If you plan multiple signing hours with a single author back-to-back, we can skip the break.
How are the signing boxes equipped and which services do they include?
Furnishings in each of the two signing areas
2 tables

3 chairs

Shelf for presenting the books

Book displays

Small heater

Paper basket

Extra waste container for empty boxes
Our service (incl. in price)
Programme overview for the signing boxes

Display for the next upcoming signing session (incl. author name and time)

"Please stop queueing" sign

Tensa barriers / crowd barriers

Hostess to manage the visitors' queue

Only 45-minute slots will be assigned this year to leave enough time during the breaks for disinfection (i.e. 60 minutes, incl. setup and cleaning).
Which safety and hygiene measures will be in place at the signing boxes?
Authors and fans will be separated by a barrier screen.

Masks will be required for those queuing.

Distance markers on the floor will aid orientation.

Selfies with the author will not be allowed this year.

Should fans bring their own copies of books for signing, these have to be wiped down by the publisher's personnel or opened and presented with gloved hands for the author to sign.

Between each signing session, all surfaces are to be cleaned by the personnel.

Personnel are to monitor the observation of safety and hygiene regulations.
What do I need to consider during signing sessions in the signing boxes?
Please arrive promptly at the appointed time slot and bring enough books to sell and sign.

Only three persons may be present behind the signing table. They must maintain a safe distance of 1.5 m. Please use a cashless transaction method for selling books whenever possible.

The books must be sold at the fixed retail price.

Packaging material must be disposed of by publishing personnel at the end of the signing session – we will provide waste receptacles for this purpose.
Do I have to enter my event in the Calendar of Events?
Yes, the entry in the Calendar of Events is step 2 after booking or confirming your slot.
Log in on My Book Fair and register your signing event there.
The entry in the Calendar of Events serves as a basis for the creation of the signing box programme and the announcement signs at the signing boxes.
Without your entry the programme is incomplete.
Why is it important to enter a signing box slot in the Calendar of Events?
The listing in the Calendar of Events serves as a basis for us to create the signing box programme and the announcement signs at the signing boxes. 

Without your entry, the programme is incomplete.

Without your entry, you miss this free opportunity to promote your event.
Will it be possible to have signing sessions at our own stand and what do I have to note in this case?
Please ensure that the entire event - including a possible queue - is handled on the stand area. The minimum distance of 1.5 m between persons must be observed. Make sure that there are no crowds on the stand or in the hall aisle.
At times, you may use as narrow a strip of the hall aisle as possible for a queue along your stand perimeter. Please ensure that minimum distances are maintained, the remaining aisle space is kept clear and neighbouring stands are not affected.
If you expect more people to come than can be on and along your stand while maintaining spacing, please make every effort to find a slot in the signing boxes.
Please ensure that general hygiene rules are observed on your stand. You are welcome to use our concept for the signing boxes described above as a guide for planning and implementation.
As the stand operator, you are responsible for safety and compliance with hygiene regulations at your stand - including during signing sessions. Please ensure appropriate visitor guidance and sufficient staff.
Enter the book signing session in the Calendar of Events as described above.
All events (book signings, readings, presentations, etc.) that are to take place on your stand must be pre-reported to us via a separate online form - irrespective to the entry in the Calendar of Events.
When filling in this form please try to enter an estimate of the number of people to be expected that is as realistic as possible. This will enable the security service to plan visitor flows and crowds and take appropriate action quickly if necessary. We will consult with you if there are any concerns about security. Stand events that have not been registered with us by 14 October 2021 cannot go ahead.
Online form: Pre-reporting stand events
Do I need tickets for the authors?
Yes. Personalised tickets can be ordered online. Please note that the daily ticket allotments are limited this year. You can find further information on our ticket page.