Frankfurt EDU Conference 2019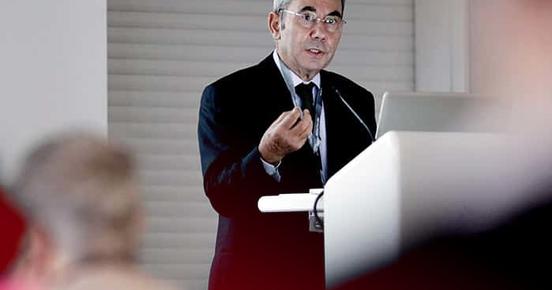 The new conference-event at Frankfurter Buchmesse
Education in the 21st century
Society in Germany is changing in many ways: New cultures, inclusion, digitalisation - challenges that affect living together. Diversity is therefore an issue that is especially important in kindergartens, day care and schools. Which concepts work and do justice to both the children and the skilled workers? Which projects make sense and how to implement them in the existing structures? Which attitudes are necessary and which - digital - aids are at our disposal Experts will get to the bottom of these questions in lectures and round tables. Participants get to know Best Practice examples at interactive meeting rooms at publishers in the exhibition halls.
For the first time, the accredited further training event will be supplemented by an English-speaking section, which is primarily aimed at international trade visitors. In the foyer of the congress rooms, educational providers and organizations in the market of possibilities offer further information.
Tasks and opportunities for the future of education
Visions
Fascinating outlooks for the future of learning.
Emotions
Inspiring encounters, intensive discussions, incredible ideas.
9.30 
Anmeldung im Congress Center, Ebene 2 und Markt der Möglichkeiten
10.00 

Grußwort

10.20

Hauptvortrag

Diversität und Vielfalt. Über Verantwortung und Handlungsmöglichkeiten in Kita und Schule

Prof. Dr. Paul Mecheril, Universität Bielefeld und Autor bei Beltz

 
11.00 
Kaffeepause auf dem Markt der Möglichkeiten
11.30 

Impulsforen - parallel laufende Veranstaltungen

Impulsforum Kita 1:

"Sprachliche Bildung mit Kinderbüchern. Mit Neugier und wachen Sinnen Fremdes und Eigenes erkunden" - Angelika Ertl, Fortbildungsdozentin im Arbeitszentrum Fort- und Weiterbildung der Pädagogische Akademie Elisabethenstift

"Elternarbeit in heterogenen Gruppen – Tipps und Praxisbeispiele" - Angela Rentschler, Impuls Soziales Management GmbH & Co. KG

Impulsforum Schule 1:

"Vielfalt gestalten statt Diskriminierung tolerieren – vom Umgang mit geschlechtlicher und sexueller Vielfalt an Schulen" - Heiko Rohde, Hessische Lehrkräfteakademie 

"Umgang mit Rassismus" - Manuel Glittenberg, Deutsche Gesellschaft für Demokratiepädagogik e.V., Autor Wochenschau Verlag

 
12.30 

Mittagspause mit kleinem Imbiss auf dem Markt der Möglichkeiten

13.15 

Impulsforum Kita 2:

"Resilienz – Kinder stärken" - Inge Werning, Multiplikatoren/Mentorin für den Hessischen Bildungsplan

"Inklusion - Die Kunst des gelingenden Zusammenseins" - Regina Groot Bramel, Mutter diverser Kinder, Dipl. Sozialpädagogin, Reittherapeutin

Impulsforum Schule 2:

"Individualisiertes Lernen" - Ulrike Haarmann-Handouche, Hessisches Kultusministerium

"Sprachsensibler Fachunterricht" - Laura Kretz, Barbara Noeske, Goethe-Universität Frankfurt am Main, Hessische Lehrkräfteakademie

14.45 

Interaktive Gesprächsstationen bei Ausstellern in den Messehallen
15.30 
Ende der Veranstaltung
9:30 am
Registration, Congress Center, Level 2
10:00 am

Greetings, Room Spektrum

Frida Blomgren, State Secretary, Ministry of Culture, Norway

10:10

Impulse speech

Challenges of education in heterogeneous societies Prof. Dr. Wassilios E. Fthenakis

 

10:20 am

Moderated Panel

"Diversity – Challenges of Education in Heterogeneous Societies" – Dr. Maszlee bin Malik, Minister of Education, Malaysia; Frida Blomgren, State Secretary, Ministry of Culture, Norway; Stéphane Dion, Canadian Ambassador to Germany; Prof. Dr. Wassilios Fthenakis

Moderation: Sherri Aldis, Chief United Nations Publications

11:00 am

Coffee break

11:30 am

New Approaches to Diversity in Education. Impulse presentations with subsequent panel discussion:

"Disabilities as Superpowers" – Monika Solvig, Head of Department Secondary School, Commune Bergen, Norway)

"Mindfulness in Education" – Vera Kaltwasser, author, teacher trainer. MBSR-Teacher, curriculum development: AISCHU (mindfulness in school)

12:30 pm

Discussion

Chair: Boris Gromodka, CEO, Gromodka Consulting, Germany

1:15 pm

Lunchbreak

Keynote

"The Role of AI in Education" – Michael Jay, Educational Systemics

1:45 pm

Leveraging Digital Tools for Educating Heterogenous Learning Groups

Impulse presentations / Best practise with subsequent panel discussion

2:30 pm

Meet-up in the Conference Lobby

2:45 pm
Exclusive programming for EDU Conference attendees at selected stands in halls 3.1 and 4.2.