"BE ON THE SAME PAGE" - Become part of the campaign for the anniversary of human rights!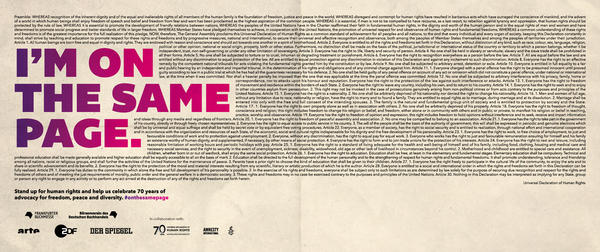 Human rights are universal. They affirm the dignity and worth of human identity. They are the basis of our work in the international book and media industries. The right to free expression of opinion and publishing, to education, intellectual property, and the right of free assembly are all of key relevance to our industry and its activities – because we can only publish our works freely and without restrictions where human rights are observed. They are a basic precondition for spreading knowledge, sharing ideas across borders and inspiring people throughout the entire world.
70 years ago, the United Nations General Assembly proclaimed the Universal Declaration of Human Rights. At this year's Frankfurter Buchmesse we are using the occasion of this anniversary to raise awareness of the Universal Declaration of Human Rights and the values it upholds. The German Publishers and Booksellers Association and Frankfurter Buchmesse have joined together with ARTE, ZDF and DER SPIEGEL with support  of the United Nations (UN) and  Amnesty International to create the a campaign "WE ARE ON THE SAME PAGE". We are celebrating this anniversary and joining forces to demonstrate how important it is nowadays to defend these universal rights.
We are calling attention to abuses that need to be rectified and we are also calling upon politicians to do more to stand up for human rights without exception.
The campaign "ON THE SAME PAGE" starts in September 2018. It will reach its climax at Frankfurter Buchmesse (10 - 14 October 2018). A number of presentations are planned with our campaign partners, German and international authors, as well as industry experts.
We are appealing to publishers, booksellers, authors, translators, illustrators, poets, bloggers, librarians, satirists and all fair visitors: become part of this campaign, actively support the General Declaration of Human Rights and stand up for respect, cultural understanding and for a free and diverse world.
If you would like to join this campaign, please register using the form below. If you would like to become proactive yourself, we are happy to provide support (for example, by downloading the campaign package, including online banner). Plus, if you have any ideas of your own (for campaigns, articles, etc.), please do not hesitate to contact us. Let's collaborate! samepage@book-fair.com
"BE ON THE SAME PAGE" Join the campaign to celebrate the anniversary of human rights!
Campaign package "ON THE SAME PAGE"
Join us and show that you stand with us in support of human rights. Organise corresponding book tables, readings and events.
You will find it in the download section:
- Poster
- Banner for websites & email signatures
- Social Media Banner
If you need the poster as a high-resolution print version, please contact us. We will be happy to make it available to you.
Download campaign package now
Your event on human rights
Are you also organising an event on human rights? A reading? A panel discussion? Use the attention around the campaign On the same page and add your event to our calendar. You will find the human rights campaign On the same Page.
Go to calendar
Events on the issue of human rights
Registration
Campaign-Newsletter On the same Page