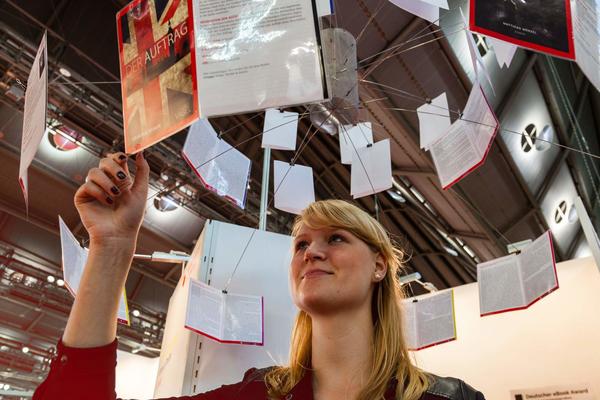 Self-Publishing Area.
One-stop shop for authors, self-published writers, independents and bloggers.
Frankfurter Buchmesse is the ideal place to network. You can make new connections, gain deeper insight into the field, and find the right service providers for your publications. Over 80 events will be held in the Self-Publishing Area (Hall 3.0 K11) under the theme of "The Fight for Readers". These events present the latest trends and a wide array of topics relevant to writing, author information and professional training. The Self-Publishing Area provides you with a forum where you can meet your readers, present your work and network with other bloggers, authors and self-published writers.
1. VIP-Author Conference.
Dreaming of becoming a writer, but don't know how to make a living out of it? No problem. "Earning a living from writing" is a conference for aspiring authors who want to learn how to generate an income from their passion. The event is organised by the Frankfurter Buchmesse and the German Association for Young Writers.
Connect with a wide array of publishers and experienced writers
Gain insights into the business of literature
Hear first-hand personal accounts
Get writing career tips from publishers and bestselling authors
"How do I gain new readers and target groups?"
"What channels should I use to get in touch with readers?"
"How can I counteract the declining reader market?"
"How can self-published writers influence the declining purchasing power of publishers?"
Speakers: Daniel Lenz (Key Note), Marah Woolf, Stephan Waldscheidt, Vera Nentwich, Kathrin Graßmann, Tina Dick, Laura Newman, Dr. Gerd Robertz, Natalja Schmidt, Emily Bold and many more.
Ask the Expert - Five-Minute Talks powered by Das Autorensofa
Author conference: Authors and self-published writers present their work from different genres, such as crime, romance or fantasy
Daily tours
Want to get your name out there as an author? Frankfurter Buchmesse is the right place for you. The self-marketing opportunities are numerous.
Get your own stand and showcase your publications
Hold a reading for fans
Host a happy hour for readers
Offer a signing session for your latest book
Showcase a publication through Livro
Meet other authors, bloggers or self-publishers and discuss the latest content trends.