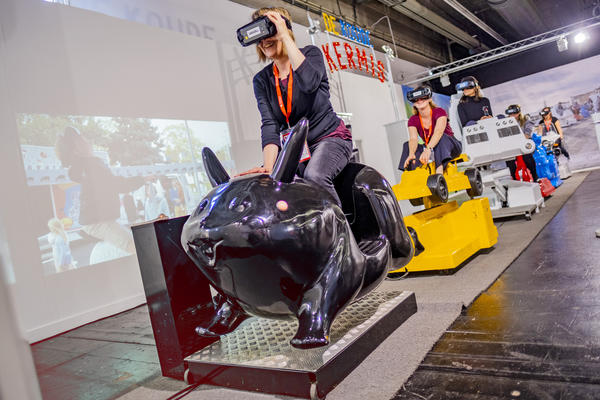 THE ARTS+ Future of Culture Festival
THE ARTS+ at Frankfurter Buchmesse is where you go to meet the decision-makers of the creative and cultural sectors, politics and the tech industry. It's an ideal opportunity for trade visitors and exhibitors to network. Each year, it's a new world within the world of Frankfurter Buchmesse. Different every time, and each year more exciting than the last. 
Call for Participation - THE ARTS+/B3 Festival 2019
Culture is what can bring about change and progress – without culture there is no future! Therefore, Frankfurter Buchmesse, together with the United Nations and the Börsenverein des Deutschen Buchhandels, is launching the global campaign "Create Your Revolution – Initiative For The Future Of Culture". As part of the campaign, the interactive festival THE ARTS+/B3 that takes place during Frankfurter Buchmesse, is inviting change makers from all culture and creative industries to submit loud, bold, and revolutionary ideas.
The Call for Participation is now open until 31 July 2019.
THE ARTS+ NEWS
Highlights, speakers, interviews, events and exhibitors – find out everything you want to know about THE ARTS+ in English. 
Interview

Interview: Yves St-Gelais about a holographic Popstar

Meet Maya Kodes a digital code from cyberspace that came into the world.

Interview

Interview: Dr. Heritiana Ranaivoson

"If the creative and cultural Sectors are not united and supported, they can never keep up with the big four."
THE ARTS+ 2018 at a Glance Get your own Impression of THE ARTS+ – in Pictures
THE ARTS+ präsentierte 2018 ein interdisziplinäres Programm mit inspirierenden Events und hochkarätigen Keynote-Vorträgen von nationalen und internationalen Referenten wie Galit Ariel, JiaJia Fei und Frank Thelen sowie außergewöhnlichen Auftritten von Cyborg Moon Ribas, holographischem Popstar Maya Kodes und 3D Drum Girl LIZZY.
Experience trends and culture up close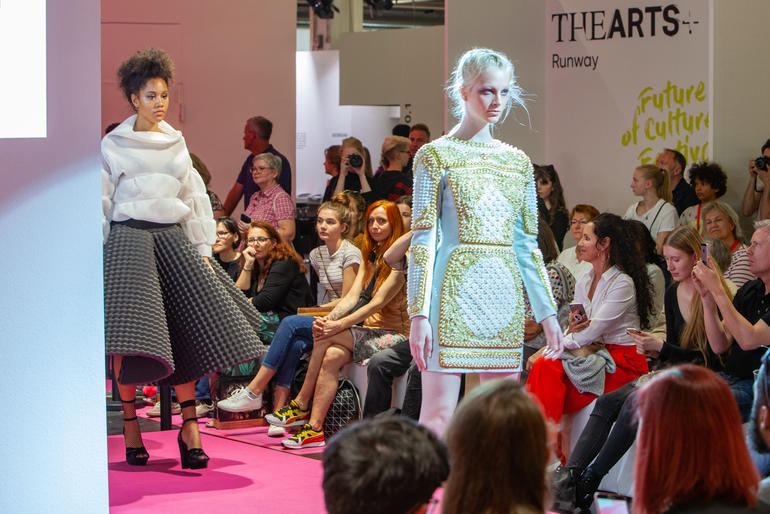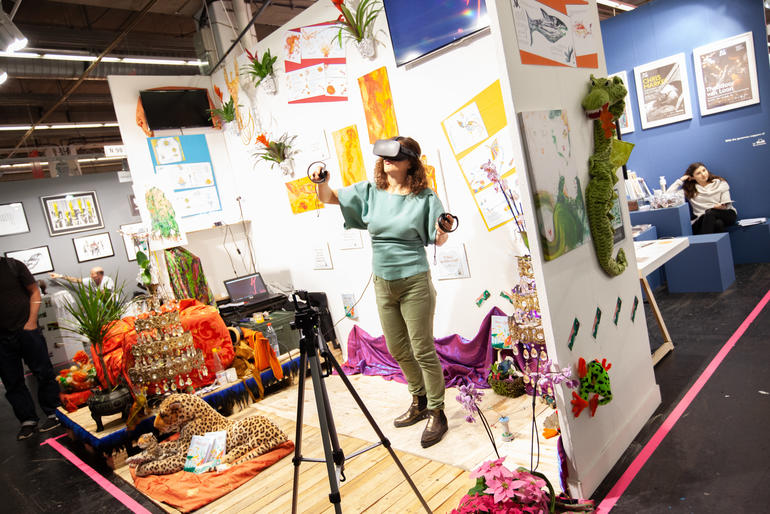 Look into the future with new technologies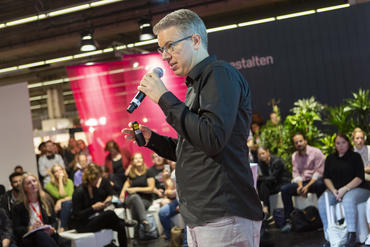 Exciting lectures from the creative and cultural sectors
Present, Raise Awareness, Reach the World
Where does the creative and cultural industry come together with politicians and the tech industry at Frankfurter Buchmesse? Right here. A stand at THE ARTS+ in the heart of the fair is sure to attract attention: Choose between a Gallery Stand or an Empty Floor Space Stand.
Don't miss out on the Future
Take part in THE ARTS+: Get your ticket now and meet the players of the creative and cultural industries.
Call for Participation - THE ARTS+/B3 Festival 2019
Participate now
Submit your proposal until 31 July 2019.
Please also note the FAQs (see below).
If you have any questions, please contact salomon@buchmesse.de.
FAQ: ARTS+ Call for Participation
What is THE ARTS+?
THE ARTS+ THE ARTS+ – with the subheading "Future of Culture Festival" – is a five-day interdisciplinary festival held annually in conjunction with the Frankfurter Buchmesse. Assembling some of the most innovative thinkers and practitioners from all over the world, it strives to explore, debate and shape the future of culture and creativity in the digital age. Our central objectives are to showcase, catalyse and harness the potentials of digitization and new technologies for the cultural and creative industries (and vice versa), and to initiate and foster cross-sectoral exchanges, synergies, networks and collaborations. In addition to an extensive exhibition area, the festival offers a dense program of daily conferences, lectures, workshops, film screenings, artistic performances and networking formats like themed tours, matchmaking-sessions and get-togethers. It attracts 22.000 visitors per day from the fields of visual arts, media, cultural heritage, design as well as politics and technology.
In 2018 THE ARTS+ presented an interdisciplinary programme with inspiring keynote talks by national and international speakers such as Galit Ariel, JiaJia Fei and Frank Thelen, and exceptional performances by cyborg Moon Ribas, holographic popstar Maya Kodes and 3D Drum Girl LIZZY.
When does THE ARTS+/B3 2019 take place?
THE ARTS+ takes place from 16-20 October 2019 in hall 4.1 at Frankfurter Buchmesse.
What's new in 2019?
Now in its fourth year, THE ARTS+ has launched a unique partnership with the B3 Biennial of the Moving Image, an event conceived by the Hochschule für Gestaltung Offenbach (HfG) for artists, media professionals and scientists from around the world, who are also part of the game.
B3 will make a significant contribution to the ARTS+ Festival at Frankfurter Buchmesse. The renowned flagship exhibition, the heart of B3, will make its home at the centre of THE ARTS+ area in Hall 4.1. B3 will also contribute to the accompanying ARTS+ programme with its own themed strand.
Why a Call for Participation?
In 2018 THE ARTS+ attracted 125 000 visitors, 3 000 conference and workshop participants and 100 participants from European politics and the creative economy at the Innovation Summit, who agreed to a cooperation with the "European Manifesto on Supporting Innovation for Cultural and Creative Sectors". Furthermore, there were 60 events, 50 partners, 67 exhibitors, 71 speakers and one virtual popstar.
Following the festival, we received many requests for participation. In order not to miss any of these ideas and to give everyone the opportunity to participate, we have now announced the Call for Participation (CfP).
Who can participate in the Call for Participation?
Anyone who has a suitable idea for a contribution to the programme or exhibition can become a part of THE ARTS+/B3. You can submit a proposal as an independent individual/collective or (as part of/representing) an organization.
We are looking for people from eclectic backgrounds and want to pay attention to both emerging and established names – we invite artists, filmmakers, designers, (creative) technologists, sci-fi writers, scientists, founders, curators, (trend) researchers, software developers, investors, innovators, entrepreneurs, activists, students, cultural managers, publishers, educators, digital transformation officers, and anyone in between.
How does the Call for Participation work?
First, please complete this form by 31 July 2019 to submit your idea for a format during THE ARTS+/B3 2019. The programme team will evaluate the incoming proposals received and use them to curate a varied and international programme.
What is the timeline?
The CfP is open now and runs until 31 July 2019 (23:59 CET). The programme will be finalised by the beginning of September.
The programme team will evaluate all proposals soon after they are received. In other words: the sooner an idea is submitted, the more flexibility there will still be in terms of planning.
How will I find out if my submission has been accepted?
THE ARTS+ programme and first marketing and communications activities will be underway by the end of September. So we will do our best to give you an answer regarding your submission relatively soon after we receive it. This means that you will hear back from us by no later than August.
How many proposals can I submit?
We can consider two submissions per applicant. Should you wish to submit further proposals, please contact us: Johanna Salomon, salomon@buchmesse.de
What kind of proposals may I submit?
Many different types of submissions are possible, including ideas for conferences, panels, lectures, workshops, presentations, film screenings, pitches, performances and installations. You can either contribute to already existing festival formats or suggest additional events.
As a creative tech start-up, small business or company you can also apply to present your products/services in a designated corner for "revolutionary creators" during the festival.
Early-stage projects and ideas, prototypes and works in progress are as welcome as matured, successfully implemented and finalized ones.
The programme team will evaluate all proposals received.
What are the topics/themes the submitted ideas might revolve around?
The 2019 "Create your Revolution" campaign of the Frankfurter Buchmesse/THE ARTS+/B3 and the United Nations focuses on these central topics: activism, language, living with machines, trust, futurism, accessibility, sustainability, and education.
The joint THE ARTS+/B3 conference and exhibition program will furthermore examine the edges and intersections of the following key topics from a wide variety of (future-driven) angles: new (digital) finance and business models for the creative industries, the innovative potential of successful inter- and cross-sectoral collaboration, empowering and engaging audiences through technology, the ethics of human-machine interaction and AI in media and culture, and last but not least the B3 guiding theme: realities!
Anyone from the cultural and creative (tech) industries working on loud, bold, and revolutionary ideas in these areas, is invited to submit their proposals for integration into the programme and exhibition of THE ARTS+/B3.
Aligning with the focus, values and mission of THE ARTS+, we are especially looking for innovative and unconventional projects at the intersections of art, culture and technology that
- display or encourage cross-sectoral and collaborative approaches
- revolutionize the ways we create, present, distribute, access, perceive and preserve cultural goods and content
- provide solutions to challenges for particular subsectors or the creative industries in general, for example regarding issues of funding and financing, political and economic framework conditions, digital transformation processes or outreach and impact
- parse and problematize current and future impacts and implications of new technologies on/in culture, creative practice and society
- champion the importance of art and culture to critically understand and shape how emerging technologies are transforming all aspects of our lives
- harness the potential of culture and technology to invent, enact and shape better futures and create positive change in the world
- advocate for and promote cultural diversity and inclusiveness
In what language(s) may I submit my proposal?
Please note, THE ARTS+/B3 is an English speaking event. Therefore we prefer to receive your ideas in English.
Please try to describe your idea with a maximum of 800 characters.
How long does an event last?
The length of an event can vary: Everything is possible from 15 to 60 minutes. If you are planning a conference format or a workshop, we have to determine the duration individually.
Please allow an additional 15 minutes for setup and dismantling.
What equipment will be provided on the event stage?
Standard stage technology.
What are the costs involved?
Usually we can provide you the event location in our THE ARTS+/B3 area free of charge. Please note, that some extra costs might incur depending on how elaborate proposals and events are.
We do not cover the professional fees or travel and accommodation expenses for artists, authors, hosts, the team, etc. or any other costs (for example, tickets to Frankfurter Buchmesse).
What happens if I want to change or even withdraw my submission?
What happens to submissions received after the deadline?
Unfortunately, we cannot take into consideration programme ideas for THE ARTS+/B3 received after 31 July 2019 because we have planned the timing of our programme communications and advertising activities accordingly.
Whom can I contact if I need help?