BOOKFEST digital – worldwide
On 17 October 2020, for the first time ever, the whole world will celebrate BOOKFEST digital. Don't miss it!
Enter your submissions by 15 July.
Submit your idea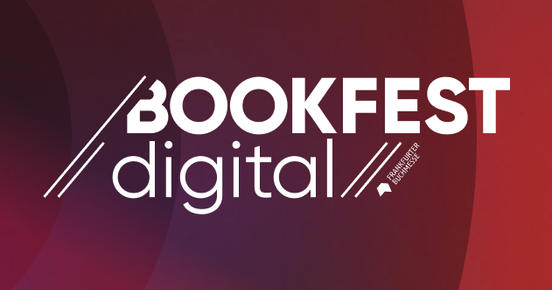 Bringing BOOKFEST to homes around the world
The Saturday of the fair will see the launch of BOOKFEST digital! On 17 October 2020, literature and culture fans all over the world will experience a virtual, moderated spectacle – one like never before – live in their own homes. With top-class artists, authors, interactive discussions on current topics, and creative performances.
Early in the morning, the show will start with contributions primarily for the Asian region, followed by European events, until the programme is completed in America in the late evening. All over the world, literature and culture fans will be able to experience the BOOKFEST feeling in their own homes. Streamed via Facebook, Youtube or the website of Frankfurter Buchmesse, they will be able to immerse themselves in the topics that interest them – live and free of charge.
BOOKFEST digital thrives on good ideas
Frankfurter Buchmesse is providing several digital stages for BOOKFEST digital, the creative content will come from the publishers and partners. Together, we are putting together a highly diverse programme for a live, digital festival of literature and culture – the likes of which has never been seen before. With exclusive virtual encounters, surprising productions and international entertainment events. 
The targeted curating of the submitted ideas will enable the ideal placement and presentation of your content, which will be organised by theme and moderated live. All of this will be concentrated on a single day of the fair to achieve maximum impact and reach.
Participation this year is free of charge for publishers and partners.
All this and much more is possible at BOOKFEST digital
Live talks in a studio, or a special location of the publisher's choice
Cultural and literary performances
Discussions on politics and society
Interactive Meet & Greets with stars, authors and artists
Book and technology presentations
Deep dives into the latest topics
Lifestyle, travel and culinary themed events
Music and cooking shows
Possible formats for participation
Each broadcasting slot can feature a wide range of content: publishers present their latest programme, literature fans chat with their favourite authors, star chefs whip up their finest meals, influencers talk about trends, activists discuss political contexts, children produce a live climate podcast.
This cultural bandwidth is spread over several digital stages, bringing the full diversity of Frankfurter Buchmesse to the internet. All presentations will be moderated.
This all makes BOOKFEST digital an exciting platform for presenters to interact with their target audiences. Participation in 2020 is free of charge for both groups.
Would you like to be part of BOOKFEST digital 2020? It's easy as this:
Get creative
Call for Ideas: Submit your idea by 15 July 2020. In German or English – the main thing is that it's creative, entertaining, international and colourful.
Get excited
The submitted ideas will be screened and selected by the programme management.
Get involved
Participants will be notified by the end of July if their idea has been chosen. The selected ideas will be sorted by topic and assigned a digital stage that best matches their target group.
Submit your ideas and apply by 15 July 2020
Call for Ideas
Bring your idea to BOOKFEST digital and reach your target group worldwide. The Call for Ideas for BOOKFEST digital 2020 is open starting from now until 15 July 2020. To participate, please completely fill out this form.
Our answers to your FAQs
What is BOOKFEST digital? |When will the BOOKFEST digital take place? | Why a Call for Ideas?...
What is BOOKFEST digital? |When will the BOOKFEST digital take place? | Why a Call for Ideas?...
What is BOOKFEST digital?
BOOKFEST digital is a new format that will be broadcast live on online channels worldwide – a first-of-its-kind, all-day show for literature and culture. Publishers can apply for broadcasting slots by submitting to our Call for Ideas. The moderated slots will be organised by themes and corresponding target groups. BOOKFEST digital will be an extraordinary platform for current topics and exciting stories, reaching culture and literature fans all over the world.
When will the BOOKFEST digital take place?
The BOOKFEST digital will take place all day on 17 October 2020.
Why a Call for Ideas?
The 72nd Frankfurter Buchmesse (14 to 18 October 2020) will be a very special occasion, a mix of physical presence on the exhibition site, the BOOKFEST events in Frankfurt city centre, and an all-new virtual programme. The digital parts of the programme are intended to generate even more attention for authors, books, current topics and the entire industry. At an unprecedented level, there will greater international access than ever to the book fair 2020. With the Call for Ideas, publishers and partners are invited to play a significant role in shaping Frankfurter Buchmesse's virtual programme. It starts by digitally submitting your idea, e.g. the author you would like to highlight.
Who can participate in the Call for Ideas?
Anyone who has a fitting and inspiring idea can participate in BOOKFEST digital. Submissions that have the best chance are those that fit the special character of BOOKFEST digital: interactive formats that involve the audience, exciting artists and authors that inspire the audience, or innovative and entertaining presentation ideas. Together with you, we would like to make BOOKFEST digital a celebration of culture, the likes of which have never been seen before.
How does the Call for Ideas work?
First, please fill out the form by 15 July 2020 and submit your idea for a BOOKFEST digital event. Those responsible for the BOOKFEST digital programme will evaluate the proposals received and curate a diverse and international programme.
What is the timetable?
The Call for Ideas for BOOKFEST digital is open starting now until 15 July 2020 (23.59 CET). For each submission, you will receive a reply from us already by the end of July. If you accept, we will send you a registration form with the relevant conditions of participation and further details. Please complete and return this form to us. The entire BOOKFEST digital programme will then be digitally available by the end of August.
How will I find out if my entry has been accepted?
The BOOKFEST digital programme will be finalised at the end of August, when the first marketing and communication measures will also be launched. We will try to provide feedback or a binding answer as soon as possible after receiving your submission. This means that you will receive a message from us by the end of July at the latest.
What if I want to change or even withdraw my submission?
In this case, please contact us: bookfest-digital@buchmesse.de
What happens to entries submitted after the deadline?
Unfortunately, we cannot consider programme ideas for BOOKFEST digital 2020 that reach us after 15 July 2020, as we will have already scheduled our programme communications and advertising measures accordingly.
How many entries can I submit?
The number of entries is not limited.
For which genre can I submit?
We welcome short and engaging formats from all genres: entertainment, non-fiction, guidebooks, literature, art, music, science, education, children, etc. Please note, that diversity is an important aspect for us in creating the programme, so we look forward to a representative mix of nationalities, ages and genders.
In which languages can I submit my proposal?
The events will be held in German and/or in English. Therefore, we also ask you to submit your idea in one of these two languages.
How long is one broadcasting slot?
We are planning slots that are 10 or 20 minutes long. After the submission of your idea, the programme managers will determine the length of the contribution based on the broadcasting concept.
Which broadcasting formats are possible?
Live, in-studio broadcast:

The event will take place live with guests in the broadcast studio in Frankfurt.

Join the live broadcast: The event will take place at a different location and will be broadcast live – or guests are switched on live.

Ready-made moving image content:

Pre-produced video that is broadcast live.
How is the broadcast studio equipped?
Frankfurter Buchmesse provides a full-fledged studio including sound, lighting, green screen, camera and moderation.
On which channels will the programme be broadcast live?
In addition to the book fair website, the livestream will be available on popular social media channels such as Facebook and YouTube.
Can I choose the time of the broadcast?
It is our endeavour to find a broadcast time you are happy with. Please understand, however, if we are not always successful. Our top priority is to put together an inspiring, interesting and entertaining programme. For this purpose, we reserve the right to bundle the broadcasts thematically.
Whom can I turn to if I need assistance?
Please contact us at: bookfest-digital@buchmesse.de
What extra costs will there be for me?
This year, participation in BOOKFEST digital is free of cost.
Services provided by Frankfurter Buchmesse (FBM)
FBM provides a fully equipped broadcast studio with directing services and moderation. Furthermore, FBM will promote the event within the framework of our planned BOOKFEST communications and advertising measures at our own expense.
Responsibilities of the publisher/partner
The publisher/partner advertises the event in advance on its own media channels and at its own expense. Advertising includes, for example, a link to the livestream on its website and in its social media.
When connecting to the broadcast studio from another location, the publisher/partner must organise and pay for its own service providers and technology on their end.
The publisher/partner is responsible for obtaining the authors' clearances for same-day reporting by television and/or radio broadcasters and/or online media. In addition, the partner is to assure that the authors agree to live broadcast over any number of media channels.
BOOKFEST city – live and on location