Frankfurt Kids
At Frankfurter Buchmesse meet around 1 549 international publishers of children's and young adult media, and experience award ceremonies, authors and many other events for professionals and the general public.
German exhibitors present their highlights in Hall 3.0. And this year you can take full advantage of the new Frankfurt Kids area: with new releases, classics, electronic media and many innovations to explore in the Foyer between halls 5.1 and 6.1.
What you will find at Frankfurt Kids:
Exhibition areas
Frankfurt Kids Foyer 5.1/6.1: In the international Kids Area between Halls 5 and 6 you will find the joint stand, the Walkable Catalogue, an international meeting place for illustrators, a picture book exhibition, a café and the Kids Stage 5.1/6.1.
Hall 3.0: German-language and international exhibitors of children's and youth media can be found in Hall 3.0. The Illustrator's Corner, a café and a second stage - the Kids Stage 3.0 - round off the varied programme.
Frankfurt Kids Hub.
A collective stand for international newcomers and small publishers of children's and young adult media.
Walkable Catalogue.
The Walkable Catalogue is the book exhibition of international exhibitors of children's and youth media in the Frankfurt Kids Foyer. Here you can present two of your current titles free of charge and advertise your stand and your products.
This year's highlights are: Comics, Books from Eastern Europe, Books from Africa, Guest of Honour Norway, Children Books on Tour.
Toys and TOYS- Tour
A presentation of current trends in the toy market as well as the latest children's software and the award ceremony for the TOMMI Software Prize.
The TOYS tour takes trade visitors to the relevant toy manufacturers and games producers on Wednesday from 15.00 to 16.00 hrs. The meeting point is the info counter at the Kids Stage in Hall 3.0 K 137.
Here you can register free of charge for the tour.
Two stages - full program
In 2019, Frankfurt Kids will be offering you two stages with a themed specialist programme.
Frankfurt Kids Stage - 3.0: During the week, the programme, which is primarily in German, is devoted to the themes of libraries, illustration, games and reading behaviour in the digital age. On Friday 180 educators will come to celebrate the awarding of the book kindergarten seal of quality with us. On the public weekend, children and their parents will get their money's worth - with readings from publishing houses and book presentations.
Frankfurt Kids Stage - Foyer 5.1/6.1: The international programme of the Kids Stage in the foyer focuses on Eastern Europe, Africa, Kids with Disabilities and several workshops for families at the weekend.
Illustrators
Illustrators Corner 3.0 K 151 with the Illustrators Organization and the Illustration Foundation.
International illustrators' meeting place for the creative children's and youth literature industry in the Frankfurt Kids Foyer 5.1/6.1 organized by Sam McCullen, dPictus. The participants present their works to the visitors at a portfolio show.
Award ceremonies
Deutscher Jugendliteraturpreis
Frankfurt Young Stories
Frankfurter Buchmesse is inviting young writers aged 12-18 to take part in the Frankfurt Young Stories writing competition. Entries in the Short Story and Poetry genres can be submitted until 30 September 2019. A three-member jury (Mirai, 13-year-old book blogger "Lass mal lesen" / Instagram: lesehexemimi, Melina Zahren, BookTuberin "ReadingBookChannel" and Sarah, student trainee at the Frankfurt Book Fair) will select one winner per genre. The prize includes a reading of her winning text at the Frankfurt Young Stories awards ceremony (Saturday, 19 October 2019, 2 p.m. in the Frankfurt Authors area), two day tickets for private visitors, a certificate and an imprint in the accompanying anthology Young Stories 2019.
Time and place of the award ceremony
Saturday, 19 October 2019, 14.00-15.00, Frankfurt Authors Area, Hall 3.0 K 13
Next door, in the new Frankfurt New Generation Area (Hall 3.0 K 91), there will be a Meet & Greet with the jury, the participants and all interested parties.
Highlights of Frankfurt Kids 2019
Frankfurt Kids at Frankfurter Buchmesse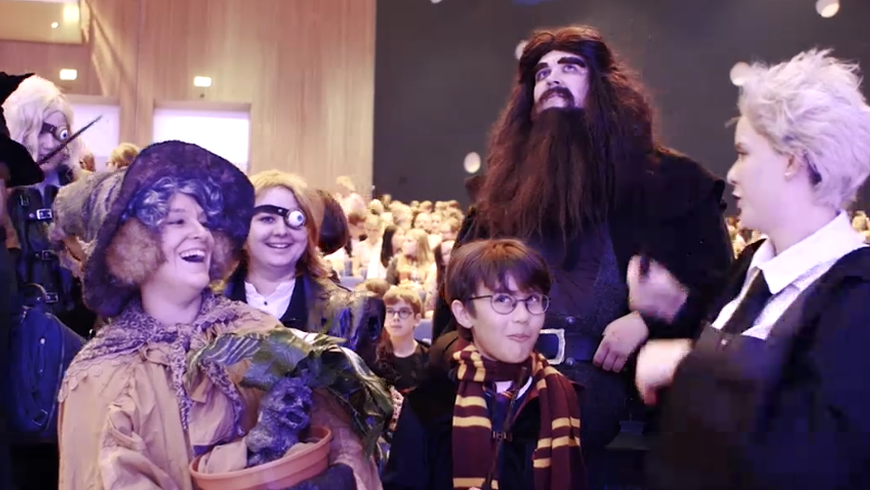 Meet the decision-makers and international giants of publishing
Learn about new content, trends and the development of the publishing industry
Network with 1 549 international publishers and companies operating in the kids' area.
Unpublished picturebook Showcase
30 leading picturebook publishers select unpublished projects for a unique showcase
In the Frankfurt Kids foyer 5.1/6.1, there will be a showcase of unpublished picturebook projects selected by a jury of 30 children's book publishers around the world. 350 projects from 60 countries were submitted to the showcase, and the 48 projects with the most publisher votes will be showcased at FBM19. The Unpublished Picturebook Showcase is initiated by dPICTUS, which will also host an exhibition of '100 Outstanding Picturebooks' curated by international children's book experts. The main goal of dPICTUS is to help outstanding picturebooks cross borders and captivate new readers.
"I'm particularly fascinated by the interplay of philosophy, history, text and image within this genre."
Hendrik Hellige Hendrik Hellige - Business Development Children´s Book/Visual Arts at Frankfurter Buchmesse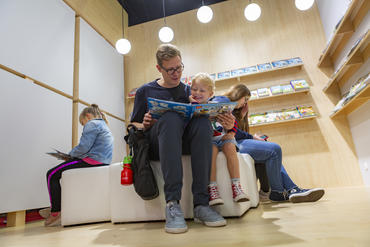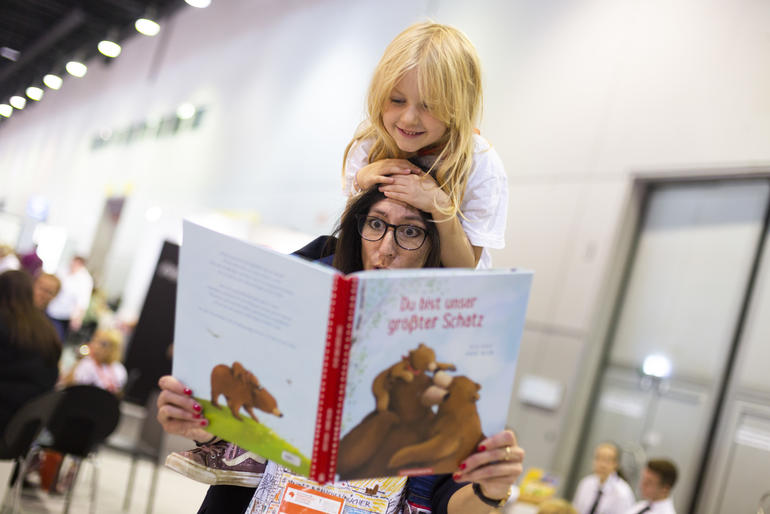 Child-friendly fair
Families with children are a focus group of the project "Frankfurter Buchmesse for All" that aims to eliminate barriers on the exhibition site. This year, we are introducing a bracelet on which parents can write down a child's name and mobile phone number. Should a child then lose sight of his or her family at the exhibition, help can be provided quickly. The bracelets will be handed out at all entrances.
What can you do? - 52 weeks of sustainability
Kids with Disabilities
The subject Kids with Disabilities is an important theme for Frankfurt Kids this year, which can be seen both at the exhibitors of the international joint stand in the foyer and in the stage programme, through the event of IBBY and the event and workshop of Lithuanian Culture Institute: The Sign of Silence.
Further Information
Be quick and get your early-bird discount
Take advantage of the many options at Frankfurter Buchmesse to raise awareness for your products and brand.