Signals of Hope
The virtual platform for a sociopolitical discourse and a sign of international solidarity.
In 2020, the Frankfurt Book Fair is taking up the principle of hope: The virtual platform "Signals of Hope" is to facilitate some discourses that are more urgent than ever this year.  "Amidst a culture of indignation, pessimism and conspiracy theories, we want to set signals of hope and give personalities from society and literature a stage", says Katja Böhne, Director Marketing & Communication at Frankfurter Buchmesse.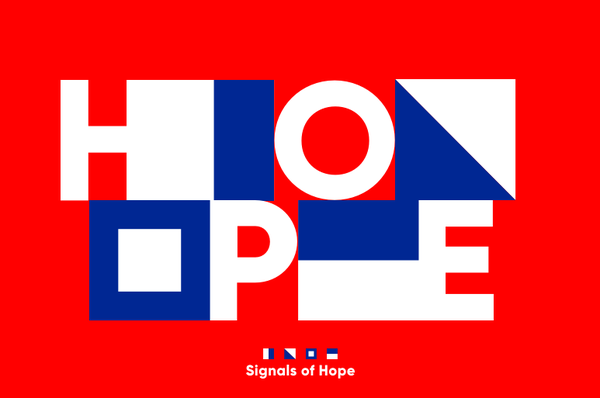 The campaign "Signals of Hope" works with the luminous signals of the international flag alphabet. In times of travel restrictions and social distance, it is intended to symbolize signs of international solidarity. The campaign will culminate on the five days of the trade fair from 14 - 18 October.
The Hope Salon as a virtual stage
During this period a series of readings, presentations, panels and discussions will take place in the virtual "Hope Salon" on the campaign website signalsofhope.buchmesse.de. The topics are human rights, gender diversity, feminism, structural racism and climate change. Each day is dedicated to a different overarching theme:
| Day | Theme |
| --- | --- |
| Wednesday, 14 October 2020 | Hope and Transformation |
| Thursday, 15 October 2020 | Hope is diverse |
| Friday, 16 October 2020 | Raising Hope |
| Saturday, 17 October 2020 | Climate of Hope |
| Sunday, 18 October 2020 | Hope for tomorrow |
Create your own signals of hope and send them to the whole world via social networks.