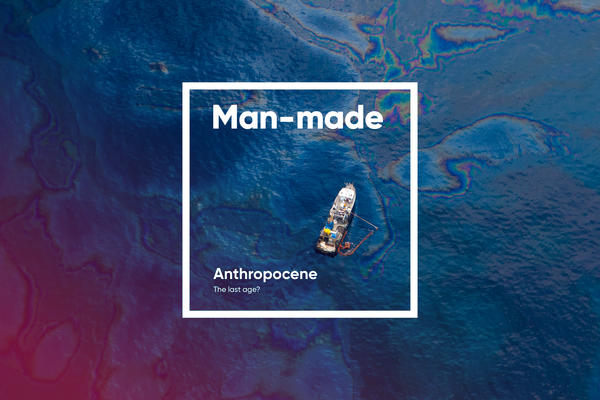 Weltempfang 2019
In the age of man – the Anthropocene – we have to ask ourselves the question: Has our influence on the planet become too extreme? Answers can be found at the Weltempfang – the center for politics, literature and translation in hall 4.1 / B 81.
 

This year's Weltempfang at Frankfurter Buchmesse is dedicated to the relationship between culture and nature. A coexistence in which man has increasingly dominated his environment. But in the near future, this will no longer be the case– as we have already plundered nature in many forms.

With consumption of oil and coal, we allowed the levels of CO2 in the atmosphere to virtually explode. To the same extent, we have deprived plant and animal species of their habitat. With scientific and technical leaps, such as artificial

 

intelligence, we are driving evolution further and further – but to what end if we are continuously destroying our own biotope?

Weltempfang is a collective project of Frankfurter Buchmesse and the German Federal Foreign Office, and in 2019, will once again be the spot for an open exchange of ideas and political dialogue. Something we need now more than ever.

 
In round table discussions with international figures, we will shed light on the Anthropocene Age as a whole. Together, we will answer the basic questions, such as: How does man position himself within nature? Or outside of nature? What are the limits of our growth? And what happens when these are reached?
3.00 - 4.00 pm

"Cruel husbandry. The relationship between man and animal in industrial husbandry"

What to expect:

Jean-Baptiste Del Amos's novel "Animalia" (Fitzcarraldo Editions 2019) recounts the fate of a pig-farming family and the development of a farm into an industrial scale pig farm. As the people brutally exploit the resources of animals, they grow ever distant to nature. A discussion round with Robert Habeck will look into how we can counter this development through modern agriculture policies.

Participants: Robert Habeck, Jean-Baptiste Del Amo

Moderated by: Cord Riechelmann

4.30 - 5.30 pm  

"Opening Event: The Anthropocene - Does culture trump nature?"

What to expect:

The relationship between culture and nature had changed. Human influence on "our" planet is increasing visibly; human beings have become actors. Yet the climate doesn't care. How are human beings choosing to describe themselves within nature and nature itself? How can processes be steered? Ultimately, aren't we saving not nature but rather ourselves – entirely in keeping with a strateg of survival?

Participants: Friederike Otto, Harald Welzer, Maja Lunde

Moderated by: Jenny Friedrich-Freksa

Welcome address: Juergen Boos, Irmgard Maria Fellner
2.30 – 3.30 pm

"Between Nature and Technology – Future Visions from China"

What to expect:

Climate change, pollution, rapidly growing megacities – Chinese science fiction always responds to current controversial issues. Chi Hui imagines what would happen if people lost control over the processes they set in motion. How far are we from these futuristic visions from China? Can we still save the world?

Participants: Chi Hui, Song Mingwei

Moderated by: Vera Tollmann

4.30 – 5.30 pm

"Trends in Children's Literature – Arab and German Voices" 

What to expect:

Children's books, their topics, narrative styles and design preferences always reflect society's ideas about being a child. How do the ideas of current children's books from the Arab World compare to those from Germany? Which stories are told? What role does a child's daily life play? What role does fantasy play?

Participants: Hussain Al Mutawaa, Christiane Raabe, Stephan Trudewind

Moderated by: Stefan Weidner
12.00 am – 1.00 pm 

"More Than Words: Václav Havel – winner of the 1989 Peace Prize"

In October 1989, Václav Havel received the Peace Prize of the German Booksellers Association, which he was unable to accept in person. The acceptance speech he wrote, "Words on Words", about the power of words and using them responsibly, is more relevant than ever today. What can we learn from history? How powerful are words? What are we allowed to say today – and where and how?

Participants: Hans Maier, Michael Žantovský, Alexander Aleksejewitsch Drozdow

Moderator: Josef Joffe

1.30 – 2.30 pm 

"British Writers and Brexit"

What to expect:

The Brexit vote brought about a political and constitutional crisis and opened a deep divide in British society. What is the background to what some consider the greatest democratic exercise in British history and others a dangerous triumph of populism, an attack of democracy that threatens to break up the United Kingdom and sever its alliance with the rest of the EU? Writers from England, Ireland and Wales offer their perspectives on the causes and impact of Brexit.

Participants: Jan Carson, Bonnie Greer, Patrick McGuinness

Moderated by: Alexandra Büchler
3.00-4.00 pm

"Keep or give back? Working with collections from colonial contexts"

What to expect:

The topic of how to deal with collections from colonial contexts is gaining importance in Germany due to the Savoy/Sarr Report and other factors. At the same time, both human remains and cultural assets have already been returned to their countries of origin, such as the Witbooi Bible's transfer to Namibia. How should the process be structured in future and who should be involved? What forms of repatriation can be considered and what role can digitalisation and the production of replicas play? What forms might future bilateral and international cooperations take?

Participants: Inés de Castro, Rebekka Habermas, Manfred Loimeier

Moderated by: Bartholomäus Grill

4.00 – 5.00 pm

"Criticism Not Welcome?"

What to expect:

Civil society isn't just increasingly under pressure in Central and Eastern Europe; here in Germany the legitimacy and mandate of civil-society organisations is also being criticised. What must – and can – these organisations do? Who defines the scope of their power and responsibility? Can a legal framework help to shore up free speech?

Participants: József Péter Martin, Jürgen Resch, Christian Bommarius, Eva Menasse (TBC)

Moderated by: Hartmut Bäumer

4.30  – 5.30 pm

"Artists, Fighters, Cosmopolites: Women write the 21st century"

What to expect:

Jennifer Clement, Elif Shafak and Mercedes Rosende enjoy international success. In their novels, outsiders play leading roles. Are these authors writing against the pre-defined roles that novels typically make available to women? A conversation about the characters in their novels and the representation of women in the literary industry.

Participants: Mercedes Rosende, Elif Shafak, Jennifer Clement

Moderated by: Juergen Boos
12.00 am – 1.00 pm

"30 Years Since the Fall of the Wall – 30 Years Since the Velvet Revolution"

What to expect:

In Germany, along with all of Middle and Eastern Europe, the year 1989 stands for the beginning of fundamental changes. History offers few such examples of when, within just a short period of time, so many countries simultaneously experienced a complete and fundamental change in the system of government that reached all the way from the political to the economic and cultural spheres.  

Participants: Rita Süssmuth, František Mikloško, Petr Pithart 

Moderated by: Daniel Kraft

3.00 – 4.00 pm

"Between hope and helplessness – Is climate change unstoppable?" 

What to expect:

The living conditions on our planet are changing, and the effect of mankind has never been so great. What does science have to say about the state of the Earth, and what hope lies in technologies like artificial intelligence? What visions of the future are coming out of the literary scene when it envisions climate change? What happens as a result of the protests of young people; what fears do they have?

Short video: Paul J. Crutzen 

Participants: Uwe Schneidewind, Luisa Neubauer, Thore D. Hansen, Michael Müller

Moderated by: Ulrich Noller, Journalist and author
Our influence on the planet: indisputable
The romantic concept of untouched nature no longer exists. It's no wonder – since 1960 the world's population has rocketed to over seven billion people. We have become the driving force of change on Earth – and make this abundantly clear with mountains of rubbish, dried up lakes, and polluted oceans, to name just a few of the images characterising the Anthropocene Age.
Desert ship in Africa
Where Eduard Bohlen ran aground in 1909, today not a drop of water can be seen. In the middle of the Namib-Naukluft National Park in Namibia.
Garbage coast in the Philippines
Around 8 million tonnes of our garbage lands in the ocean every year – Bacolod's coastline is the most polluted. Children collect recyclable plastic here to survive.
Oil slick in the Gulf of Mexico
One of the worst environmental catastrophes of its kind. Caused by an explosion on the oil drilling platform Deepwater Horizon on 20 April 2010.