Independent Fiction
Small publishers, big books – explore the diversity of the independent publishing landscape.
The world is everywhere
Witty and drunk on language: Volker Sielaff's masterful poetry, for readers and listeners.
The long poem "Mystical Aubergine" is the breathless opening song of Volker Sielaff's new volume "Barefoot before Penelope". Born in East Germany's Lausitz region in 1966 and now living in Dresden, Sielaff has succeeded in conjuring up verse that fits the spirit of the times: a world-embracing declaration of love to all the people, things, and ideas that make up our lives – from the great minds of poetry and pop, to the profane, sometimes low-brow language of daily life: "Love of libation, of libel. / And of Simone Lepinat from Lychen. Whom I kissed on a hitchhiking tour, / how long ago, I can't say anymore. Love of old // stained-glass windows, a staging of Ibsen's Ghosts / with Inge Keller and Ulrich Mühe, love of sake, and a side of stew." Those who want to acoustically experience the uncanny maelstrom of this long, ten-page rhythmically pulsing hymn to enthusiasm for the world and for language, will be pleased to find this "single" extracted from Sielaff's book has been read by the exceptional German actress Sandra Hüller.
Volker Sielaff: Barfuß vor Penelope. Gedichte
(English: Barefoot before Penelope. Poems)
Edition Azur, 112 pages, 19.00 €
The 55 poems in "Barefoot before Penelope", covering six chapters, show Sielaff as a master of form and metamorphosis. In "The Light and the Dark Side" for example, the author takes measure of the Continent of Love in stunningly simple, song-like verses. "Swann" presents biographical sketches of Hugo Ball, Kazimir Malevich or Joseph Brodsky. In "Wagon Tracks through the Upper Lausitz" the poet ultimately carries us to the world of his childhood and the place of his poetic initiation. "I am over-arching / and yet of this world!", Volker Sielaff calls out to us. Anyone with eyes, ears, and heart wide open, and who still recalls what it is like to feel astonishment even in an age of looming paralysis, will follow him breathlessly.

Volker Sielaff: Mystische Aubergine
(English: Mystical Aubergine)
Read by Sandra Hüller. Edition Azur, as MP3 download, 1.99 €
Hikers in dark times
Christian Schulteisz: Wense. Novel
Berenberg Verlag, 128 pages, 22.00 €
Christian Schulteisz: Wense. Novel
Berenberg Verlag, 128 pages, 22.00 €
1932, one year before the National Socialists seized power, the idiosyncratic musician, writer, and natural philosopher Hans Jürgen von der Wense (1894–1966) set off hiking around central Germany. He is said to have trekked some 42,000 kilometres, a distance similar to the circumference of the Earth. How does a free spirit survive in dark times? In Christian Schulteisz's linguistically masterful debut novel, composed and crafted down to the last comma, we experience Wense as an existentially endangered soul, one who would certainly also not have fit into our age of constant self-optimisation: "He stands there at the brink, where he always stands, always about to topple."
Back to concrete
Viken Berberian, Yann Kebbi: Marode Substanz, Genosse! Graphic Novel
(English: The Structure is Rotten, Comrade!)
Translated into German by Christoph Schuler.
Edition Moderne, 324 pages, 39.00 €
Viken Berberian, Yann Kebbi: Marode Substanz, Genosse! Graphic Novel
(English: The Structure is Rotten, Comrade!)
Translated into German by Christoph Schuler.
Edition Moderne, 324 pages, 39.00 €
"That man's got balls that could knock down buildings", it is said of the star architect with the descriptive name of Mister Beton, who is out to free the Armenian capital of Yerevan from its communist past. The New York author Viken Berberian, together with artist and Paris resident Yann Kebbi, spent five years working on this wild satire of the construction industry, the drive for progress, and the way we deal with our cultural heritage. The result is an excitingly drawn, funny and also highly political architectural comic. Less is more? Nah: More is more!
Who am I?
Anke Stelling: Grundlagenforschung. Erzählungen
(English: Basic Research. Short Stories)
Verbrecher Verlag, 170 pages, 19.00 €
Anke Stelling: Grundlagenforschung. Erzählungen
(English: Basic Research. Short Stories)
Verbrecher Verlag, 170 pages, 19.00 €
"Let us take our lives and divide them into three areas: love, work, and food. Whereby food & drink could also be called drinking & smoking, work could be called art, and love perhaps recreational activity." That is the unmistakeable voice of Anke Stelling, winner of the Leipziger Buchmesse Prize in 2018 with her novel "Higher Ground". Bitter and cynical but also highly enlightening. Her volume of short stories "Basic Research" concentrates the whole literary cosmos of disillusionment expert Stelling in a nutshell. "Everything is already defined, in texts as in life, turn the pages if you like; if you think that mid-life will never catch up with you, you are deceiving yourself." Consult your doctor or pharmacist about possible risks and side-effects.
Texts: Nils Kahlefendt
Wild Thing
Littérature engagée 2.0: Kaśka Bryla, a graduate of the German Institute for Literature in Leipzig, offers one of the most exciting debuts of the season with her novel "Red Monkey". An author portrait.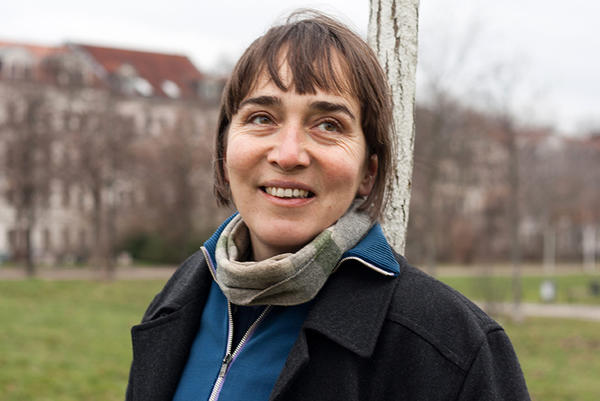 "I would prefer not to launch my debut during a pandemic," says Kaśka Bryla. "But now it is a matter of making the best of it." On the patio of Leipzig café Das Kapital, a name not entirely inappropriate to this story, she manages to cope with the new normal, and the young author seems to be doing well despite the coronavirus. The first reviews have already appeared; there will be releases of her novel "Red Monkey" in Vienna, Leipzig and Berlin – a road movie between two book covers with what seems to be the most unusual cast of characters this season; a multiple murderer and rapist inmate of Berlin's Moabit prison, a prison psychologist and her childhood friend Tomek, who has disappeared with his suicidal girlfriend, along with a highly talented hacker who manages to trace Tomek's smartphone to Warsaw.
Most of all, Ruth the hacker and Mania the psychologist are strong, complex female figures, the kind not necessarily expected in a debut novel. The fact that Kaśka Bryla is not afraid to face the big questions of guilt and forgiveness, good and evil, might have to do with the long path that has led to this book, enough to fill two lifetimes for most anyone else.
Kaśka Bryla: Roter Affe
(English: Red Monkey)
Residenz, 232 pages, 22.00 €
Born in Vienna, Kaśka Bryla grew up in Vienna and Warsaw; she paid for her business degree by working as a research assistant for the General Compensation Fund for Victims of National Socialism in Austria. Why economics? "I wanted to prove to myself that I could learn to think like that", says Bryla. "I wanted to be able to understand the world this way."  Her father fought in the Second World War in the Armia Krajowa, the Polish National Army, and after his retirement in Austria, he built up his own firm in Poland. But when her father died, it was a tipping point in Kaśka Bryla's life. At age 30, she set out to do what she had always wanted to do: tell stories. As the daughter of an engineer, she instinctively understood that a large part of writing is based on acquired skills, so she enrolled at the German Institute for Literature in Leipzig.
That the literary business is not the best of all possible worlds (or as Bryla says: "not so cool"), was nonetheless an expected realisation – one which was not about to stop a woman like her. "Political involvement should be a part of life. That is something my father taught me when I was growing up." In 2015 Bryla was among the founders of the journal that sprang up surrounding the German Institute for Literature "PS: Notes on the Literary Industry/Writing Politically" (PS: Anmerkungen zum Literaturbetrieb/Politisch schreiben). The book-thick PS has since been published annually. At first ridiculed, it has come to be regarded as one of the most exciting literary publications in the German language. "Writing politically means asking questions about relationships and dependencies", so state the basic principles that introduce each issue, along with "The literary industry is not a neutral system."
Since it was a matter of identity for the PS founders to approach people and places that had generally been "pushed to the fringes of society", it was no coincidence that Bryla started teaching courses on creative writing at a Leipzig correctional facility in 2016. The sixth edition of PS in the coronavirus year 2020 came to concern itself with the facets of the debut, and here the arc of our story comes to rest: What happens when an author steps onto the literary stage? And what is supposed to happen? Kaśka Bryla can approach the explosive conflict arising from hype and pressure with a degree of composure. She has been working on her second book for the past half year. And, if it all gets to be too much for her in Leipzig and Vienna, she will simply follow her heroines Ruth and Mania on the way to Warsaw.
Text: Nils Kahlefendt
"The Beatles were an absolute postwar phenomenon!"
Walter Famler, translator of a brand-new graphic novel on the life and work of the Beatles, on his own history with the Fab Four – and what publishing a magazine has in common with playing in a band.
Mr Famler, you were only twelve years old when the Beatles broke up, since then you have been a fan. This translation has been waiting a long time for you, hasn't it?
Walter Famler: I learned English listening to Beatles lyrics. That was the only reason for me as a kid from a working-class family to venture into a more academically challenging environment. However, I still don't understand a lot of the lyrics. But really, how many of us really understand "Lucy in the Sky with Diamonds"? I had the second edition of the Beatles Songbook, published by dtv in 1972. The illustrations were phenomenal, which got me interested in modern art. It is puzzling that nobody else has come up with a graphic novel on them yet; the Beatles themselves always used pictures and verbal imagery to a great extent. Their legendary producer George Martin even once said that the Beatles create "musical paintings". And he is right: many Beatles songs are outstanding audio paintings.
You are a walking encyclopaedia of the Beatles. What new discoveries did you make while working this project?
It was great, especially in times of lockdown with my hyperactivity somewhat restricted. I listened to all the Beatles albums – on vinyl! I rediscovered books that I had read decades ago, like George Martin's "The Summer of Love" about the creation of "Sgt. Pepper", etc. Of course, there are whole libraries of Beatles references! To that extent, it is astounding that it would finally take a graphic novel to so wonderfully expand the many images of the Beatles that we all have in our minds, and make them even more colourful.
Michels Mabel, Gaet's: The Beatles. Graphic Novel
Translated into German with a postscript by Walter Famler. Bahoe Books, 224 pages, 25.00 €
For me, it was the sound of them coming out of the old tube radio in my grandmother's kitchen. How did the Beatles enter your life?
As a child, I was doubly privileged: My very young mother was a fan of both Elvis and the Beatles. And we had some Elvis and Beatles records because my mum had a number of side jobs with my grandmother who was also a representative of the Danube Region Literary Society. That meant I was able to listen to discs on my mum's Phillips record player even as a primary schoolboy. They couldn't be found in most jukeboxes. I had to spend 45 minutes a day on the bus, where there were two or three older kids who I was able to convince to loan me "Rubber Soul" and "Revolver" to copy onto cassette. Later came the White Album, which got played over and over in phases of being in love and when feeling melancholy or depressed.
"Bahoe" is Austrian slang for hullabaloo, turmoil, tumult, noise – the publishing house of that same name from the undogmatic left is known for books with a political cant. How does the revolution in pop culture fit into the programme?
Of course, the Beatles raised the biggest hullabaloo I could possibly imagine. The Beatles were an absolute post-war phenomenon! They grew up in a bombed-out city destroyed by the Germans, literally in the cellar. Ringo Starr was even born during an air raid! Maybe that is what makes him such a brilliant drummer; you can hear the bombs impacting when he hits his bass drum. They were in the first graduating class to be exempt from the military draft. That's why they were able to go to Hamburg, another bombed-out city. The Beatles took off, away from classic rock'n'roll, away from post-war society, and dragged us along with them. And nobody knows where that journey might still lead us.
Does publishing a magazine have anything in common with playing in a band?
There are certainly parallels. I always dropped out of the bands that I founded as a 15-year-old in Upper Austria, because the local folk music scene created great musical potential. The musicians there were really good and I was the worst by far. I always wanted to be a drummer. As a Beatles fan, I was not just enthusiastic about John Lennon, the intellectual leader; I was also electrified by Ringo Starr and his gleaming set of Ludwig drums. I wanted to be the drummer in a beat band and even managed to do that to an extent. But then a better drummer showed up, so I was moved over to bass. Then we got a better bassist, and I was allowed to play a bit of harmonica on Bob Dylan numbers. Then I organised our first gig at the sports festival at a local athletic club. But when divvying up the money, the band decided they didn't need a manager. It was not until relatively late in life, at 30, that I found a teacher who could develop my non-talent. Old-school Charlie Watts. And they couldn't kick me out of the band I founded in the early 90's, "The Roaring Mopeds", because I was the one who built our practice room. But the way a band plays together follows a different set of patterns than an editorial office. Nonetheless, the editorial office of "Wespennest" (Wasp's Nest) is a band in its own way. And a band needs a drummer to set the beat – and keep it steady! And I think I have been able to prove myself in fulfilling this function.
Walter Famler, born 1958 in Bad Hall/Upper Austria, is General Secretary of the "Alte Schmiede" Artitsts' Association in Vienna. In addition, he has been a member of the editorial board of the Viennese literary magazine "Wespennest" since 1983, taking over as publisher in 1997.
Interview: Nils Kahlefendt
Focus on: definitely worth a read
Four hot tips
Independent publishers are courageous risk-seekers, the treasure hunters of the wild, colourful side of the book market. Here we present some of the most thrilling and exciting novels and non-fiction titles from this year's independent offerings.
Waltzing our way amid the ruins of The Wall: "Das Jahr 1990 freilegen" (Excavating the Year 1990) is a book comprised entirely of books. It includes: notes of meetings from the East German Round Table Talks; annotations from Kurt Biedenkopf and Helmut Kohl's adviser Horst Teltschik from the Chancellor's Office; and prison letters from the RAF terrorist Inge Viett, who fled and went underground in East Germany to be later arrested in 1990. Photographers combed through their albums of negatives from the reunification era. Along with them, we find pages from illustrated magazines advertising perfume, laptops, and mobile telephones – back then very expensive and hard-to-get items. Covering nearly 600 large-format pages, none of which resembles the other, this enthralling photo montage draws us inexorably into the past – but remains up-to-date. In a time when the significance of the collapse of East Germany and reunification is the subject of bitter dispute, here we find another way that history can be told: as a polyphonic montage, in which renewal and disappointment, liberation and new ways of humiliation are made clear for us to see.
Jan Wenzel, Wolfgang Schwärzler et al. (publisher): Das Jahr 1990 freilegen
(English: Excavating the Year 1990) Spector Books, 592 pages, 36.00 €
A gripping novel, one which asks what might drive two young men from the very middle of the middle class to the extreme radical fringe. Six years ago, author Urs Zürcher raised quite a furore with his novel "The Inner Swiss", a 700-page doorstop, in which a commune in Basel in the early 1980s sets off the Third World War. In his latest novel "Überwintern" (Hibernation) he address how enraged teenagers, driven by a diffuse loathing of the "system" turn into mercenaries with no regard for life. Jonas and Benjamin knock each other about like billiard balls in an endless game: they drink, smoke dope, listen to Anthrax and Celtic Frost. Benjamin, the middle-class scion, finds his law studies increasingly pointless. Jonas wanders across the social spectrum in search of orientation from extreme left to the right-wing fringe – but still does not find what he is after. Benjamin and Jonas have only their unbounded masculinity to counter an apparently cynical world. In his deeply tragic novel, Urs Zürcher does not explain this process of dissolution. He simply describes it. And indirectly poses the bitter question of the values that could prevent it.
Urs Zürcher: Überwintern. Roman (English: Hibernation. Novel)
Bilgerverlag, 431 pages, 28.00 €
An outstanding booklet explains why boycotting fast food is not going to save the world. For its 50th anniversary, the Augsburger Verlag has added the local indie-publishing legend Maro and their "Maro Booklets" to their own legendary "Awesome Booklet" series. In the new series, essay meets illustration – on whichever burning contemporary topic is at hand. The first issue shows us how astoundingly well that works: "Wer von euch ohne Sünde ist, der werfe das erste Quinoabällchen" (Let Him Who is Without Sin Cast the First Quinoa Ball). On 36 pages, Jörn Schulz shows what is behind the alleged power of consumers – we also find out how "green capitalism" simply perpetuates the logic of the existing economic system. The Berlin illustrator Marcus Gruber has contributed wonderfully zany original print graphics that masterfully capture the madness of our world between the culture of protest, factory farming, and crude conspiracy theories.
JJörn Schulz, Marcus Gruber (Ill.): Wer von euch ohne Sünde ist, der werfe das erste Quinoabällchen
Warum nachhaltiger Konsum das Klima nicht rettet (Maro Heft#1). (English: Let Him Who is Without Sin Cast the First Quinoa Ball
Why sustainable consumption will not save the climate [Maro Magazine #1]) Maro, 36 pages, 18.00 €
The term "Literary mystery" describes a reality-soaked thriller with hard-edged characters which, as the critic Ursula März once noted, comes across a bit inhibited, like "intelligent, but still sexy". That label certainly fits Scottish author Denise Mina. After Ariadne Verlag took up the oeuvre of the "Queen of Tartan Noir", word got out in Germany; the novels "Blood Salt Water" (2018) and "Conviction" (2019) came out of nowhere to win the German Crime Literature Prize. With "Götter und Tiere" (Gods and Beasts), a novel from her Alex Morrow detective series, Mina has produced yet another densely told thriller. In the story, which starts with a bloody massacre at a Glasgow post office, the author leads us to where it really hurts. According to the French master of noir, Dominique Manotti, crime novels are very much the political literature of our era. In recent years, authors like Denise Mina have totally overcome the boundaries of literary genres to clearly present social conflicts in a psychologically realistic and gripping way. Show, don't tell!
Text: Nils Kahlefendt
Denise Mina: Götter und Tiere. Roman
Translated into German by Karen Gerwig.
(English: Gods and Beasts. Novel) Ariadne, 352 pages, 21.00 €