Present your content worldwide – with our collections
If you want to present your books abroad then there's no more efficient format than our book collections.
Register
This is how you benefit from our international network
We take care of the organisation, the publishers concentrate on their business.
The books are exhibited in over 20 countries.
The collections are presented to an international audience of experts at selected trade fairs.
The collections are sent to Frankfurter Buchmesse's offices abroad in China, India, the USA and Russia, as well as to their other trade fairs.
Our local colleagues put all interested parties in contact with German publishers.
The books will be given to German institutions abroad after the trade fairs.
The collection on a world tour.
Every year we organise book collections on current topics that attract attention across national borders - and provide an insight into German cultural and literary events.
The books are presented at the collective stands of German publishers at international book fairs - for trade visitors and private visitors alike.
After the trade fairs they are displayed in Goethe Institutes, libraries, German reading rooms and universities, while Frankfurter Buchmesse's international offices continue to present them all year round at various exhibition venues.
Your books on the road around the world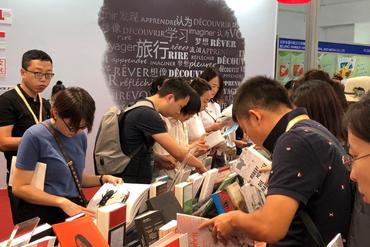 the frankfurt magazine – Books from Germany