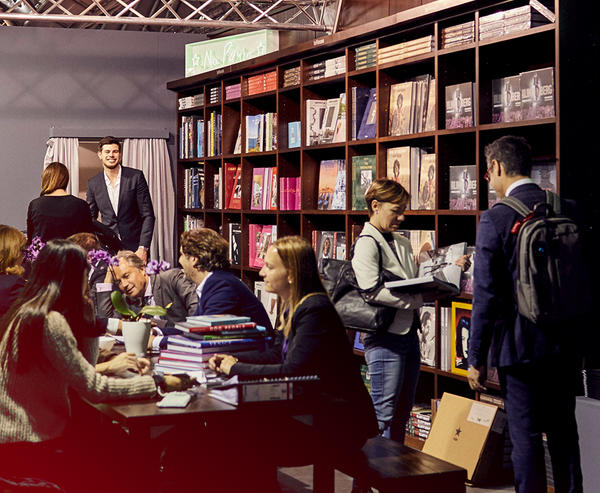 Welcome to Frankfurter Buchmesse
Make your first fair a success.
Ten tips for fair exhibitors.
We look forward to welcoming you as an exhibitor at the largest book and media fair in the world. To help make your first exhibit a success, we've prepared some practical tips and tricks. They will help you to have a good time and reap all the benefits of the fair, both for yourself and for your business idea.
Set goals and make a detailed plan.
The key to achieving your goals is to clearly define them in advance. What do you want your stand to achieve at the fair? What metrics will you use to determine whether your time at the fair was a lasting success?
The basic ingredients for fair success are effective networking, strong marketing, and an attractive stand. By leveraging these three elements intelligently, you'll be a book fair success story in no time.
Before, during and after the fair: your checklist.
From booking accommodations early to organising your on-site marketing, here are ten of our top tips to help ensure a successful week at the fair:
10 tips for new exhibitors
Book travel and accommodations well in advance..
People from around the world flock to Frankfurt during the book fair. The best hotels and flights get booked up quickly.
Research potential business partners and request meetings early.
Mark your most important destinations to make sure you can get to all your appointments efficiently and on time. We even recommend planning your "unplanned" visits ahead of time.
Advertise your event in the social media.
Turn your event into a knock-out success by leveraging your social media channels. We've put together some tips to help make sure you cover all your bases.
Research relevant events in the Calendar of Events.
From conferences for professionals to Happy Hours, you'll find everything you need to expand your knowledge, meet industry insiders and make connections with industry peers from around the world. You can also publish your own events in the Calendar of Events and raise awareness on your social media channels.
Stay on people's minds with informational and promotional materials.
Check out our many networking events.
Join the Business Club community and get an early start to the day. At our Business Breakfasts, you can meet colleagues and industry insiders. And the networking doesn't have to end when the fair closes in the evening: head downtown for BOOKFEST, Frankfurter Buchmesse's international festival for literature, stories and ideas.
Stand out from the crowd.
Create a stand that gets you noticed. Eye-catching colour concepts, gadgets, clever slogans - go wherever your creativity takes you. Be sure to check out our themed exhibition areas as well.
Be visible.
Make sure you use legible fonts and signs, and arrange your products at the right height. Appearances matter! Visitors to the fair are surrounded by sensory input. Do them a favour by making it easier to locate the things that interest them.
Offer a comfortable atmosphere.
Create space for meetings and discussions at your stand. A welcome desk, chill-out zone or comfortable chairs can make your stand into a place that invites people to stick around. And don't forget: water, fruit and small snacks create a lasting good impression.
Last, but not least: Do yourself - and your feet - a favour.
The book fair is big and the days are long. Get familiar with the fair's layout using our interactive hall plan. Plan your trips well, and bring comfortable shoes.
Interaktiver Hallenplan
Check out the various fair stages. They offer another opportunity to make the most of your time at the Frankfurter Buchmesse.