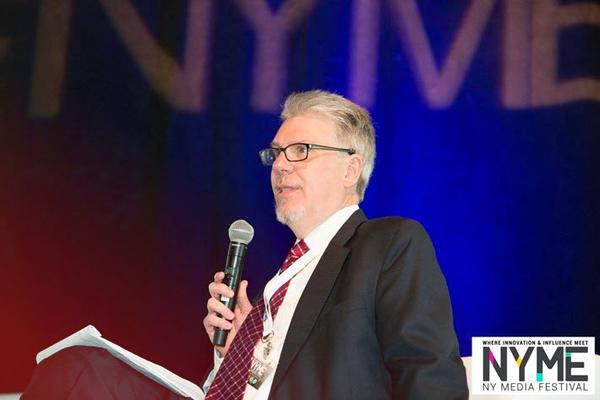 RightsTech: Europe Conference 2019
On 9-10 September 2019 in Frankfurt, the new RightsTech: Europe conference is set to explore rights management and monetization in book publishing and media industries.
'Wrestling With Similar Problems'
When the RightsTech: Europe program has its inaugural two-day event in Frankfurt on 9 and 10 September 2019, it will be the latest iteration of a growing series of thought-leading summits prompted by an observation Paul Sweeting made as a business journalist. The program in September is produced in partnership with the Frankfurter Buchmesse, and will be focused on Europe's leading role in driving rights management and monetization in many parts of the world.
From artificial intelligence to investments in rights and royalties, and from copyright in the European Union's Digital Single Market to the future of collective rights management, a roster of voices from the full spectrum of media industries will come into play in the model of presentation created by Sweeting and his RightsTech co-founder Ned Sherman.
"Working as a journalist in the media-technology space," Sweeting says in an interview from his office in Washington, "the observation I made was that there had been an under-investment—both from a financial and technological point of view—in the sort of middle part of the media value chain. There's been a lot of investment, obviously, on the consumer-facing side where we see new devices coming out," he says. "And also in business, there were new ways for consumers to access content–and new technologies being brought to bear on how to create content.
"But then there was this sort of messy part in the middle, the business-to-business layer where somebody's supposed to get paid for something. That's historically drawn less attention. It's just not as sexy. Venture capitalists are less interested in it. So it didn't get the funding."
Sweeting had spent 20 years following the media business as a reporter, working for outlets including Billboard, Publishers Weekly, Broadcasting & Cable, Video Business and Variety. And in the years immediately prior to his 2016 creation of RightsTech, he worked as the chief media analyst for Om Malik's GigaOm Research.
His vantage point on developments in the media space was showing him the change he'd been watching for. "I noticed that was that there was a lot going on in different sectors of the media, all sort of simultaneously beginning to invest in that piece of it. And in many cases, people were looking at similar technological solutions, things like blockchain and cryptocurrency, and so forth."
A lot of attention, Sweeting says, for example, was going to new metadata standards and how to manage them.
"So, I thought it would be interesting to get people together who might be working on similar problems in different sectors of the media world and see what they could learn from each other's experiences. That was the goal. The original idea behind RightsTech was to create a platform by putting on conferences where people could get out of their individual silos and interact with people who are wrestling with similar problems and challenges in related sectors."
Having created more than a half-dozen major events in under the RightsTech banner in a couple of years, Sweeting—whose consultancy in DC is Concurrent Media Strategies—says, he's seen his audiences coming in from "the music industry, the film and television industry, photography, the visual arts world, even the fine arts world, where there's a lot going on around blockchain, for instance."
In the case of blockchain and its applications in fine art, for example, Sweeting says he's seen an issue arise not unlike the need for an "attribution ledger" described to Publishing Perspectives this week by Access Copyright's Roanie Levy. "Blockchain can provide a very effective ledger for tracking the provenance of works over time" in the art world, he says, "but the information has to be correct the first time. And they've run into a challenge of authentication," not unlike the challenge of definitively identifying a property's creator in the Prescient project led by Levy in Toronto. (Our story is here.)
The September edition in of RightsTech will be a first in its contextual base in book publishing. While the music and "screen industries" have become accustomed to watching for RightsTech presentations, RightsTech: Europe is a first for the program. As happens in the model of encounters Sweeting has devised for these programs, though, he says, the specialists bringing their fields' advances into view.
"The problem," Sweeting says, "is that each of these industries can become a somewhat insular community. And the point with RightsTech is to get people out of their bubble–at least out into a slightly bigger bubble" of adjacent media-industry thinking and insight.
'Predictability to a Revenue Stream'
Many attendees who are familiar with key RightsTech themes will be listening out for the fascinating concept not only of how technology can support rights sales and exploitation but also how rights can become investment vehicles when they're made part of a kind of portfolio of rights holders' interests.
In the art-collection space, there have for some time been fund opportunities allowing investors to buy what Sweeting describes as "a $1,000 piece of a $40 million Warhol." if tokenized in a blockchain format, then trading of tokens is the logical mechanism at work.
"There hasn't been that much of it in the book publishing industry, at least not yet," Sweeting says, "but insofar as there's a measure of predictability to a royalty stream, there's no reason that the approach couldn't be applied there."
Creating a security associated with the recurring value inherent in intellectual property? Of course it's a possibility if not a reality at the moment, and it's the sort of thing RightsTech attendees can explore. The important point for publishing people, Sweeting says, is not to fall into the trap of thinking that the books industry is "way behind" all others in the media fields grappling with the new potentials of the digital dynamic.
"There's an old saying in the music industry," Sweeting says, "that when it comes to embracing new technologies, music comes in just behind the Amish."
This article was first published by Porter Anderson, Editor-in-Chief, Publishing Perspectives. You can find the original article here