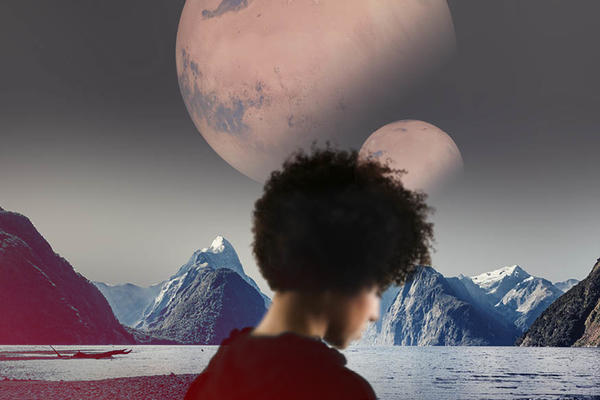 Dream Ursula - B2B edition!
Science Fiction meets Publishing
A world of literature without science fiction? It would be as lifeless as Planet Earth without oxygen.
The new Sci-Fi Lounge at Frankfurter Buchmesse gives this important industry genre the spotlight it deserves.
We have dedicated the lounge to none other than the bestselling SF author Ursula K. Le Guin (1929-2018) - in her memory and out of deep admiration. She left her mark on science fiction literature like no other writer. In many of her novels, she created breath-taking worlds that broke out of the traditional constraints of the genre, transforming stereotypes like the "male hero". Her characters are driven by a mission - and by a deep humanity.
The Ursula Lounge - in the middle of the Frankfurt Pavilion, the new landmark of Frankfurter Buchmesse -will serve as the central meeting point for all science fiction enthusiasts.
"Zukunft selber denken!" Publishing und Science Fiction treffen sich bei B2B-Event
"Was wäre, wenn …", mit dieser Frage beschäftigen sich Science-Fiction-Autorinnen und -Autoren in ihrer Arbeit täglich. Diese Gestaltungskompetenz kommt auf der Frankfurter Buchmesse bei einem Experiment zum Einsatz.
So trifft am Donnerstag, den 17. Oktober 2019, das traditionelle Publishing beim Event "Dream Ursula – B2B Edition" auf der Frankfurter Buchmesse auf die Ideenwelt der phantastischen Literatur.
Science Fiction-Autorin Theresa Hannig, die Future-Life-Expertin der Phantastischen Bibliothek Wetzlar Klaudia Seibel und Autor Thore Hansen experimentieren mit möglichen alternativen Realitäten, diskutieren diese für die Zukunft des Publishing, treten mit ihren Entwürfen in einen Wettstreit und diskutieren diese anschließend mit dem Publikum.
"Dream Ursula – B2B Edition" richtet sich an alle Publishing Professionals, die in ihrem Unternehmen mit der Umsetzung von Zukunftsfragen beschäftigt sind, eine Leidenschaft für die Branche haben und sich aktiv und engagiert für deren Fortbestand und konstruktive Weiterentwicklung einsetzen.
Das Event findet am Donnerstag, den 17. Oktober 2019, von 15 bis 16 Uhr auf der Publishing Services & Retail Stage (Halle 4.0 G 91) der Frankfurter Buchmesse statt. Alle Messebesucherinnen und -besucher mit einem gültigen Ticket für diesen Tag können an dem Event teilnehmen.
Die Veranstaltung knüpft an das bereits bestehende – für das Lesepublikum konzipierte – Science Fiction-Format "Dream Ursula" an, das dem Werk der großen Science Fiction- und Fantasy-Autorin Ursula K. Le Guin gewidmet ist.
Die Veranstaltung ist eine Kooperation der knk Gruppe, der Phantastischen Bibliothek Wetzlar und der Frankfurter Buchmesse.
"You are free. All you have is what you are, and what you give."
Ursula K. Le Guin
Atmospheric installations transform the Frankfurt Pavilion during the Ursula event.
Ursula K. Le Guin
shaped science fiction literature like no other author. (* October 21, 1929 - † January 22, 2018)
Dmitry Glukhovsky
reveals how he thinks new worlds.