Frankfurt EDU Conference
Diversity – New Learning Concepts for Heterogenous Societies
Wednesday, 16 October 2019
9.30 am - 3.30 pm CEST
Congress Center, Level 2
Rooms: Spektrum, Conclusio
Buy your ticket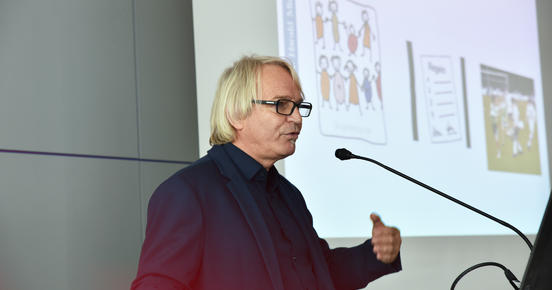 Education in the 21st Century
In 2019, the conference will offer English-speaking sessions on current education topics.
The Frankfurt EDU Conference, formerly known as "Bildungskongress" - Education Congress – has been organised by Frankfurter Buchmesse since 2006 in cooperation with several partners. The programme includes panel discussions, lectures and workshops for decision makers in the education industry.
In addition to events, the marketplace is a central part of the Frankfurt EDU Conference. In the foyer of Congress Center Level 2, publishers, institutions and service providers for the education industry have the opportunity to present their products. Exhibitors can also sell their books and media at their retail price.
The diversity in societies is increasing. The same is happening in the classroom. Therefore, there is need for new learning concepts for heterogenous societies. These learning concepts can involve digital tools as well as new ideas like mindfulness in education. The conference will highlight some of these issues and look at future prospects.
Parallel to the conference sessions in English, two German-language strands will present the conference topic to German educators, teachers and headmasters. The German conference format has been running successfully since 2006.
"Society is becoming increasingly heterogeneous in multiple ways – be it through new life plans or multi-national employment histories. That's why it is of utmost importance to start laying the foundation for dealing transparently with diversity very early on. In order for you to succeed, we, together with our cooperation partners, offer training courses for educators, that provide the necessary skills to help students grow up naturally in an environment characterised by diversity."
Hessian Minister of Education and the Arts and President of the Ministry of Culture Conference
9:30 am
Registration
10:00 am

Greeting Prof. Dr. Alexander Lorz, President of the Standing Conference of the Ministers of Education and Cultural Affairs (KMK) in Germany, and a Representative of the Education Ministry of Norway

10:20 am
Moderated Panel Diversity – Challenges of Education in Heterogenous Societies Prof. Dr. Alexander Lorz, Minister of Education, State of Hesse/Germany; Dr. Maszlee bin Malik, Minister of Education, Malaysia, and a Representative of the Education Ministry of Norway
11:00 am
Coffee break
11:30 am

New Approaches to Diversity in Education Impulse presentations with subsequent panel discussion:

Disabilities as Superpowers (Monika Solveig, Head of Department Elementary School, Commune Bergen, Norway)

Mindfulness in Education (working title) Dr. Jessica Deighton, University College London, UK (enquired as speaker)

Discussion Chair: Boris Gromodka, CEO, Gromodka Consulting, Germany

12:30 pm
Lunch break
1:15 pm

Keynote The Role of AI in Education (working title) (Michael Jay, Educational Systemics)

1:45 pm

Leveraging Digital Tools for Educating Heterogenous Learning Groups

Impulse presentations / Best practise with subsequent panel discussion

2:30 pm
Meet-up in the Conference Lobby
2:45 pm

Exclusive programming for EDU Conference attendees at selected stands in halls 3.1 and 4.2.
The preliminary programme may be subject to change.