Frankfurt EDU Conference
Diversity – New Learning Concepts for Heterogeneous Societies
Wednesday, 16 October 2019
9.30 am - 3.30 pm CEST
Congress Center, Level 2
Rooms: Spektrum, Conclusio
Buy your ticket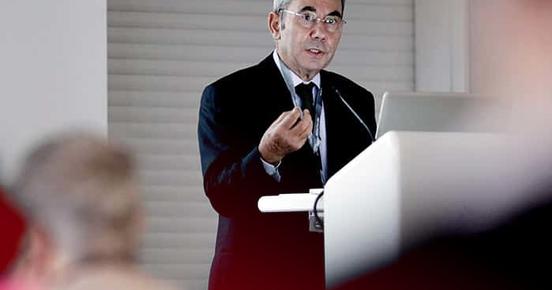 Education in the 21st century
In 2019, the conference will offer English-speaking sessions on current education topics.
The Frankfurt EDU Conference, formerly known as "Bildungskongress" - Education Congress – has been organised by Frankfurter Buchmesse since 2006 in cooperation with several partners. The programme includes panel discussions and impulse presentations for decision makers in the education industry.
In addition to events, the marketplace is a central part of the Frankfurt EDU Conference. In the foyer of Congress Center Level 2, publishers, institutions and service providers for the education industry have the opportunity to present their products. Exhibitors can also sell their books and media at their retail price.
The diversity in societies is increasing. The same is happening in the classroom. Therefore, there is need for new learning concepts for heterogenous societies. These learning concepts can involve digital tools as well as new ideas like mindfulness in education. The conference will highlight some of these issues and look at future prospects.
Parallel to the conference sessions in English, two German-language strands will present the conference topic to German educators, teachers and headmasters.
9:30 am
Registration
10:00 am

Greeting

Frida Blomgren, State Secretary, Ministry of Culture, Norway

 
10:10 am

Impulse speech

Challenges of education in heterogeneous societies

Prof. Dr. Wassilios Fthenakis

10:20 am

Moderated Panel

Diversity - Challenges of education in heterogeneous societies

Participants: Dr. Maszlee bin Malik, Minister of Education, Malaysia; Frida Blomgren, State Secretary, Ministry of Culture, Norway; Stéphane Dion, Canadian Ambassador to Germany; Prof. Dr. Wassilios Fthenakis

Moderation: Sherri Aldis, Chief United Nations Publications

11:00 am

Coffee break

11:30 am

New Approaches to Diversity in Education Impulse presentations with subsequent panel discussion:

Disabilities as superpowers - Monika Solvig, Head of Department Secondary School, Commune Bergen, Norway

Mindfulness in Education - Vera Kaltwasser, author, teacher trainer. MBSR-teacher, curriculum development: AISCHU (Achtsamkeit in der Schule), Germany

Discussion Chair: Boris Gromodka, CEO, Gromodka Consulting, Germany

12:30 pm

Lunchbreak

1:15 pm

Keynote

The Role of AI in Education

Michael Jay, President, Educational Systemics, USA

1:45 pm

Leveraging digital tools for educating diverse learning groups - Impulse presentations /Best practice with subsequent discussion - Joseph South, Chief Learning Office, ISTE, USA; Myron Cizdyn, President, European Foundation for Technology in Education (EFTE), Poland

2:30 pm
Exclusive programming for EDU Conference attendees at selected stands in halls 3.1 and 4.2.
All about the future of learning