The Friends of Frankfurter Buchmesse
All those who know and love the value and radiance of the event gather in the circle of friends. Our aim is to give the countless friends and allies of Frankfurter Buchmesse a common platform on which they can meet new people and experience something special.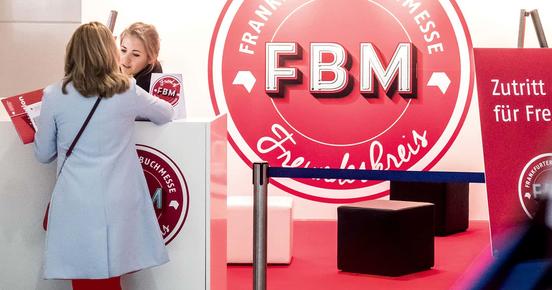 Frankfurt is a city of literature and Frankfurter Buchmesse is its most prominent figurehead. Support of the The Friends of Frankfurter Buchmesse is therefore a self-evident fact for us.
Peter Feldmann Lord Mayor of the City of Frankfurt
Take advantage of the Freundeskreis ticket.
Visit to Frankfurter Buchmesse during the trade visitor days
A 1-day ticket (flexible use)
A notebook from Leuchtturm (DIN A7) - available at the Business Club reception
A place for literature lovers
The common enthusiasm for literature, the belief in the freedom of the word and the exchange of ideas gets its own home in the circle of friends.
Platform for encounters
We promote exchange and networking between industries, cultural institutions, literature enthusiasts and the world of business.
Insider knowledge
Frankfurter Buchmesse's circle of friends offers exclusive guided tours of the fair and an insight into the world of international publishing.
Inspiration
The circle of friends is inspiring through exciting encounters and contents.
Become a Friend of Frankfurter Buchmesse, profit from valuable contacts to other companies and have your company logo featured on our website.
Want to know how to become a friend of Frankfurter Buchmesse?
Just contact us. We will be happy to customize a friend package for you.
Send Message