The Business Club Conference / THE MARKETS
9 October 2018
9.30 am - 1.00 pm
Hall 4.0, Room Europa
from € 472.‒
Buy ticket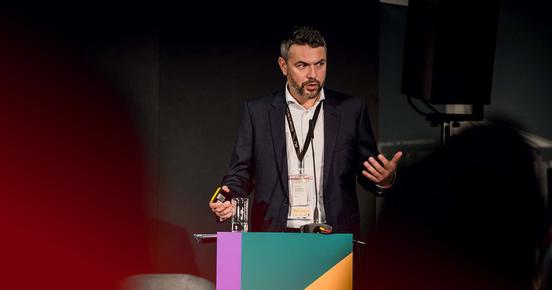 Connect with the influencers of your industry.
Now in its fourth year as one of the leading professional events at Frankfurter Buchmesse, THE MARKETS conference will showcase outstanding revenue models from the UK, Georgia, Brazil, Sweden and Southeast Asia, spiced up with perspectives from Germany, the Netherlands, France, India, the US and China.
Key players from these regions will be sharing their views and expertise about their respective markets to highlight opportunities for international cooperation. In addition, experts from each market will be holding one-to-one talks, giving advice and answering questions regarding their home markets.
Gain first-hand information from top-speakers.
At THE MARKETS you will meet more than 250:
Executives
Pioneers
Innovators
Founders
Top professionals of the global publishing industry
... and many new colleagues and friends from the international network of Frankfurter Buchmesse.
9.30 am

Opening

Speaker:

Katja Böhne, Vice President Marketing & Communications, Frankfurter Buchmesse

9.35 am
Keynote Speech
10.00 am

Panel Discussion - Trade Journalists on Trends for Revenue Growth

Earlier in the summer, the Frankfurter Buchmesse and Publishing Perspectives sent a survey out to publishers around the world looking for information about what drives the most revenue for publishers. Journalists from leading international trade publications will analyse the responses and share details from each of their markets.

Speakers:

André Breedt, Managing Director, Nielsen Book Research International
Andrew Albanese, Senior Writer and Features Editor, Publishers Weekly, US
Fabrice Piault, Editor-in-Chief, Livres Hebdo, France

Moderation:

Porter Anderson, Editor-in-Chief, Publishing Perspectives

10.45 am

Introducing the Young Talents 2018

In cooperation with leading publishing industry trade magazines, the Frankfurter Buchmesse sponsors six initiatives to support young professionals in Germany, the Netherlands, the United Kingdom, USA, China and Brazil. The Young Talent programme is aimed at publishing professionals from these countries. During THE MARKETS you will have the opportunity to directly get in touch with our Young Talents 2018.

Speaker:

Erin Cox, Business Development Director, Publishing Perspectives

11.00 am

Presentation - Reinventing the Book Club in Brazil

Gustavo Lembert Da Cunha, Founder of TAGLivros.com, a unique book club in Brazil which boasts more than 20,000 members, shares how he started his organization, why readers love it so much, and how he works with publishers.

Speaker:

Gustavo Lembert Da Cunha, Founder of TAGLivros.com

11.20 am

Dialogue - Subscription Models in Sweden

The latest report on publishing in Sweden has shown interesting developments in the Swedish publishing market with a 1% decline in sales through traditional channels but a 4.2% increase when niche channels such as subscription audiobooks are included. We will take a closer look at the Swedish Book Market to understand why subscription models are saving the publishing industry in Sweden.

Speaker:

Anki Ahrnell, Chief Digital Officer, Bonnier AB
Niclas Sandin, CEO, BookBeat

11.40 am

Presentation - The Power of Brand Advocates

Studies have shown that most book sales come from recommendations from a trusted source.  In this session, we will explore different ways that publishers are tapping into consumer-to-consumer sales channels, such as influencer networks on social media, book clubs, and consumer book fairs.

12.00 pm

Georgia – Made by Characters

"Georgia – Made by Characters", this was the motto chosen by Georgia, the country on the Caucasus and this year's Guest of Honour at Frankfurter Buchmesse. At THE MARKETS Georgia, will provide an overview of their publishing market and describe why publishing is on the rise in Georgia.

Speaker:

Gvantsa Jobava, Chairperson, Georgian Publishers & Booksellers Association

12.20 pm

Panel Discussion - Long and Short Form Content in the 21st Century

Digital publishing has changed the way readers interact with content.  In this panel, we will be discussing new ways editors, publishers, and writers are repurposing information and stories to appeal to a 21st century reader. The panel will focus on serialization, repurposing content, and repackaging.
1.00 pm
Lunch & end of conference (2.00 pm)
 
 
 
 
Early Birds, check this out: