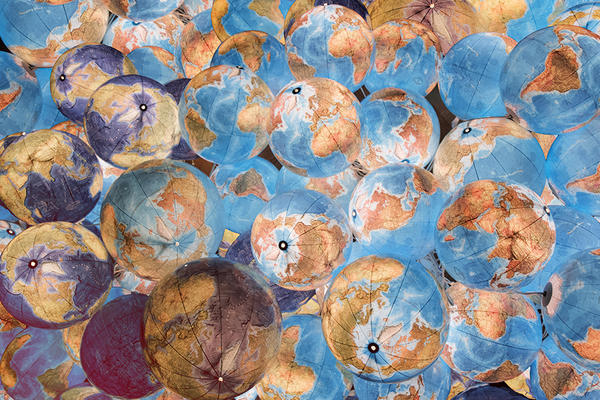 Weltempfang
Weltempfang – the centre for politics, literature and translation – showcases current social issues and debates.
In 2020, Weltempfang – the socio-political stage of Frankfurter Buchmesse – will be held digitally for the first time and feature the topic "Europe – connecting cultures". The agenda covers the most current issues, such as the role of culture, literature and politics during the coronavirus crisis, along with debates on the topics of fleeing refugees, migration and racism. 
The recordings of the digital Weltempfang events are now online available for free.
The Arab World and Europe: Flight and migration in children's books
How do children's book authors write about the difficult subject of flight and expulsion? What kind of children's literature is needed to encourage sensitive yet open discussions about this topic? In conversation with Ibtisam Barakat, versatile Palestinian-American children's book author and winner of this year's Sheikh Zayed Award, and Kirsten Boie, well-known German author of children's and young adult books, this panel discussion sheds light on these and other important questions from different perspectives and (writing) experiences.
Moderator: Dr Stephan Milich
In cooperation with: Litprom e.V. und Sheikh Zayed Book Awards
Europe, Languages and Justice – Gendering in a European context
What is gender? And why is it so important to us? Or is it even as important as we've all been taught to believe it is? Aren't there countless social situations in which our gender absolutely doesn't matter – or shouldn't matter, at least? What attitude can we, should we have towards it in literary environments? How do we translate queer texts? Together with moderator Mithu Sanyal, our guests Nina George, Karen Nölle and Thomas Meinecke explore these and other questions.
Moderator: Mithu Sanyal
In cooperation with: VDÜ and Weltlesebühne
Race, Sex and Colonialism – a topical debate beyond European borders
What relationships are there between race, gender and colonisation? This conversation between two specialists, Prix-Goncourt-winning writer Leïla Slimani and "muscle" philosopher Elsa Dorlin, offers an opportunity to delve deeper into history – and to better understand the realities of our present-day societies.
Moderator: Regina Keil-Sagawe
In cooperation with:  Institut français Deutschland, Literarisches Colloquium Berlin and Institut franco-allemand IFRA
On the Sense and Senselessness of Cultural Boycotts
The cultural sphere (and not only) in Europe is also being impacted by isolationist and "cleansing" movements. Wherever social divides widen, sensitivities, emotions and fear take over, threatening artistic freedom and freedom of expression. With the internet, new norms, old violations and historical set-offs are intensifying, causing liberal values to lose in importance and validity. What is the effect of boycotts in the arts and culture sector, whom do they weaken, when are they legitimate and what possible diagnoses are there?
Moderator: Barbara Wahlster
In cooperation with: Pen Germany
Africa and Europe – How can cooperation succeed?
It's impossible to overestimate the present and future importance of Africa with regard to its young population, natural resources, climate change and the resulting migration movements, but also in cultural and economic terms. Like Europe, Africa is a continent of many individual voices and perspectives. So what is going on with this Africa? And with what attitude does Europe regard Africa and vice versa? What dynamics and what young voices are there, and who is listening to them?
Moderator: Prof Andreas Eckert
In cooperation with: Litprom e.V.