"Egal-Haltung unmöglich!"
Martina Stemann über die Zukunft der Gourmet Gallery und warum Essen immer auch politisch und identitätsstiftend ist.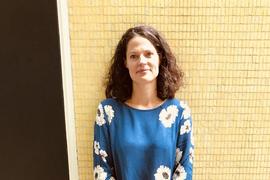 Martina Stemann
Key Account Manager Visual Culture & Children's Book der Frankfurter Buchmesse 
Key Account Manager Visual Culture & Children's Book der Frankfurter Buchmesse 
Martina, du bist Key Account Manager Visual Culture & Children's Book der Frankfurter Buchmesse — was bedeutet dieser lange Titel?
Wir sind im Bereich Business Development für neue Geschäftsmodelle auf der Frankfurter Buchmesse und die Weiterentwicklung bestehender Angebote zuständig. Das tun wir in enger Abstimmung mit unseren Kunden, den Key Accounts. Mein Aufgabenfeld liegt in den Communities Visual Culture und Children's Book. Mit Visual Culture sind alle gemeint, die sich für Lifestyle, Kunst und Design interessieren oder dort arbeiten. Buchbezogen sind das solche Titel, die einen hohen ästhetischen Anspruch haben. Diese haben u.a. in unserer Halle 4.1 eine Heimat, wo seit 2016 auch THE ARTS+ die Besucher inspiriert. Aufgrund des Design-Aspekts in allen Medien rund um Food zählt auch das Kochbuch zur Visual Culture Community. Und Children's Book erklärt sich ja von selbst.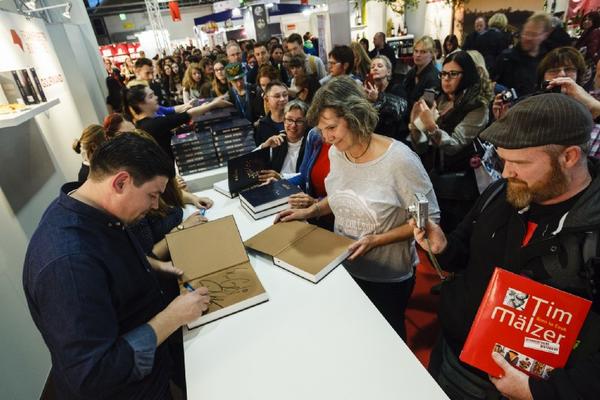 2. Die Gourmet Gallery findet 2018 bereits zum zehnten Mal statt. Warum ist der Bereich so essentiell für die Frankfurter Buchmess
Der langjährige Erfolg der Gourmet Gallery spiegelt die wachsende Bedeutung von Ernährung in unserer Gesellschaft wieder: Essen ist ein Ausdruck von Haltung und Identität geworden. So hat sich auch das frühere Kochbuch als reines Anleitungsbuch zu einem hochwertigen, identitätsstiftenden Ratgeber entwickelt. Erfolgreiche Kochbücher sind heute Coffeetable Books, die vom Leser zu Hause als Statussymbol einen prominenten Platz erhalten. Als Ausstellungsareal bietet die Gourmet Gallery zudem auch Ländern eine attraktive Möglichkeit, sich über ihre Kulinarik zu präsentieren. So hat unser Ehrengast Georgien einen 100qm-Stand mit seinen berühmten Weinen und landestypischer Kost. Und weil Essen längst ein Politikum geworden ist, gestalten sich auch unsere Bühnen-Programme jedes Jahr recht spannend. Food ist also von der Frankfurter Buchmesse nicht mehr wegzudenken und beschert auch den Verlagen regelmäßige Bestseller.
3. Welche langfristigen Entwicklungen siehst du im Bereich Ernährung?
Dass in unserer hektischen, effizienzgetriebenen Gesellschaft ein Bedürfnis nach Entschleunigung und Achtsamkeit besteht, ist offensichtlich. Dieses wird weiter wachsen und manifestiert sich in unserer Ernährung. So kannst Du in heutigen Konsumgesellschaften keine Egal-Haltung mehr zum Essen haben. Dazu kommt die politische Dimension mit Aspekten wie Ökologie und Nachhaltigkeit. Plötzlich sprechen z.B. auch mächtige Politiker über das dramatische Bienensterben. Und verpackungsarme Ernährung ist als "Zero Waste" ein großes Thema — vom GRÜNEN-Abgeordneten bis zur Influencerin auf YouTube. Dieses Jahr haben wir dazu mit Reduction 2020 gleich einen ganzen Food Think Tank im Programm mit Themen wie Food Data und Future of Food. Neben diesen inhaltlichen Entwicklungen sehe ich eine mediale Transformation: Die Formate rund um Food werden immer fluider. Es gibt stetig wachsende digitale Communities, Foodblogs & FoodTuber mit Millionen Followern, Rezepte in Form von Gifs und vieles mehr. Dabei genießen prominente Köche heute Popstar-Status, was sich auch in unserer Showküche widerspiegelt.
4. Worauf freust du dich am meisten im Oktober?
Ganz klar, auf die Nocturne Party am Messemittwoch in unserer Showküche. Unser Ehrengast Georgien wird sie mit DJ, georgischer Kost und ganz viel Wein ausrichten!
5. Ich danke dir für das Gespräch!
Frankfurt, 6. Juli 2018
Das Interview führte Frank Krings, PR Manager der Frankfurter Buchmesse.