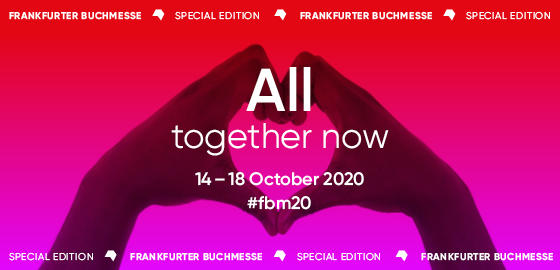 Frankfurter Buchmesse 2020 – Special Edition
Digital offers for exhibitors, trade visitors and literature lovers / Federal government provides funding / Press briefing on 14 July
In October, books, literature and authors are traditionally the focus of life in Frankfurt. To ensure that remains the case in the year of COVID-19, Frankfurter Buchmesse (14–18 October 2020) has developed a wide-ranging digital programme to complement the face-to-face meetings that will take place on the fairgrounds and at the many events in the city. The digital programme of Frankfurter Buchmesse 2020 will be co-created by publishers and will be accessible by trade visitors and literature fans all around the world. The digital events and services of Frankfurter Buchmesse 2020 will be available free of charge thanks to funding provided by Germany's Federal Government Commissioner for Culture and the Media, Minister of State Monika Grütters.

"We would like to thank Minister of State Monika Grütters for her support and are particularly pleased that, thanks to the financial assistance, we are able to make our digital offerings available free of charge this year," said Juergen Boos, director of Frankfurter Buchmesse. "Frankfurter Buchmesse 2020 will be a unique book fair – a 'special edition'. Digital events and services cannot replace in-person meetings, but in a year when exhibitors and trade visitors from many parts of the world cannot come to the fair because of travel restrictions, digital venues are essential. Under the motto 'All together now' we want to offer publishers and partners, culture enthusiasts and trade visitors from all over the world the opportunity to engage with each other and celebrate authors and stories at the fair and in a virtual environment."

Frankfurter Buchmesse's website www.buchmesse.de will be the platform on which all digital formats - for both trade visitors and culture lovers - will be made available. During the book fair week (12-18 October 2020), a huge digital event will be taking place on that site, on the fair's social media channels and on numerous partner channels under the hashtag #fbm20. All events will be listed in the online calendar of events at www.buchmesse.de. Companies can create a digital presence on the book fair's website in the online Exhibitor Catalogue, the Calendar of Events and on special theme pages for both trade visitors and culture fans. Also, publishers are invited to submit ideas for digital events for BOOKFEST digital. They will also be given access to a rights trading platform and a matchmaking tool. The professionals' programme includes digital conferences and further digital events during the book fair week, which will also be made available at www.buchmesse.de. From mid-August on, companies and trade visitors can register for participation in the digital formats of the fair, using an online form at www.buchmesse.de. The Call for Ideas for BOOKFEST digital is already underway and will end on 15 July 2020. From September on, culture and literature fans can find out about the programme in the calendar of events at www.buchmesse.de.
Digital offers for trade visitors: Frankfurt Rights, Frankfurt Conference and matchmaking
Frankfurt Rights: rights and license business online

Frankfurt Rights is Frankfurter Buchmesse's platform for trading in international rights and licenses. This is where publishers can present their company, titles and rights catalogues, and where they can create a rights catalogue. Programme managers at publishing houses can use the platform which is completely indexed by keywords, to find promising titles and new business partners from around the world. They can also use it to contact rightsholders directly and request preview materials.

"Frankfurter Buchmesse is the platform for the international rights business. That's why it's especially important for us to provide our customers with effective digital services, in addition to our physical venue. This allows literary agents, editors and rights and license managers from around the globe to be present and drive their business forward," said Jenny Kühne, Key Account Manager Rights & Licences and Project Lead Digital Book Fair at Frankfurter Buchmesse.

All trade visitors will be able to access the platform as of mid-September and will be able to use it for free for nine months thanks to the funding by Germany's Federal Government Commissioner for Culture and the Media.

Frankfurt Conference: industry panels, inspiration and networking

The core of the curated, digital offerings for trade visitors at Frankfurter Buchmesse 2020 will be a digital conference programme. The new Frankfurt Conference will offer discussions, Q&A sessions and brief presentations with international experts in the areas Academic & Scholarly, Rights & Licensing, Publishing Insights, and Audio on four days. Publishing professionals from these fields can attend the events to expand their knowledge and make new contacts. The digital conference format is the result of Frankfurter Buchmesse's successful experience with the Frankfurt Audio Summit and the Frankfurt Rights Meeting. Additional information on the speakers, programme and how to register as an active participant will be released shortly.

Frankfurt Conference programme – overview:

• Academic & Scholarly – in cooperation with Scientific Knowledge Services (12/10/2020, 3.00–5.30 pm)
• Rights & Licensing (13/10/2020, 3.00–5.30 pm)
• Publishing Insights (14/10/2020, 3.00–5.30 pm)
• Audio (15/10/2020, 3.00–5.30 pm)

Further digital trade events during the book fair week

In addition to the conference programme, additional digital events during the fair will offer publishing professionals worldwide the opportunity to expand their knowledge and dialogue with each other. Frankfurter Buchmesse's thematic areas – THE ARTS+, Frankfurt Audio, Frankfurt Kids, Frankfurt Academic, Frankfurt Authors and Frankfurt EDU – are organising digital talks and curated networking sessions for international trade visitors.

Match me if you can: making new business contacts

Another digital service being offered by the book fair is a matchmaking tool that can be used on a desktop or mobile to find and contact new business partners. Trade visitors can register to use the app free of charge as of mid-September. Users receive recommendations for finding new contacts based on information they have provided about themselves. The application also makes it possible to search by professional area and region. Users can even get in touch with prospective partners directly through the matchmaking tool.

Cross-media rights trading: THE ARTS+

THE ARTS+ is Frankfurter Buchmesse's trading platform for creative intellectual property (CIP): ideas, concepts, text, images and audio content. THE ARTS+ is thus the interface between the publishing sector and creative industries such as TV and film, art and museums, music, design, etc. During Frankfurter Buchmesse 2020, THE ARTS+ will offer a digital programme for trade visitors which will feature presentations, masterclasses and pitches. The aim is to promote partnerships and drive the rights and licensing business forward. One initiative already launched by THE ARTS+ is Pitch your CIP, a closed Facebook group with already over 800 members that brings together players from the publishing and creative sectors. The group makes it possible for agents, publishers and creatives to pitch their content so they can find partners for co-productions, screen adaptations, merchandising ventures, etc. The goal of Pitch your CIP is promoting exchange, building a B2B community and laying the foundation for content trading in an age of media convergence. www.buchmesse.de/pyc

Further presentation options

Frankfurter Buchmesse offers publishers and partners the opportunity to present a digital corporate profile online. The features available in the fair's online Exhibitor Catalogue have been expanded accordingly. In addition to conventional information, it is possible for businesses and partners to include images, documents and video content in their profiles, giving literature lovers and business prospects an even more detailed picture of what they do.Exhibitors can also use www.buchmesse.de to present themselves on thematic webpages, addressing either trade visitors or literature lovers. These services are being offered free of charge not only to exhibitors physically present at Frankfurter Buchmesse 2020, but also to businesses and partners participating in the digital book fair.

Publishers and partners who would like to be part of this year's Frankfurter Buchmesse Special Edition by organising their own (digital) events can include them in the fair's online Calendar of Events. They can even create a link to their events, regardless of whether they will take place live or online.

It is currently expected that users will be able to enter their information in the exhibitor catalogue and events calendar as of mid-August. The curated spots on the theme pages can be booked free of charge from around the beginning of August.

International programmes: building a global network

This year, Frankfurter Buchmesse's international support programmes will bring together participants from around the world to meet virtually. The Frankfurt Fellowship for publishing professionals and the Invitation Programme for publishers, which is supported by the Federal Foreign Office, are focusing on books for children and young adults. In addition to these two programmes, the Young Talent initiatives will also be part of digital Frankfurter Buchmesse 2020. A new support programme for booksellers from around the world is also in development.
Digital formats for the public
The Frankfurter Buchmesse 2020 Special Edition will include an extensive digital programme for the general public, most of which will be broadcast by the media. One special attraction will have its premiere in Messe Frankfurt's Festhalle: the ARD Book Fair Stage, in cooperation with Frankfurter Buchmesse. The lead organiser of the fair's programme of events will be public broadcaster ARD and its network of stations; additional partners are broadcasters ZDF, 3sat, ARTE, Deutsche Welle and Deutschlandfunk, together with Frankfurter Allgemeine Zeitung, DER SPIEGEL and others. The events will be streamed live. In keeping with current social-distancing requirements, the events in the Festhalle can take place before a live audience. One highlight will be the ARD Book Fair Night on Friday, 16 October 2020, which will be broadcast live nationwide on the country's cultural programmes.

BOOKFEST digital: the culture festival on 17 October live on the Web

One day, overflowing with cultural highlights: on Saturday, 17 October 2020, the digital BOOKFEST festival will be geared towards culture and literature lovers from around the world. A 16-hour programme is planned featuring international participants, and will be streamed live. The event will allow authors and their fans to interact online. The programme – consisting of interviews, discussions and staged events – will be curated by the Frankfurter Buchmesse team. Publishers and partners are invited to suggest authors and topics for BOOKFEST digital; the deadline for submissions is 15 July 2020. Participation is free of charge, both for interested culture fans and for exhibitors and publishers. More information on the Call for Ideas is available at: www.bookfest.de/digital.

Guest of Honour Canada to have extensive virtual presence

Due to current travel restrictions, Canada has had to postpone its live activities as Guest of Honour by one year. However, numerous digital events are planned for 2020 – both as part of Frankfurter Buchmesse's public programme and its programme for trade visitors. Details will be made available shortly. Canadian works that have been translated into German in the last 12 months, and their authors, will be presented on the fair's digital platforms. More than 100 new titles in German have been published in recent months: a list is available here for download and will be updated on an ongoing basis.

Virtual Weltempfang: Europe – Connecting Cultures

How can culture have a sustainable impact during a global crisis? At Weltempfang – Frankfurter Buchmesse's centre for politics, literature and translation – authors, cultural creatives, experts and opinion leaders from around the world will discuss how the pandemic is changing cultural life. In keeping with the motto "Europe – Connecting Cultures", a dozen carefully curated events are planned which will be broadcast during the week of the fair. Weltempfang is a joint project by Frankfurter Buchmesse and Germany's Federal Foreign Office.
Virtual press brief in English on 14 July at 5 pm CEST
A virtual press briefing on the digital offers of Frankfurter Buchmesse 2020 will take place on Tuesday, 14 July 2020 at 5 pm Frankfurt time. The briefing will be streamed live via YouTube. Link to the livestream: https://youtu.be/-ssB4Hqa8qg

Speakers:
• Juergen Boos, Director of Frankfurter Buchmesse
• Katja Böhne, Vice President Marketing & Communications
• Lars Birken-Bertsch, Director Business Development GRC
• Jenny Kühne, Project Lead Digital Book Fair