Vouchers for booksellers, distributors and librarians
Get in touch with over 10,000 booksellers, distrubutors and librarians at Frankfurter Buchmesse.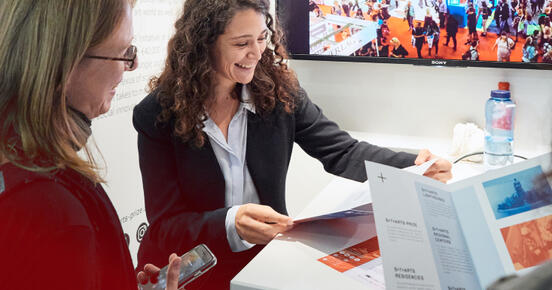 What is the voucher campaign?
Are you an exhibitor at Frankfurter Buchmesse and would like to talk to as many booksellers, librarians and distributors as possible? Ideally directly at your stand?
We support you in this! With your contribution to the voucher campaign for booksellers and librarians, you will reach over 10,000 contacts. Invite them to your stand and get into direct contact with your target group even faster.
A collection of vouchers from exhibiting publishers will attract booksellers and librarians to the stands, where a variety of activities will be offered: from coffee or a piece of cake to original give-aways or competitions - there are no limits to your imagination.
The registration phase for the 2023 voucher campaign ended on 11 August.
The registration form for the voucher campaign is currently disabled.
Your offer in the Voucher Campaign for Booksellers, Librarians and Distributors
Send us your contribution by 11 August 2023 and secure one of the limited places in the voucher campaign. Participation costs 175,- EURO. Only exhibitors at Frankfurter Buchmesse 2023 can take part in this promotion.
The collection of vouchers will be distributed digitally to librarians and booksellers in the run-up to the fair.
The promotion is aimed at both German and international booksellers, mail-order booksellers and librarians. Are you particularly interested in international contacts? Then please advertise your contribution in English.
Important: The voucher campaign will be realised with a minimum of 50 vouchers. Should the voucher campaign not be realised due to an insufficient number of vouchers, no costs will be incurred by participating exhibitors.
There will be no proof before publication. We therefore ask you to send us the final files.