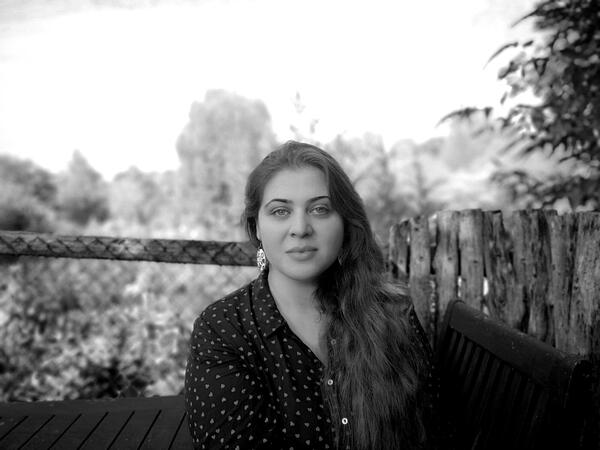 In October 2020, Lina Atfah was the first author to receive the LiBeraturpreis for a book of poetry - for "Das Buch von der fehlenden Ankunft" (Pendragon Verlag). However, there was no award ceremony at which she could have read from here bookdirectly in front of an audience. Here she remembers what it was like to walk through the empty halls and stream out into the world. The poem is only available in German and Arabian.
Hinter den Kulissen
als ich in Coronazeit auf der Frankfurter Buchmesse las
Ein langer Korridor
Vorhänge beidseitig
Meine Schuhabsätze klackern
Das Echo um mich wie Linienmuster im Sand
es schwingt mit der Einsamkeit unserer Zeit
strahlt die Seele des Lesens aus
Als wäre ich eine Muse
alle Gedichte liegen in meiner Hand
und diese Leere ist für mich beleuchtet
für die Worte, die ich noch nicht sagte
Ich trete ins Unmögliche
lese unser Alleinsein vor
Ein Wesen aus Sternenstaub
tröstet sich mit Wörterspiel
spielt mit seiner Furcht, seiner Sehnsucht nach Ewigkeit
Es liest
Die Worte waren einmal hier
eine Flut aus Titeln zog von hier vorbei
hier schlenderten die Augen endlos umher
Aber nun steht keiner da
nur eine weiße Spur in der Luft
die von unseren Geräuschen übrigblieb
Gezwungen kam ich von weit her
mit meinen vielen Narben
Ich las hier zweimal
meine Stimme, die mich an den alten Ort zurückwarf
erkannte sich an dem Neuen
Was wäre die Erde ohne Bücher
ohne unsere Schritte, die nach einer Geschichte suchen
ohne den Ort, der jede Sprache umarmt
und uns die Chance gibt
um unsere Tiefe zu Sehen
Wesen aus Sternenstaub

The awarding of the LiBeraturpreis to Lina Atfah took place on 21 October 2020 in KfW's Villa 102, the video of which is still available (www.youtube.com).
More about Lina Atfah and her books: www.pendragon.de
More about the Liberaturpreis: www.litprom.de