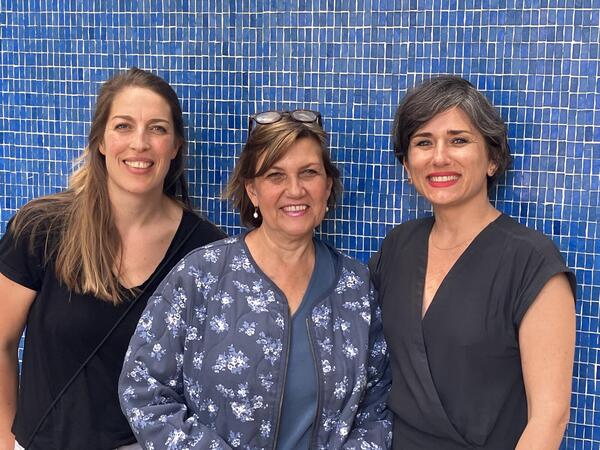 © Jenny Kühne, Birgit Fricke, Niki Théron © Annett Lepadusch
The topic of film and series adaptations has long played a special role for Frankfurter Buchmesse. Now the team for the topic of screen adaptations has been reorganised. In an interview, Birgit Fricke, Jenny Kühne and Niki Théron tell us what they would like to focus on and what visitors can expect in terms of the film theme at #fbm23.
So, who are you and can you tell us a bit about yourselves?
Jenny Kühne: As Director Rights & Licensing, I am responsible for all our offers and activities in the rights and licensing area at Frankfurter Buchmesse; this also includes the topic "Book-to-Screen".
Niki Théron: I work in the international team at Frankfurter Buchmesse and, as Senior Manager International Projects, I look after German appearances at book fairs and festivals abroad as well as cross-border cooperation projects such as our publisher training series "Let's Talk!" I am also responsible for cooperations of Frankfurter Buchmesse in the film sector. 
Birgit Fricke: As a Key Account Manager with a focus on the creative industries, children's books and comics/manga, film/TV/screen is an obvious licensing market that plays a big role for my clients and, in many cases, is a real "booster" for their business.
Why is this topic so important for Frankfurter Buchmesse?
Jenny Kühne: Books and films and series are all about good stories. And you can find them every year in October in Frankfurt. Frankfurter Buchmesse offers a unique opportunity to discover stories, characters and ideas from all over the world in one place. At the fair, we see it as our mission to connect the creative industries, to facilitate exchange between publishing and the film and streaming sectors. And thus to ensure that ideas across international and format boundaries come to fruition. 
How important are literary originals for the film industry? And what exactly has to happen for a book to find its way onto the screen?
Niki Théron: Several factors have to be taken into account for a book to be selected for film adaptation. First of all, the rights holders, such as publishers and agents, must be willing to grant the film rights. This requires negotiation and agreement on the financial and contractual aspects of the deal. Producers need to assess the potential of the book and whether it is suitable for a successful film adaptation. This includes checking the content, narrative structure and target audience of the book. Film references and visual associations that arise from the story are also important to get an idea of how the book could be transferred to the screen or monitor. Once an agreement has been reached, work on the script adaptation begins.
How does Frankfurter Buchmesse support this?
Jenny Kühne: On the one hand, with the "Film" programme focus at the fair. The programme consists of matchmaking, networking and talks and is intended to give filmmakers in particular access to the publishing world. Secondly, through cooperation with major international film festivals, where we offer representatives of the publishing industry access to the film world through pitching sessions. All these initiatives are united by the desire to promote exchange between and understanding of the needs of the different actors.
What are the challenges of bringing the book and film industries together?
Birgit Fricke: For many publishers, the rights business with production companies is unfamiliar territory. And conversely, many production companies feel lost in the abundance of book productions.
How to successfully pitch a book or even just a book idea to producers is not clear to many publishers.  The way producers need to assess material quickly and effectively is different from the traditional rights business. The challenge is to provide a translation tool for both industries. It's about bringing the right managers together and supporting all of them in their networking activities and providing guidance.
What happens around the year on the subject of film? Which partners does Frankfurter Buchmesse work with?
Niki Théron: Throughout the year, Frankfurter Buchmesse cooperates with two of the most important film festivals worldwide. 
Almost 20 years ago, we launched "Books at Berlinale" together with the Berlinale Co-Production Market, which enables selected publishers and agencies to pitch to international producers in Berlin. For the last edition we received over 250 submissions from all over the world, 11 were selected and presented.
Another successful project supported by FBM is "Shoot the Book! Cannes", which is organised by SCELF - Société Française des Editeurs de Langue Française as part of the Marché du Film of the Cannes Film Festival and celebrated its tenth anniversary this year with great material. 
Interested publishers and agencies from all over the world can apply for Berlin and Cannes from summer or early autumn - and it's definitely worth it!
What programme highlights can we expect at #fbm23? And what are you particularly looking forward to?
Niki Théron: This year, the fair Friday (20 October 2023) is all about film and series adaptation. Several events on the theme of "Book-to-Screen" will take place at the fair on that day. It is important to us to network the book, film and series worlds in Frankfurt. Together with the Berlinale, we are organising a matchmaking event on Friday that will bring publishers and film producers together. At the Aldus Up Stage in Hall 4.1, contacts can also be made in the publishing, film and streaming industries at the Screening Happy Hour.
Jenny Kühne: We are also offering a tour for producers and filmmakers, where we can show them the diversity of the book industry and book fair and engage in an intensive exchange. I'm really looking forward to that!
Birgit Fricke: In addition to this networking offer, there will be talks and panel discussions on the topic - we have been able to attract exciting speakers from the film world. I am particularly looking forward to the "Comic-to-Screen" event in the new Comics Centre in Hall 6.1, which will also take place on Friday and I am very excited to see which comics and graphic novels will find their way onto the big screen, TV or streaming.
Niki Théron: I find case studies exciting that give an insight into the collaboration of all those involved in a film adaptation. My personal highlight is therefore the Book-to-Film event on Friday afternoon in the Frankfurt Pavilion, which we will organise together with the Berlinale. 
Jenny Kühne: The programme per se and the fact that we have many great partners on board here are the highlight for me.
How can publishers or producers participate in these formats?
Niki Théron: The Book-to-Screen events take place on Friday in the Frankfurt Pavilion, on the Aldus Up Stage in Hall 4.1 and in the Comics Area in Hall 6.1 and are open to all visitors. The number of participants for the Frankfurt Book Fair & Berlinale Matchmaking for publishers and film producers is limited. This event is by invitation only.
And last but not least: Which title that has not yet been made into a film would you like to see on the big screen, or do you think has the potential to become a blockbuster?
Niki Théron: At "Books at Berlinale" in February this year, I discovered the novel "Aleksandra" by Lisa Weeda: an epic Ukrainian family saga with almost magical elements, published in Germany by Kanon Verlag in a translation by Birgit Erdmann. I would love to see that story on the big screen! 
Birgit Fricke: Is there actually already a film adaptation of the books by Dutch author Rindert Kromhout? If not, I would be happy if someone came up with the idea of making a film of his books for children and young people.
Jenny Kühne: "Girl, Woman, Other" by Bernardine Evaristo - preferably as a series! I heard that the rights to it have probably already been sold; so now I just need a little patience.
Thank you very much for the interview!
The interview was conducted by Tina Pfeifer and Ines Bachor, PR Managers at Frankfurter Buchmesse.
Even more expertise around book-to-screen rights & licensing deals
At the Frankfurt Rights Meeting on 19 September you can expect a digital session "From Book to Screen: Exploring the Film (Rights) Market". Learn from our experts Erin P. Hennicke, Independent Literary Scout & Founder, Booksmart Scouting, and Hannah Vaughn, Literary Agent, The Gersh Agency, about the path from book to screen - whether as a feature film adaptation or in series format. Gain insights into both the "traditional" rights sales for films and the scene of streaming providers, their business models, material requirements and production timeframes. Which titles have potential for film adaptation, what genres and themes are producers looking for? And how do the requirements differ in the various regions of the world?
Tickets for the Frankfurt Rights Meeting - Hybrid Edition are now available.