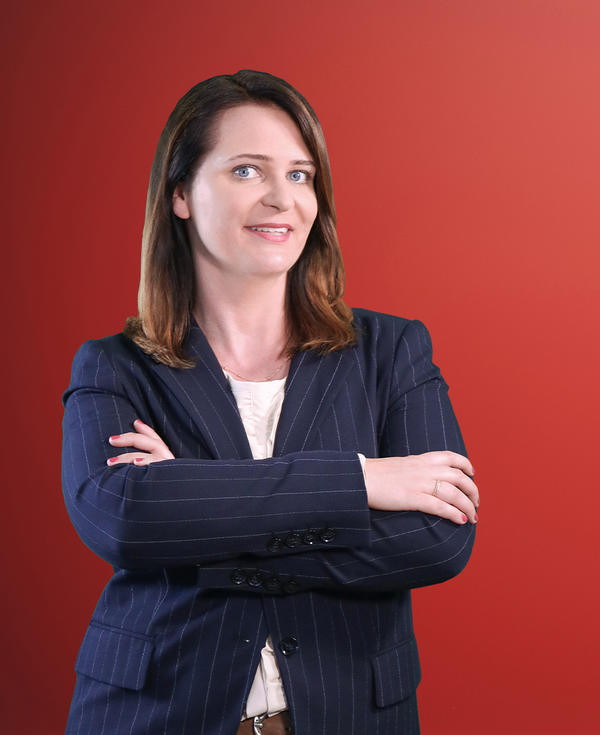 Scarlett Wisotzki, Press Officer Spielwarenmesse eG

© Scarlett Wisotzki / Spielwarenmesse eG
In 2021, many trade fairs will continue to face the challenge of implementing hybrid approaches that combine in-person and digital venues. We spoke with Scarlett Wisotzki, press officer at Spielwarenmesse eG. She is responsible for communications at Spielwarenmesse, the Nuremberg-based trade fair for toys and games, which will take place this year as a face-to-face event and, for the first time, in the summer (20–24 July 2021).      
It's February 2021 – and unfortunately Germany is still in lockdown. How much of a challenge is it for you and your team to promote the Spielwarenmesse 2021 Summer Edition, which is set to take place as an in-person event in July?
Scarlett Wisotzki: For the first time in its more than 70-year history, we're planning on holding the fair in the summer. The result is a completely new set of conditions, which require the right responses. We've spoken with exhibitors, trade retailers and media representatives from around the world, who say they are looking forward to experiencing Nuremberg in warm weather for a change. We are focusing on their needs and will be implementing new ideas to offer them an engaging on-site experience from 20 to 24 July. Naturally, we are keeping an eye on how the situation is developing. The health and safety of all participants is our highest priority. As a result, we are continually updating the detailed hygiene guidelines we've developed together with the health authorities to reflect current requirements.
In addition to the in-person fair this summer, you have also been offering your customers a digital venue since January, namely Spielwarenmesse BrandNew. What would you say are the most important success factors for the digital services provided by fair organisers?
Scarlett Wisotzki: As the leading trade fair with the industry's most extensive global network, we are well aware of our responsibility. And thanks to Spielwarenmesse BrandNew, we used our very popular website, along with our social media channels and newsletter, to convey information about trends and innovations during the fair's originally scheduled dates. When it comes to digital offerings from trade fairs and marketing organisations, the point is not so much replicating in-person fairs one-to-one – they are much too complex for that. What organisers must focus on instead is providing services and being authentic. The true task is supporting exhibitors, retailers and buyers, including through hybrid means. Communicating industry news and innovations and facilitating contacts has to be the focus – 365 days a year.
How has demand in the toy industry changed recently? Which trends do you see playing a role in 2021?
Scarlett Wisotzki: The market for toys grew in 2020, in Germany even at an above-average pace. Due to the lockdown, people had to stay home and keep the whole family busy, which is why there was strong demand throughout the year, especially for games and puzzles. Building toys and outdoor articles sold so well that larger play equipment, items like trampolines, was even out of stock at times. These three categories alone account for 65% of the industry's growth in Germany. Because of the current situation, board games continue to be popular. Which trends will ultimately prevail in 2021 is something that consumers will decide. Moreover, we have our own international TrendCommittee, whose members identify the relevant developments taking place each year in their home countries. We use Spielwarenmesse to present the trends that overlap the most.
Social media and livestreams have long been an integral part of the public relations work done by trade fairs and conferences. Would you say they have become even more important over the last year? How do you view these channels today?
Scarlett Wisotzki: The past year required special measures that opened up new possibilities for PR representatives in the trade fair industry and elsewhere. I believe that the overall situation in the past year gave a huge boost to the issue of digitalisation in general. In autumn, for example, we organised a press conference for Insights-X, our trade fair for paper, office supplies and stationery. It involved journalists from throughout Europe and for the first time we did it using only Zoom – an event that worked well. In addition, our exhibitors have been able to engage in very successful live sessions using our social media sites. Trade fairs are all about making contact, which is why all forward-looking communications channels should be used. In terms of digital innovations in public relations, the end of the line is nowhere in sight.
Looking to the near future, once the pandemic is over: what can trade fair organisers learn from the years 2020 and 2021?
Scarlett Wisotzki: We believe that face-to-face events will remain indispensable for maintaining personal contacts. The unique diversity of products has to be experienced on site with all the senses. At the same time, every crisis also offers opportunities: new options for communicating with customers have been created, digital offerings have been realised more quickly than planned, business models and work-schedule options have been expanded, and internal crisis-management mechanisms improved. Like others, trade fair organisers have accelerated the implementation of innovative measures that serve the market by targeting the relevant groups. Everyone will be deepening the knowledge they've gained in the digital sphere in recent months, so they can shape as effectively as possible how digital offerings interface with and augment the analogue world in a meaningful way.
Thank you!
Interview conducted by Frank Krings, PR Manager at Frankfurter Buchmesse.