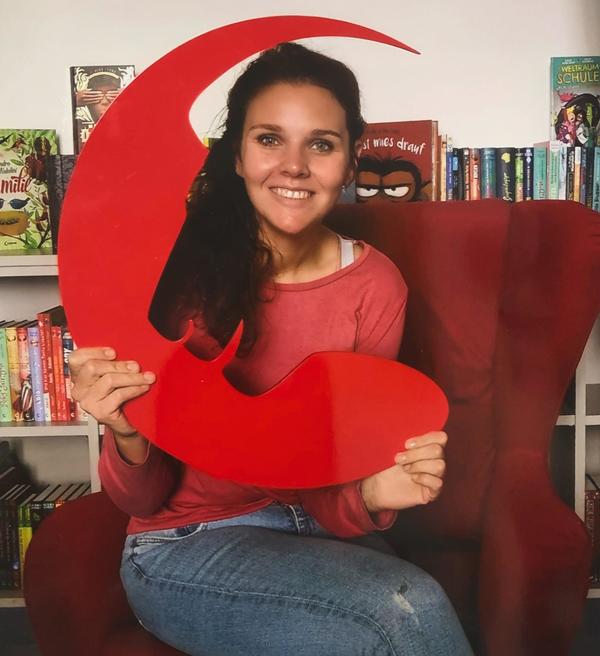 At the beginning of July, the pitching event "Shoot the Book!", which brings publishers and international producers seeking future projects together, took place as part of the Marché du Film at the Cannes Film Festival. Friederike Fuxen, Rights Director at Loewe Verlag, participated in the event - organised by SCELF and the Institut français and in cooperation with Frankfurter Buchmesse – for the first time. Of the 12 titles selected, she presented "Ruby Fairygale", the only children's book, and talks in this interview about her many wonderful experiences and encounters at the Croisette.
This has been your first time pitching "Shoot the Book!". What was the atmosphere like?
The personal encounters at the film festival and the subsequent conversations with film professionals and colleagues from the book industry were a great benefit for us, it had a special "feel good" atmosphere. Each personal encounter has been engaging. And the personal exchanges on site – between all the events, discussions, and film premieres – led to exciting reflections and great ideas for a cinematic realisation of "Ruby Fairygale". Together, we even thought of possibilities for the further development of the book series. After being limited to only online meetings for so long, this experience of being in-person still resonates. I think back very fondly on the intensive brainstorming sessions during the event and I will try to implement the new knowledge in future pitchings.
Have you previously participated in other pitching formats?
We always like to take part in pitching events for possible literary adaptations. In addition to the Munich Film Festival, we have also participated in the Berlinale and the German Children's Media Festival GOLDENER SPATZ.
How did you prepare for your pitch?
We prepared the pitches in small groups over several online workshops. This was followed by a video shoot as "Shoot the Book!" was supposed to take place online this year. Luckily it happened as an in-person event in the end. As it turned out, the filming of my video pitch was quite challenging. First, we set up a film set close to a lake, but then a storm came up and we were not able to finish it. In an alternative production in our publishing building, the camera literally broke. But despite all these initial difficulties, in the end, the short two-minute pitch was convincing and was a good preparation for Cannes.
What were the reactions like?
We presented the only children's book and therefore we experienced a great interest in "Ruby Fairygale", both nationally and internationally. I am very excited about the responses from the production companies, but I am also already working on a draft for the script with an European director. Through the exchange in Cannes, I got to know many producers from abroad, which is particularly exciting for a publisher of children's and young adult books. What was particularly nice is that many of our titles have few country-specific aspects and can work globally. For example, "Ruby Fairygale" appeals to every child. Now I am sure: Ruby's fantastic world and her adventures have the potential for an international film production!
Do publishers nowadays also pay attention how filmable a book's story might be when buying new titles?
Filmability of an upcoming film adaptation does not have a decisive effect on our programme planning, but it does offer good potential in terms of marketing and the addressing of our target group. But it doesn't affect the decision-making. Fortunately! In this way we remain in a position to react to current developments. Stories about adventures in other worlds that can be imagined visually are, of course, particularly appealing. However, audio books or radio plays already make this possible. Listening to a text creates images, just as reading books with or without illustrations does. The text and its narration has to inspire our customers and that is the most important sales argument.
When is a book suitable for film adaptation?
There are as many different narrative forms and media in the moving image as there are for texts. From my point of view, however, the global, borderless suitability of the text and its broad identification potential for a wide audience and its cinematic realisability are particularly relevant. Here, when analysing the film potential, we must also have a look at budgetary implications, such as the need for animation. It is more gratifying when this is realised in such a high-quality way as it is in the upcoming animated cinema film about our meerkat "Tafiti" and his adventures in the African savannah – completely without humans.
What is the title you presented, "Ruby Fairygale - The Call of the Fabulous Beasts", about?
At first glance, Ruby's story is about how she helps animals. Besides pets, there are also magical fantasy creatures. They come from a secret world that is full of Irish myths and legends and thus invites us to dream. But Ruby also finds out and realises what makes her so special. As a shapeshifter, she not only experiences fantastic adventures, but also encounters the question of herself. In the process, her new friend, another child of the same age on the small island, becomes a great help. Noah, who is sent from the USA to Patch Island to become more responsible, takes on great significance. He discovers that his roots lie where Ruby lives. But she finds out that her real family is at home in a magical parallel world. As they search for their identities, adventure and magic combine in an idyllic setting. And Ruby gets more and more "between the lines" of reality and fantasy. Right now, in pandemic exceptionalism, many children are almost exclusively among adults, because their peers, just like many of us, are stuck in lockdown and have limited access to childcare or educational facilities. To accompany Ruby Fairygale on her journey and to dive into her life between the worlds is therefore particularly exciting. Ruby's portal to the magical world is near her. So the readers ask themselves whether a gateway to such a world could not also be found in the veterinary practice around the corner from their house? In the story of "Ruby Fairygale", this hidden gateway to the enchanted world feels especially magical to the large fan community! An adventurous but also very touching treasure hunt that could be waiting for anyone.
Will you continue to participate in the Cannes Film Festival's Shoot the Book! events in the future?
The "Shoot the Book!" pitching format and its international network offer the best opportunities for literary adaptations of our authors' works. That's why we will continue to check our portfolio for titles and series that are suitable for Shoot the Book!. We would love to come back to this very special festival and dive into the world of film, which is a world of its own during the Marché du Film.