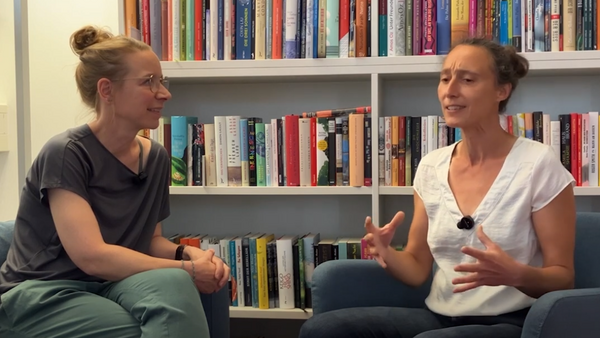 PR Manager Katrin Hage talks to Frankfurter Buchmesse stand builder Orsi Fescke and asks her about her job, her views on the topic of sustainability and the change in stand construction.
What is your job at Frankfurter Buchmesse?
I work in the Fair & Sales Operation department. Our department secures the technical and infrastructural conditions so the fair can take place. Of course, that means we aren't just two people but a bigger department where everyone has their own expertise that we bring together. My expertise is stand construction. I studied architecture and visual communication and have been working in stand construction for 18 years, 11 at Frankfurter Buchmesse.
Are there old trends you wouldn't do anymore today?
I would call it material exploitation. In the past, people used to be less careful about the quantity of materials and resources used. I think, in the past few years both fair constructors and companies have been rethinking their approach and a lot has changed. Which is great, because it allows for more creative ideas and solutions.
What does sustainability in stand construction mean?
Key factors are reusing materials, short transport routes, choosing materials that have a good storage capability - so they don't take up a lot of space during the transport - and quick and easy assembly. That's what sustainability means to me: respectful interaction/approach with each other and the resources from an environmental, economic and social point of view. Thinking only in an environmental manner is not always the most sustainable decision, instead you have to take all the different aspects into account.
Which stand or project would you like to do?
I would love to build a fair stand with children, because I'm always impressed by how they approach things with relatively little knowledge and how they then conjure up creative solutions out of nothing. And that is still what I find so motivating and interesting about stand construction, when you have to think about how to reevaluate and implement something.
Thank you for the interview, Orsi!