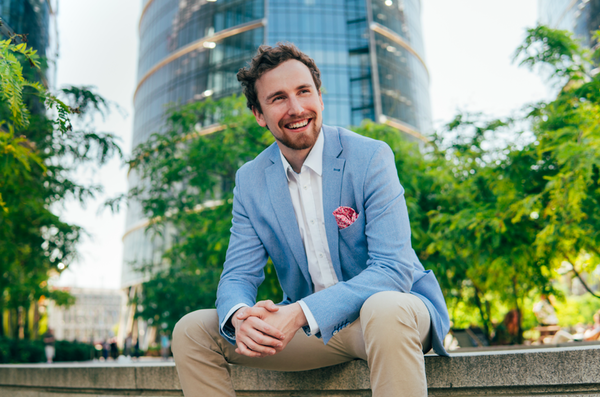 Karol Górnowicz
© Karol Górnowicz
The German semi-final of the GESAwards - the world's largest EdTech startup competition - took place in October 2020. The partner was the Frankfurter Buchmesse as part of the Special Edition. What is it like to present your product in front of a jury of EdTech experts? We interviewed Karol Górnowicz, CEO of the Polish startup Skriware and winner of the semi-final.
With which business idea did you apply for the GESAwards?
Karol Górnowicz: The product we presented at GESAwards was SkriLab. Our complex educational laboratory that is based on 3D print, robotics and programming. In the heart of a whole solution, we placed Skriware Academy, a platform thanks to which teachers gain access to valuable e-courses, ready-made lesson scenarios and materials for students. Great content combined with the rest of our lab: 3D printer, educational robots, construction kit, online 3D modeling tools, 3D models library (with over 20 000 educational, ready-to-print projects) supports us on our mission to equip teachers with innovative tools. We think it's the best way for students to get a relevant education which prepares them for the challenges of the current and future job market. Skills developed by SkriLab are critical and creative thinking, problem solving, project management and teamwork surrounded by the newest technologies. You can watch SkriLab here.
How did the award ceremony in the European semi-final in Frankfurt work out in practice? What criteria did you use to win?
Karol Górnowicz: We had to deliver a four-min presentation about Skriware in front of a seasoned jury. They were judging us based on business merits and educational values coming from our product and business model. We had to convince the judges that our solution is relevant to the market, uses innovative, yet effective pedagogical approach, boasts great user experience and has already reached significant growth of the user base and has a potential for global commercial success.
How did you experience the GESAwards in January 2020?
Karol Górnowicz: The event was preceded by an online bootcamp, which proved to be packed with valuable insights and supported valuable networking among the EdTech founders who made it to the global finals from all over the world. Other than that we were given yet again four minutes to present Skriware. It was a great experience for us as we've had an extremely rare opportunity to talk about our company in front of experienced C-level experts coming from well-established investment and educational institutions. We are now planning our next steps and will definitely keep in touch with some of the people we've met during the course of this event.
Thank you very much for the interview!
(Interview by Frank Krings, PR Manager at Frankfurter Buchmesse)