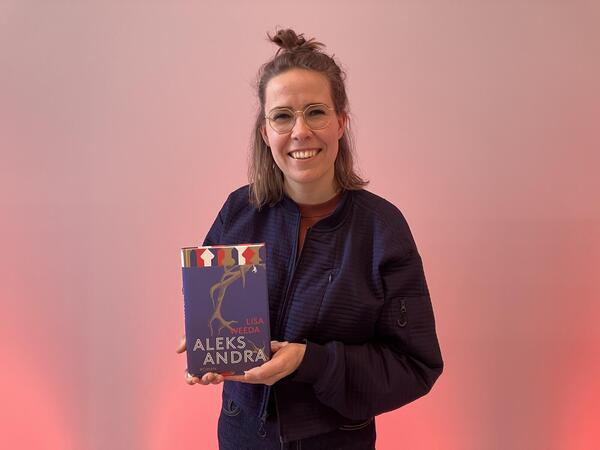 © Frankfurter Buchmesse / Ines Bachor
In conversation with Lisa Weeda at Books at Berlinale 2023  
Lisa Weeda's debut novel "Aleksandra" focuses on the Eastern part of Ukraine and was published in Germany exactly one year after the beginning of the Russian attack. The moving, magical realist story by the Dutch-Ukrainian screenwriter and virtual reality director has already captivated readers in the Netherlands: It topped the Dutch bestsellers' list and was named the best Dutch debut novel of 2022. It has also been translated into numerous languages.  
Aleksandra is the name of Lisa Weeda's grandmother. In the autobiographical novel, granddaughter and narrator Lisa travels to Luhansk, the birthplace of Aleksandra, who was deported from Ukraine in 1942. Lisa suddenly finds herself in the past: in the magical palace of the lost Don Cossack, in whose countless rooms a gripping century-long panorama unfolds, bringing to life not only Lisa's family history, but also the history of the entire region, which never seems to come to a rest.  
At "Books at Berlinale", an event organised by the Berlinale Co-Production Market in cooperation with Frankfurter Buchmesse, select new publications and bestsellers that are well suited for film and series adaptations are presented to an audience of film producers. One of these titles at Books at Berlinale 2023 was Lisa Weeda's novel. We talked to her at the event in Berlin. 
Lisa, what was the Books at Berlinale event like for you?  
It was really nice. I loved the host and the vibe of the event. Since I make virtual reality, I've been to pitching days at German film festivals before, so I've done this myself on stage, and I love it. I prepared a lot with Uta [Matten] from the [Dutch agency] De Bezige Bij. It was great to join her here. There was so much integrity in the way the books were presented, and everybody had such a good time talking about the books they loved. It was very professional, but also warm and lively – which is important, because it's still art.
You are a screenwriter and virtual reality director yourself and have already worked with different forms of media and art. Did this also influence the way you wrote the book?   
Yes, very much actually. I worked for eight years on the book. At first, it was a very chronological novel with a lot of nonfiction elements. I took them all out in 2020, because it was a really boring book. It didn't work. It would have been a nice book, but sometimes you have a gut feeling, and I felt as if it was not gripping enough.  
At the time I was researching the palace that now has a big place in the novel. It would have actually been a palace during Stalin times. He wanted to build the biggest building in the world in the 1930s. I researched it, I read every book about it, I have blueprints, I have propaganda postcards with the palace on it – it's amazing. But it didn't work as a plotline, so I wrote a whole storyline about it.  
At the same time I was working on a virtual reality piece called ROZSYPNE – it's about a little village in Eastern Ukraine, in Donbass. You follow an elderly lady, Nina, who just tries to live her life when the war starts in the Donbass. And in the summer of 2014 in Rozsypne the nose of the MH17 plane crashes down. She is one of the people who goes into the wheat and sunflower fields with marker sticks with ribbons to show where in the field stuff has fallen from people from the plane. A lot of people in Donbass had to do that because the separatists wouldn't let the OECD in.  
I love the way a body can physically move through space in virtual reality, because you are there with your own body, which makes it way more sensory and emotional. You can follow Nina through the sunflower field and see a suitcase and a little stuffed monkey from a child that actually was on the plane. I love the way that you can move through time and space in a completely different way without really taking the hand of the person in the story. And that's what I try to do in the book. So you enter this great fantasy palace, based on an actual palace that was never built, and you walk through our family history non-chronologically. For me that was an eye-opener.  
In the winter of 2020, I changed the whole plot. So I put every family story that was first a chronological one in this palace. It was great and super-fun to do and made it much more lively. Some Dutch readers said "it's really weird to read, I don't know where I am", and they really wanted to hold on to this classical idea of a plot, but I love to work against that idea. I think it works well. Every scene has the same theme – the suffering of a family – but in different periods of time. This is history repeating itself – to me that's the most important theme of the book.
You spent eight years researching for the book and also sifted through a lot of visual material. What do you think makes the book particularly suitable for film, as a medium? And what opportunities and challenges do you see with regard to a film or series adaptation of "Aleksandra"?  
I thought about this a lot. In my head it was actually always a virtual reality experience. This book could easily be turned into a VR piece. But that's really expensive, also because it's only for one person at a time most of the time. I did a lot of imagery research. At some point it was 3,000 pictures on my computer of all the different eras that are in the book. I love to start with visual stuff before I write: I look at pictures, I try to really get a grip of the situation, of what certain times look like, certain eras. I also read a lot of books. I took out all the visual non-fiction elements and I tried to create an extra long layer for the small pieces of family history I got. It is based on the actual family history, but a lot of the stuff I wrote myself from the research.
All the scenes are very cinematic, I guess. There's some dialogue, but it mostly focuses on imagery and how people move. I love watching films and I love it when you can see what people actually want through how they move or what happened to them. I love tension in film scenes. One of my favourite films about Donbass is the film "Donbass". It's a film based on journalistic pieces. You can feel the awkwardness and it has a lot of stills – so you just look at it – that's what I tried to do with the book and I think it works. I think it would be very adaptable for film because there's already so much imagery and research. They just need to call me and I can send them maps full of images.  
The biggest challenge will be: How many plotlines, how many family members will be portrayed – because it's a lot. And how do you construct a cool way for the audience to get through it? Maybe just like a game? I think that would be very nice. And of course the palace – I would love to see it in video!  
I think the book has so many visually strong elements, also because Lisa brings an embroidered cloth, showing the family history, that her great great grandma made. This could be such a beautiful visual element – also for colouring. It's also a very emotional story. I think it would be really good for the cinema, but not easy to make. I think it would be quite an expensive project. 
Your book is autobiographical, your family members and history are at the centre. Do you have any actors in mind who you think would be particularly suitable for a film adaptation of the novel?   
I just saw the German series "Kleo". If the actor [Jella Haase] who plays Kleo would play Lisa, I would be extremely excited. But for the rest of the cast I would really love to work with Ukrainian and Russian-Ukrainian actors, because sometimes you watch films and you see people who don't speak the language speak the language and it's horrible. I would really make it into a more Ukrainian-based project. For all my other projects I worked with Ukrainian people. I had Ukrainian people check everything – see if it worked, see if the language was right, if some sayings were ok – and I did the same thing with this book. To me that would be the most important thing. It would be great to work with an authentic Ukrainian team.  
There is one favourite film I have. It's an old movie from the 70s about World War II in Belarus. That would be great, if [the film] looked that way – a bit gory and heavy, but at the same time there can be space for magic.  
Thank you very much, Lisa! 
Interview by Ines Bachor, PR Manager at Frankfurter Buchmesse.