"There's still plenty of room to grow"
Interview with Michele Cobb, Audio Publishers Association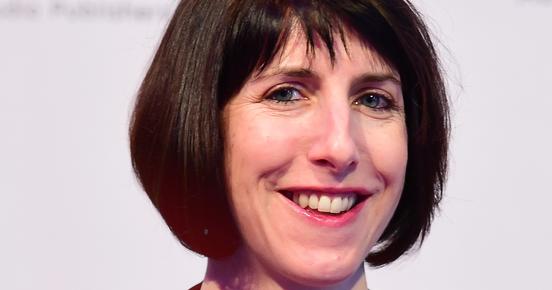 6 Questions for Michele Cobb from the Audio Publishers Association
Michele Cobb, Executive Director of the Audio Publishers Association (APA), will be speaking at the 2019 Frankfurt Audio Summit presenting data about the U.S. audio market and leading off a lively discussion. We talked with her about developments in the audio sector and her favourite listening.
Michele, please tell us a bit more about yourself. How did your career in audio start and evolve, and which topics concerning audio are you most passionate about?
I came to audiobooks through the theatre. When I moved to Los Angeles, I ran across L.A. Theatre Works, began working with the company, and quickly found a passion for the audio portion of their business. I initially got involved with the Audio Publishers Association as a volunteer and kept that going as I worked for several audiobook companies.
During my time as Executive Director of the Association the industry has been booming. The recent APA Sales and Consumer surveys give us a lot to talk about and I've been excited to work with the data, dive into the specifics of audio growth, and share knowledge throughout the world to support the format's growth everywhere.
Audio is not only one of the fastest growing segments in publishing but in the media industry as a whole. How do you explain this development?
Before we can read with our eyes we are exposed to language and stories through our ears. Therefore, the interest in listening to good audio products is no surprise. In a world where we can carry dozens of audiobooks on our smartphones, the audio industry has benefited from the intersection of ease-of-use with exceptional product. Audio products teach us, entertain us, give our eyes an opportunity to rest from our backlit screens, and can be used while driving, exercising, cooking or while doing nothing except relaxing. Audio brings together the crafts of story and performance in a way that is irresistible – and there's still plenty of room to grow.
How can the industry continue to support growth and keep audio relevant?
With more titles that appeal to more listeners now available, publishers are getting creative with recordings of plays, original works, full-cast dramas, adaptations of graphic novels; there's something for every taste. There are still plenty of consumers who have yet to listen, so widening the offerings to widen the listening base is working that market. Plus, new devices like in-dash car players and smart speakers are allowing a seamless experience that's encouraging  more listening.
You have a very good overview of the international audio market. Which countries recently saw the fastest growth in audio content? And which ones do you predict will be regions to watch?
Europe is definitely seeing major growth, as local language retailers emerge and encourage audiobook production. Countries like Spain and Italy are joining the more established markets such as Germany in the audio revolution. Additional language production is developing as well, with major publishers from the U.S. now recording more titles in Spanish. Asia is also seeing major upticks with retailers launching in India and Chinese retailers offering more audio products.
A variety of business models exist in the audio sector – from download-to-own to credit-based and flat-rate subscription models. Can you identify trends which are currently growing the fastest?
The APA does not gather quantitative data on specific models, but we do see the types of offers being made to consumers and libraries widening as the number of retailers and library vendors around the globe grows.
Which audiobook(s) or podcast do you currently enjoy listening to?
For podcasts I do enjoy a good true crime tale and if you can throw in a medical aspect like DR. DEATH or THE SHRINK NEXT DOOR, I'm all ears. Along that theme, for a collide of audiobook and podcasting, I recently enjoyed Denise Mina's CONVICTION narrated by Cathleen McCarron. The main character is Scottish and is also a true crime podcast lover. Hearing a Scottish narrator read it to me was fantastic!
Thank you very much for the interview, Michele.