Good literature challenges the reader, but it can also be entertaining, says Regina Kammerer, publisher at Luchterhand Verlag, home to some of the most vibrant new voices in German literature. Director of Frankfurter Buchmesse, Juergen Boos, talked to her about tradition, talent and literary trends in Germany. Read this interview and much more in the current issue of The Frankfurt Magazine. Find out more.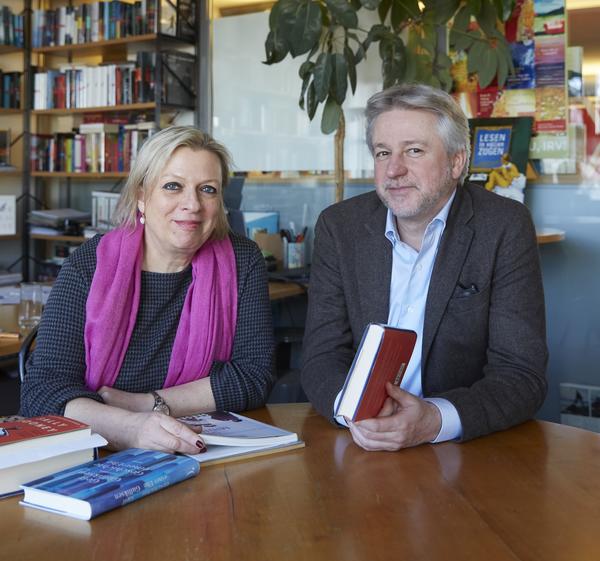 JB: Luchterhand has a long and impressive history in the publishing world. At home I've got an old edition of Günter Grass' Katz and Maus on my shelves. And at the Frankfurter Buchmesse last year, I've once again seen some really interesting titles, including books from our guest countries, published by Luchterhand.
RK: When I took over responsibility in 2005, working with Georg Reuchlein at that time, our publishing house already had a long history – with its ups and downs, of course. It's wonderful that apart from Günter Grass and Christa Wolf, who are no longer with Luchterhand, we've still got many authors on our list who were published by Luchterhand long before the takeover by Random House. Writers like Kerstin Hensel, Franz Hohler and Christian Haller. And of course Ernst Jandl, a real veteran. Luchterhand was, and still is, an institution.
JB: How did you develop your list in 2005? Did you work on the basis of particular themes?
RK: It was a challenging time. We were faced with the task of ensuring stability while simultanously seeking out young German voices looking for a publishing home. Saša Stanišić was one of the first new writers I was able to sign up for Luchterhand. His first novel Wie der Soldat das Grammofon repariert became a huge success. Here was a writer and a book which made us think: this is the direction we want to be taking. I'm really delighted to see what can happen when you support authors as they develop and believe in them. Saša's debut novel was very successful, the rights were sold in 33 countries. It was seven years until his second book was published and won the Leipzig Book Fair Prize. That's what Luchterhand means for me: a publishing house which encourages writers and supports them in their writing.
JB: So you're an example of a writers' publishing house. How do you discover someone like Saša Stanišić?
RK: Networking, sharing and keeping your ears open. Literary festivals are important. But so are the fellowship programmes for publishers. This is where you meet and and hear about writers you might want to keep an eye on. That's the great thing about our industry, it's a small world of very interesting and interested people, united in their passion for writers and their stories. International book lovers – it's a very stimulating community. I am very lucky to be able to work like this. And that's how it felt with Saša. Before he read in Klagenfurt in 2005 we'd already seen an excerpt of his work. I thought it was great, the voice was new and he was writing about something existential. I went to meet him, together with Martin Mittelmeier, an editor working with us, and we immediately signed a two-book contract.
"As a publisher you've got to be curious, open to other cultures and to different age groups."
Regina Kammerer Luchterhand Verlag
JB: That hunch about a new writer – is it something you learn with time? Or is it more of a gut feeling that tells you: this is one to sign up?
RK: I'm maybe a bit old-fashioned here, but I listen to my gut feeling. I'm always on the lookout for the voice, for something original in the writing that sets a great writer apart. I'm less bothered about the plot. It's interesting too, but a text either speaks to me or it doesn't.
JB: Have you ever been really disappointed?
RK: I'd rather not call it disappointment, it's more sad to see when a writer loses confidence in their work and doesn't have the desire or the strength to carry on.
JB: And if things don't work out from a business point of view?
RK: That's a different thing altogether. Of course a literary publishing house must be commercially successful in order to survive. And of course you want a book that you believe in to be a success. But I do think you can have faith in books and writers that maybe take a little time to become successful. I have huge respect for writers. When they write, they expose themselves and make themselves vulnerable, even with work that's not autobiographical. I would never see the job of an editor as being to make a writer do something they don't want to.
JB: That buzzword: critics. Do you think they're disappearing? What's happening there?
RK: There's just no longer the same amount of space for literature in the media. It's also a pity that book programmes on public broadcast TV or radio are usually only on late at night. But to be honest I think it's important to read and watch more than the feuilleton. I am interested in the connection between culture and politics, and how this influences the lives of our readers. In Germany there is a national debate on the question 'What is 'real' literature?' I don't feel that's necessary. Good literature challenges the reader, but is entertaining at the same time. 'High culture' is a very German idea. Literature must also be able to reach people who come from different cultural backgrounds.
JB: You have many Nordic writers on your list, Knausgard being one of them. Have you got a soft spot for Nordic writers?
RK: Not just for the Nordic ones – but yes, you're right. I began looking at Scandinavia very early on. There were so many colleagues working with literature from the English-speaking world, and I wanted to discover something new, I wanted our house to have a broader profile. I think the Scandinavians are very similiar to us in how they tell stories. There are and always have been very close links between the Scandinavian and German-speaking worlds.
JB: Does that mean your connections with the Scandinavian book world and your colleagues there go back a long way?
RK: Yes, I've known Halldór Guðmundsson, Project Leader of the 2019 Guest of Honour appearance, for many years from my trips to Scandinavia.
JB: What did those trips involve?
RK: I visited publishing houses. At that time there weren't many agencies and foreign rights were negotiated directly through the publishers. For years I travelled regularly to Denmark, Norway and Sweden. I went to Iceland with the fellowship programme where I met everyone working in publishing. I found those experiences to be very enriching. I eventually started with Scandinavian authors at btb and later at Luchterhand as well. For example Knausgard, Lena Andersson – and this autumn we'll be publishing a new book by Johannes Anyuru, one of the really great Swedish writers, who's just been published in the USA. As a publisher you've got to be curious, open, open to other cultures and to different age groups. Take Sally Rooney for example and her novel Gespräche mit Freunden. Rooney is read by many young female and male readers for sure, but possibly read quite differently by someone with 40 years' reading experience behind them.
"I'm always on the lookout for the voice, for something original in the writing that sets a great writer apart."
Regina Kammerer Luchterhand Verlag
JB: You published Knausgard before he became a star. What did you think when you first encountered his writing?
RK: Through my trips to Scandinavia I'd met the legendary editor and writer Geir Gulliksen, who edited the Luchterhand Anthology Heimatland in the autumn of 2019 together with Crown Princess Mette-Marit. He was the first person to tell me about Knausgard. After that I kept hearing his name mentioned by other Norwegian friends. I didn't buy his first book, but then Alles hat seine Zeit came along, a wonderful book, very substantial, written in quite a different style from his autobiographical project later, and I bought the rights because I felt that one day he would be really big. I still remember our first meeting quite clearly. Karl-Ove was very reserved, he hardly said a word. After the book came out, he came to Munich and he promised to be more talkative. And he also promised the next book would be shorter – and then these six volumes suddenly appeared … I was given the freedom, with Luchterhand, to take on the project at a time when Knausgard was already a hero in the Nordic countries, but no one would have thought that he'd be so successful on the world stage. It was one of the highlights of my publishing career.
JB: Turning to quite a different topic in today's German book industry – the ratio of published female to male writers. Many companies publish more male writers; at Luchterhand, in the preview of upcoming books, it's equal: six male to six female writers.
RK: Well, that's really good, isn't it. To be honest it may be by chance, but it reflects my approach. I think a publisher's list should be as broad as possible – but I'd never publish a book because a man wrote it, and I'd never publish a woman I didn't believe in. I'm either captivated by the tone of a book – or not. I think we've got a good mixture: established female and male writers, young voices, a range of temperaments, German writers and writers in translation.
JB: Luchterhand is an imprint of the Random House publishing group. What does it mean for a publishing company which sees itself as a writers' publisher to be part of a group of companies?
RK: It's never held me back. I've always been able to realise the projects that were dear to my heart, and I still can. When Georg Reuchlein and I started at Luchterhand, we were allowed to take the long view – I am grateful that this continues with Grusche Juncker – and it has paid off.
JB: If you had to explain to a foreign reader what's going on in German literature at the moment, what would you say? What do you see as the trends? RK: In general I'd say: literature emerges from friction. I find it hard to talk about trends, but in recent years German writers have started leaning towards telling global stories, stories which resonate worldwide, and that means other countries are becoming interested in these writers too. Juli Zeh has got fantastic reviews for Leere Herzen in the USA and Ferdinand von Schirach has a great fan base outside the German-speaking world. Books published by Luchterhand attract a lot of attention in other countries, which of course we're delighted about. In order to get foreign publishers acquainted with our books and our themes, we need networks. They're the lifeblood of our industry. And that's why book fairs are so important too, because they facilitate these conversations.
JB: Is there someone whose books you'd like to have sold more widely abroad, who you think should be better known on the world stage?
RK: Yes, there is. The Büchner Prize winner Terézia Mora. In my opinion her books are world literature in the best sense of the word.
JB: Regina, thank you for the conversation.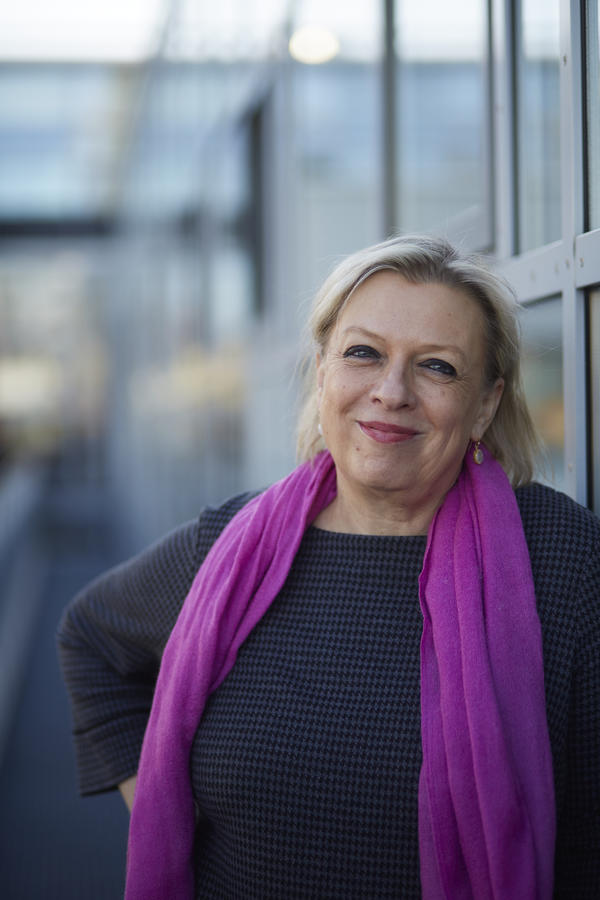 Regina Kammerer is the publisher of Luchterhand Literaturverlag & btb Verlag (part of Random House Germany). She studied German, Politics and Social Sciences in Heidelberg and Munich and is also a graduate of the German School of Journalism in Munich. She lives in Munich and has two daughters.
Luchterhand was founded in 1924 and after the Second World War grew to become one of the most well respected literary publishing houses in the German-speaking world. Luchterhand publishes renowned international authors like António Lobo Antunes, Karl Ove Knausgård, Leila Slimani, Elizabeth Strout, George Saunders and Linn Ullmann as well as outstanding German literary voices such as Ernst Jandl, Franz Hohler, Terézia Mora, Hanns-Josef-Ortheil, Ferdinand von Schirach, Saša Stanišič, Juli Zeh and many more.
btb was founded in the early summer of 1996 with the aim of publishing paperbacks with high quality design and layout. Just a year and a half later they expanded their range to include hardbacks. btb publishes outstanding authors from all over the world, amongst them Hakan Nesser, Irvin D. Yalom, Eleanor Catton and James McBride, Maja Lunde, Bernhard Aichner, Melanie Raabe, Caroline Criado-Perez and many more.
© for all photographs in this article by Ulrike Frömel
Read this interview and much more in the current issue of The Frankfurt Magazine. Find out more.