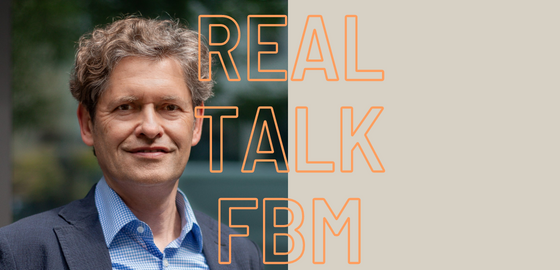 Whether employees, BookTokers or exhibitors: From now on, we'll be asking people with a connection to Frankfurter Buchmesse every month how they're doing, what's going on and what's not. We start our #RealTalkFBM with Torsten Casimir. Until January, he provided journalistic support for Frankfurter Buchmesse as the Börsenblatt's long-standing editor-in-chief. Now he's our spokesperson for the fair - and it's time for an interview.  
What's stressing you out at work right now?
An interview request.
What was the best thing you experienced in the last few days?
Reflecting in the "Political Book Fair" group on how we, the Frankfurter Buchmesse team, want to live our values. How we stand up for diversity, oppose all forms of discrimination and racism, and trust in the strengths of democratic debate. I think it's great how all our colleagues here have their personal stance on these issues and how committed they are to expressing it. It's noticeably about much more than just trade fair business.

Three things you definitely want to see at the next book fair?

Queues of young people at book signing sessions. Politicians in conversation with publishing people. Lively international parties in the evenings.
Three things you definitely don't want to see at the next book fair?

Any form of disrespectful behavior. Empty escalators. Book thieves (although if no books are stolen during the fair, that might be worrying for exhibitors, too).
Which do you prefer: Instagram or LinkedIn?

LinkedIn.
Jonathan Franzen or Juli Zeh?

Arno Geiger and Jenny Erpenbeck.
Ebbelwoi or red wine?

Red wine, if there is no Pilsner to be had.

Thank you very much, Torsten.