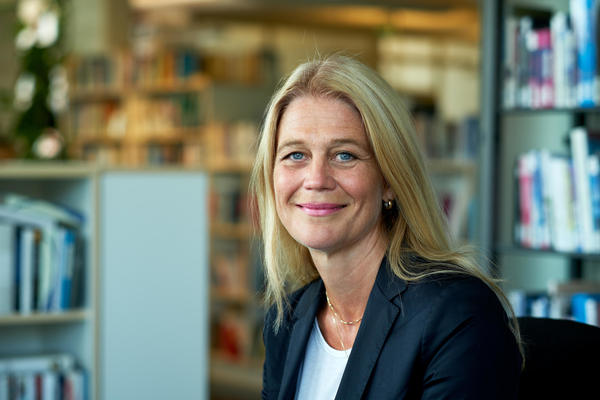 An interview with Margit Walsø, director of NORLA (Norwegian Literature Abroad) and chair of the network ENLIT (European Network For Literary Translation). Frankfurter Buchmesse is one of the founding members.
Many still know you as the curator of the Norwegian Guest of Honour program at FBM19. What are your responsibilities at ENLIT (European Network For Literary Translation)?
 
I've been a member of ENLIT from the beginning, on behalf of NORLA, and from 2020 I'm the chair of the network, which gathers 26 European organisations covering 23 languages, in the important field of supporting translation and literary exchange. We have in common our work with translators and translation, and activities to give our literatures increased visibility internationally. We share our insights for the benefit of all, which is great. I hope to contribute to the network in the spirit of sharing, collaboration and diversity.
You just came from the ENLIT General Meeting - what was your most important insight during this meeting?
After our session for sharing the best practices during the pandemic, I'm impressed and inspired by the creativity, innovation and new ideas the different organisations have executed during challenging times. With the use of digital platforms many new formats for promoting literature have been developed, as bringing the authors digitally to the audience and the readers, promoting a great variety of literary genres, gathering translators for workshops, and made it possible to connect with editors around the world to talk about books. It strikes me that there is a democratic side to this, and that our experiences could pave new ways of working with literature internationally after corona.
Does digitisation make translators' daily work easier or more difficult today and in the near future?
Digitisation makes communication and exchange of experiences easier, which is so important in the daily work of translators. In NORLA's webinars for translators, we have included a short key note speech from one of the translators. One of the topics were co-translation by Paul Russell Garrett. It is very interesting to hear, how technology makes cooperation easier and can actually improve translations. Lists of chosen words and phrases can easily be updated, a text to an author can solve a question fast and video conference tools, enable translators to work closer together, also far apart.
I also think digitisation has shown us the importance of real translators and their excellent work building bridges between two different languages. Synthetic translations are more available and new tools help us identify languages and give us an idea of what it means in our mother tongue. However, there are several examples of poor mechanic translations. The thorough and literary work of translators is still the very best, and the ENLIT network is here to support the translators the best way we can.
The discussion about the appropriate translation of Amanda Gorman's "The hill we climb" shows us how politically charged the topic of translation can be. What is your view on this controversy?
Amanda Gorman's recitation of «The hill we climb» during the inauguration of President Joe Biden moved me personally and showed an entire world the power and importance of literature and poetry. I am glad this event sparked an interest in translation of literature and the role of the translator, which is far too often overlooked. In the ENLIT network, we are daily in contact with translators, supporting and helping them in their work. Our task is to strengthen the role and competence of the translator, making them better equipped to handle all aspects of the job.
Thank you very much for the interview!
Interview conducted by Frank Krings, PR Manager at Frankfurter Buchmesse.