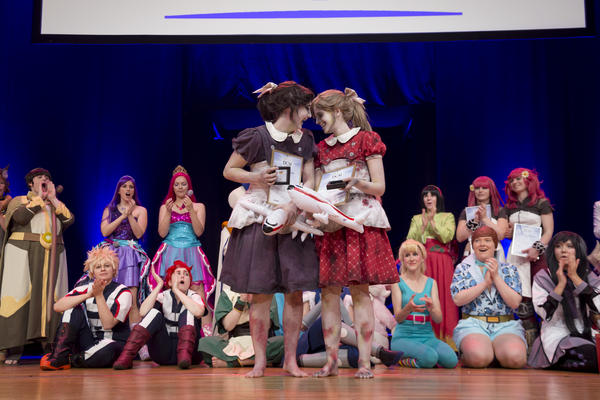 © Van "Chikara-chan" Tran
A bit of horror, lots of handiwork and great times! As the cosplay team "C&F Cosplay Factory", Cita (25) and Feder (23) have won a number of prizes – including the Deutsche Cosplaymeisterschaft (DCM – German Cosplay Championship) 2019 at Frankfurter Buchmesse as the creepy Little Sisters from the survival horror game "BioShock 2". What's in store for 2020? Time for an interview!
Hi Cita and Feder! First, a fundamental question: How do you become a cosplay duo that travels the world, participates in competitions and fills various social media accounts with cosplay memes?
Well, we obviously planned it all in advance. We've been working on our success strategy since 2011 and are going to be the first cosplayers on the moon … Not!
Actually, we weren't explicitly intending to become cosplayers when, nine years ago, a good friend of ours dragged us along to the Leipzig Book Fair, saying "You can get dressed up there, it'll be fun!" That made our first experience of being at this book paradise dressed in homemade costumes surrounded by many colourful cosplayers all the more overwhelming. Suddenly finding ourselves in this scene, we soon discovered cosplay competitions and tasted blood. After that, nothing could stop us – we simply get fired up too easily. Over the years we then added various social media accounts to stay in touch with our friends in the community and of course to capture many great moments or just be a bit silly.
From cute Studio Ghibli characters to the Little Sisters from BioShock 2 – you have to choose your various cosplays carefully for different events and competitions. What criteria do you use to make these difficult decisions?
It's really important to us to be able to identify with the characters. There has to be an "exciting" way to present them and they have to be a good fit for us physically. And of course we like to choose duos with a certain dynamic and background story, so we can make as much as possible not only of the costumes but of the performance as well. We don't care at all whether the characters come from anime, film, comics, videogames, or whatever. Some ideas we brood over for years, like the Little Sisters, for example, before we finally find the right moment to realise them. We already had the corresponding performance roughly planned in our heads a long time in advance as well.
Has the cosplay scene changed in recent years? Do you see any trends?
The scene has grown considerably in recent years, and cosplay is becoming increasingly mainstream. That changes a number of things: Our formerly small scene now includes hundreds of thousands of cosplayers in Germany and it's huge internationally as well. You can easily order a costume for almost any common character and you almost never have to make anything yourself anymore. On the other hand, the level of the homemade costumes has gone way up. There are vast resources available now in terms of materials and tutorials. Instead of using the first thing you find at the hardware store, you're almost spoilt for choice. You almost can't compare the costumes from back then with today's because there are so many new technologies! And of course more and more things are happening online. Many cosplayers present themselves in their costumes almost daily on Instagram and TikTok.
Because of Covid-19, many events this year are only happening online. How important is it to you to experience things live, on site with other cosplayers?
Even though we're very active online, personal contact with our friends and other cosplayers really matters to us. By this point we attend most conventions mainly to meet up with our friends and spend time together. We're going to miss these social interactions a lot this year. The kind of online conventions being organised in some places are a great alternative, but we're already looking forward to seeing everyone again in person!
What are you looking forward to most about the DCM (German Cosplay Championship) and Frankfurter Buchmesse 2020 in October?
The DCM Finale and backstage party, of course! As repeat offenders, we've been there every year since 2014 – if not as participants then as assistants. For us the DCM is like a family and Saal Harmonie is almost our second home during Frankfurter Buchmesse. Even before we participated in the preliminary decision last year we had already decided to "retire" from the DCM – from the stage, at least. That makes us even more excited to hopefully be able to participate as assistants or maybe even as part of the jury again soon!
Dear Cita and Feder, thanks for speaking with us!
(Interview by Frank Krings, PR Manager at Frankfurter Buchmesse)
C & F Cosplay Factory on Instagram.