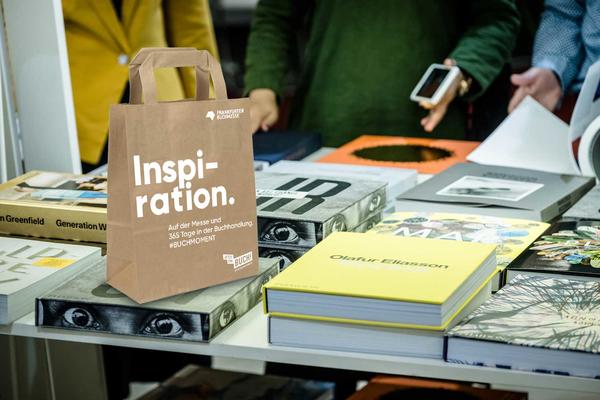 For the first time this year, exhibitors at Frankfurter Buchmesse (16–20 October 2019) will be able to sell books and media on both the Saturday and Sunday of the fair. Many exhibitors already offer their books for sale on Sunday and can now do so on Saturday as well. The organisers of the world's largest industry event are thereby accommodating a wish expressed by many publishers. 

The framework conditions for the sales are: 
Book sales at the weekend will be organised individually by the publishers exhibiting at Frankfurter Buchmesse. A central bookshop is not planned.

Frankfurter Buchmesse does, however, plan to support the sale of the books exhibited at the fair by encouraging as many bookshops as possible to promote and handle sales at the publishers' stands.

German language publishing products that are subject to a fixed price can only be sold at the fixed retail price.

The weekend book sales are being supported by the campaign "Inspiration. At the fair and 365 days a year in bookshops".

This development was approved by the Board of the German Publishers & Booksellers Association at its meeting on 27 June 2019. 

"The expansion of book sales to the entire weekend of the fair is an important signal for the industry," says Juergen Boos, Director of Frankfurter Buchmesse. "The number of book buyers in Germany rose in 2018 for the first time in several years. We want to support this trend at the biggest industry event. Many visitors want to purchase books at the fair, and publishers are looking for additional ways to come in contact with readers. We are therefore very pleased to be able to extend our service in this direction." 

The accompanying campaign focuses on books and their readers, showcasing the importance of bookshops as a source of inspiration – far beyond the fair itself. The campaign will be given a major presence in front of and throughout the fairgrounds, using the hashtag #BUCHMOMENT (#BOOKMOMENT) and it references the tagline of the JETZT EIN BUCH! (NOW FOR A BOOK!) initiative by the German Publishers & Booksellers Association, which has been further developed and which will use additional measures at the fair to highlight the book trade. 

"Both elements, the campaign and the sale of the books during the fair, strengthen the industry internally and externally and demonstrate a compelling joint presence," says Lars Birken-Bertsch, Director Business Development DACH at Frankfurter Buchmesse. 

"In recent years, we had a number of discussions with visitors who did not understand why book sales were not permitted on Saturday. We are therefore very pleased about the win-win solution and are sure that visitors will be grateful for it," says Antje Buhl, Marketing Director of the Droemer-Knaur publishing group. 

"Allowing book sales on Saturday is a major gain for visitors. And we hope that this will further increase the incentive to participate in the fair, including for independent publishing houses, and that the fair will thus become even more diverse and lively," says Britta Jürgs, Publisher at Aviva Verlag and Chairwoman of the Kurt Wolff Foundation. 

Facts and figures about book sales at Frankfurter Buchmesse 

Current information about book sales at Frankfurter Buchmesse is available here: buchmesse.de/booksale 
> Find all press releases and photos on our website. https://www.buchmesse.de/en/press/
About Frankfurter Buchmesse
Frankfurter Buchmesse is the international publishing industry's biggest trade fair – with over 7,500 exhibitors from 109 countries, around 285,000 visitors, over 4,000 events and some 10,000 accredited journalists and bloggers in attendance. It is the most important international marketplace for content – from novels and children's books to academic databases and stories for films, games and virtual reality experiences. Publishing professionals from around the world meet here with partners from the technology sector and from related creative and cultural industries, sparking new partnerships and business models. A strong conference programme ensures that Frankfurter Buchmesse is a major source of inspiration for content experts from around the world. Since 1976, the book fair has featured an annual Guest of Honour country, which showcases its book market, literature and culture to attendees in a variety of ways. Frankfurter Buchmesse organises the participation of German publishers at around 20 international book fairs and hosts trade events throughout the year in major international markets. Frankfurter Buchmesse is a subsidiary of the Börsenverein des Deutschen Buchhandels (German Publishers & Booksellers Association). https://www.buchmesse.de/en
Contact for the media:
Press & Corporate Communication, Frankfurter Buchmesse 
Katja Böhne, Vice President Marketing & Communications, Phone: +49 (0) 69 2102-138, press@buchmesse.de 
Kathrin Grün, Head of Communications, Phone: +49 (0) 69 2102-170, gruen@buchmesse.de