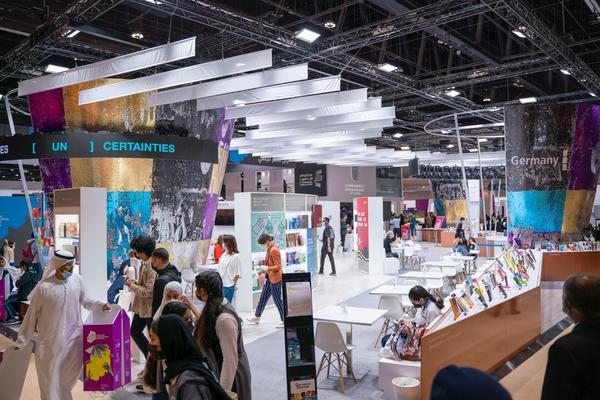 Around 40 events on literary translation, book design, digitalisation, architecture and women's football / Extensive hands-on programme for children and young people 
Frankfurt, 31 May 2022 – Germany successfully concluded its appearance as Guest of Honour at the 31st Abu Dhabi International Book Fair (23-29 May 2022), which ended on Sunday. The country's 400-square-meter stand, which included a stage and creative zone for young designers, was a much-frequented meeting place and proved especially popular with children and young people. With walls covered in glittering moveable sequins, the space allowed visitors to write and paint to their hearts' content. Of the 34 participating German exhibitors, about half had employees present on site, who discussed licensing agreements and participated in the trade programme. One highlight of Germany's appearance was the interactive programme for children and young people designed by Frankfurt illustrators Anke Kuhl, Kirsten Fabinski and Jörg Mühle. The programme made it possible for the youngsters to express themselves creatively by decorating the walls of the pavilion with their ideas for the future and with self-designed football jerseys. Thanks to Goethe VR, it was possible at Germany's collective stand to dive digitally into a classic of German literature. Originally planned as Guest of Honour in 2021, Germany was present only virtually at last year's fair due to the pandemic.  
"Germany's appearance as Guest of Honour at the book fair in Abu Dhabi received considerable recognition and acclaim from trade visitors and the public, thanks to its diverse programme. Abu Dhabi has once again lived up to its reputation of promoting multicultural and intellectual exchange throughout the region. It has also shown that it understands culture to be an economic sector and part of the country's transformation into a diversified, knowledge-based society. We want to continue contributing to this trend – culturally, economically and politically," says H.E. Ernst Peter Fischer, the German Ambassador in Abu Dhabi.  
"ADIBF is an up-and-coming international fair and an ideal starting point for discussing licensing deals with publishers in the region. We are very pleased that so many German exhibitors made use of Germany's role as this year's Guest of Honour to learn more about the book markets in Arab countries and to make contact in person," says Juergen Boos, president of Frankfurter Buchmesse. 
"We are proud and happy to have served as Guest of Honour at ADIBF for the second year in a row. The considerable interest in the panel discussions and events underscored yet again that literature continues to exert its magic appeal. It was especially encouraging to see so many children and young people browsing through the books at our stand," says Fareed Majari, director of the Goethe-Institut in the Gulf Region. 
Trade and cultural programme 
The German Stories programme at the stand included almost 40 panel discussions and presentations of publishers and books. The trade programme looked at the unique aspects of Arabic-language book markets, sustainable production methods, the efficient use of digital platforms in the classroom, and language acquisition using digital learning tools. Nadja Kneissler, director of Publishing at Delius Klasing, joined Juergen Boos, Sherif Bakr (Al Arabi Publishing and Distribution), Iman Ben Chaibah (Sail Publishing) and Nadine Achkar (Overdrive) for the panel event "Digitisation and the Future of Publishing – Lessons from the Pandemic". Her conclusion: "In exchanges with Arab publishers, it became clear where we see similar challenges. For example, how do we get young people to read books despite the distractions of streaming, gaming, and TikTok? How do we bring potential readers in contact with printed and digital books? What role will libraries play in the future? What will digital learning look like in coming years? What will happen to book prices as paper and energy costs rise? It was inspiring to converse with so many smart, passionate and ambitious young female publishers." 
The panel "Bringing the Arab Language to Europe" featured translators Sandra Hetzl, Günther Orth and Chip Rossetti, editorial director of the translation series Library of Arabic Literature at New York University Press, and was moderated by author, translator and Islamic scholar Stefan Weidner. During the panel, Hetzl presented her study "Translation of Arabic Literature in German-Speaking Countries 2010–2020", published in 2021. In the study, Hetzl examines why Arabic literature in translation remains a marginal field in the German book market, despite the region's geopolitical importance and the growing Arabic diaspora. At the same time, Hetzl noted that German translations of Arabic literature are increasingly being brought out by larger publishers and less and less by small independent houses with a focus on Arabic literature. Interested readers can access the study here: https://www.lit-across-frontiers.org/wp-content/uploads/2013/03/GERMANY-Arabic-Lit-Translation-2021.pdf  
The literary programme featured Olga Grjasnowa, Pierre Jarawan, Anja von Kampen, Nicol Ljubić, Moritz Rinke and Judith Schalansky. Information on Germany's appearance as Guest of Honour and on the related programme can be found here: https://www.german-stories.de/german-collective-stands/abu-dhabi-international-book-fair-0  
"Let your daughters play football!" – Coach Monika Staab at the German stand 
Monika Staab, grande dame of women's football and coach of the first Saudi Arabian national women's football team, made an impassioned plea at the German stand for women's football – and received considerable applause for it. She emphasised the positive impact that team spirit, discipline and success have on girls and their development.  In her playing days, Staab won four German championships and the Uefa Cup. In 2007, she switched to training and has coached, among others, national women's teams in Bahrain and Kuwait. Since 1 September 2021, she has been the coach of Saudi Arabia's first national women's football team.  
Other voices on Germany's appearance as Guest of Honour 
"It was a lively trade show with many exciting encounters: among others, I met publishers from Syria, Lebanon and Egypt. Carlsen has participated in the Abu Dhabi International Book Fair for six years. We applied for translation funding for a few books, and I'm excited to see what happens here next."
Sylvia Schuster, Rights Manager, Carlsen Verlag 
"The most important thing for me about the German stand at this year's Abu Dhabi International Book Fair was that it was very open and welcomed all visitors. The titles presented received a lot of visibility. The German stand is important to us as a publisher of children's books, since it allows us to learn about the new releases on the German book market – and I have a long wish list. We didn't bring out any new titles during the pandemic, but now we're resuming production, and we'll be working with Duden and Loewe. Being present has also helped us to expand our network." 
Dr Alyazia Khalifa, Alfulk Translation and Publishing 
Supporting programme at Abu Dhabi International Book Fair 
Thanks to events such as the presentation of the Sheikh Zayed Book Award and the International Prize for Arabic Fiction, as well as a wide-ranging cultural and trade programme, visitors to the fair gained extensive insights into the region's literary scene. Individual panel discussions also took a closer look at the creative industry in the Middle East. 
International Congress of Publishing and Creative Industries  
This year, ADIBF hosted the first International Congress of Arabic Publishing and Creative Industries to facilitate interactions between publishers, thought leaders and entrepreneurs. The congress looked at the rapid development of various media in light of the expanding storytelling business. Speakers included Annie Arsane, head of Platform Strategy METAP at TikTok; Sami Al-Batati, founder of the YouTube channel Shadow of the Book; Pulitzer Prize finalist Nicholas Carr (author of The Shallows); Jonathan Knight, general manager of Games at the New York Times; Bissan Korban, head of Higher Education Products and Services at Pearson ME Publishing; and Michael Tamblyn, CEO of Rakuten Kobo. https://congress.adbookfair.com 
About Abu Dhabi International Book Fair 
Abu Dhabi International Book Fair views itself as a marketplace for the content business in the Arab world and a forum for important cultural policy issues and debates. The Abu Dhabi Arabic Language Center was the body responsible for realising ADIBF, which was organised and expanded from 2007 to 2013 in cooperation with Frankfurter Buchmesse. Germany has had a pavilion at the fair every year since 2008.  
Partners 
Germany's appearance at ADIBF was organised by the German Ministry for Economic Affairs and Climate Action in cooperation with the Association of the German Trade Fair Industry (AUMA) and Leipziger Messe International (LMI), and with support from Frankfurter Buchmesse.  The cultural programme was supported by Germany's Federal Foreign Office and jointly realised by Frankfurter Buchmesse, the Goethe-Institut in the Gulf Region, and the German Embassy in Abu Dhabi. Abu Dhabi International Book Fair 2022 – German Pavilion (german-pavilion.com) 
About Frankfurter Buchmesse
Frankfurter Buchmesse is the international publishing industry's biggest trade fair and the most important international marketplace for content – from novels and children's books to academic databases and stories for films, games and virtual reality experiences. Publishing professionals from around the world meet here with partners from the technology sector and from related creative and cultural industries, sparking new partnerships and business models. Since 1976, the book fair has featured an annual Guest of Honour country, which showcases its book market, literature and culture to attendees in a variety of ways. Frankfurter Buchmesse organises the participation of German publishers at international book fairs and hosts trade events throughout the year in major international markets. Frankfurter Buchmesse is a subsidiary of the Börsenverein des Deutschen Buchhandels (German Publishers & Booksellers Association). https://www.buchmesse.de/en

Contact for the media:
Press & Corporate Communication, Frankfurter Buchmesse, press@buchmesse.de
Kathrin Grün, Head of Communications, Phone: +49 (0) 69 2102-170, gruen@buchmesse.de