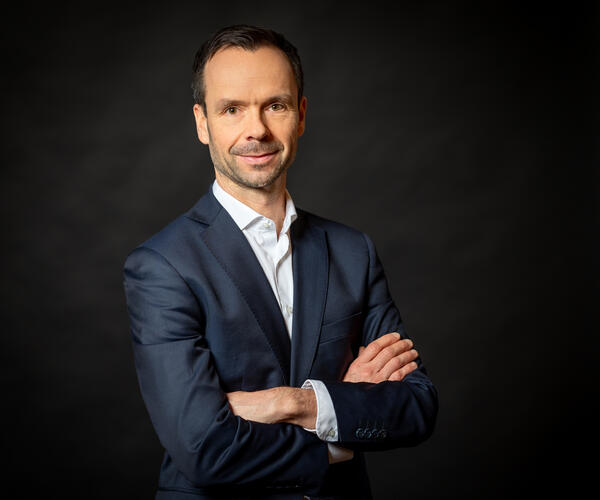 The marketing expert, who holds a doctorate, joins Frankfurter Buchmesse after working for Cornelsen
Dr Christian Ebert will take over as Director of Strategic Marketing and Sales at Frankfurter Buchmesse by 1 January 2024. His future responsibilities will include, in particular, the further development and strengthening of Frankfurter Buchmesse as a brand with international appeal. Ebert will be a member of the management team.

As a marketing expert, who also holds a doctorate, Christian Ebert joins Frankfurter Buchmesse after working for Deutsche Bahn AG and Cornelsen Verlag GmbH. At Cornelsen, he is currently responsible for managing the Cornelsen and Duden brands. His responsibilities include the company-wide brand strategy, corporate and product design, corporate presence at trade fairs and events as well as the Cornelsen information centres.

Juergen Boos, Director of Frankfurter Buchmesse, is excited about the reinforcement of his management team. "In Christian Ebert, we have gained a proven expert in brand management and corporate marketing whose strengths lie in both operational and strategic work. Together with our highly committed teams in marketing and sales, he will be able to make a lot of things happen. Christian Ebert comes on board at a time when we all feel how essential Frankfurter Buchmesse is for the global publishing industry. It is a time with great scope for creativity. I am very much looking forward to working with him."

Christian Ebert says about his change: "Frankfurter Buchmesse is a brand that has a strong appeal worldwide. It is important to use this appeal to develop new target groups. I'm looking forward to tackling this challenge together with the marketing and sales team and to accompanying the fair on its way to a successful future."

Ebert studied marketing and international management at the University of Münster and earned his doctorate under the Professor of Marketing Management, Heribert Meffert. The 47-year-old lives in Berlin, is married and has two children.
Contact for the media:
Press and Corporate Communication, Frankfurter Buchmesse, press@buchmesse.de
Dr Torsten Casimir, Vice President | Communications & Content, Phone: +49 172 2863897, casmir@buchmesse.de
About Frankfurter Buchmesse
Frankfurter Buchmesse is the international publishing industry's biggest trade fair and the most important international marketplace for content – from novels and children's books to academic databases and stories for films, games and virtual reality experiences. Publishing professionals from around the world meet here with partners from the technology sector and from related creative and cultural industries, sparking new partnerships and business models. Since 1976, the book fair has featured an annual Guest of Honour country, which showcases its book market, literature and culture to attendees in a variety of ways. Frankfurter Buchmesse organises the participation of German publishers at international book fairs and hosts trade events throughout the year in major international markets. Frankfurter Buchmesse is a subsidiary of the Börsenverein des Deutschen Buchhandels (German Publishers & Booksellers Association). https://www.buchmesse.de/en