Strengthening willpower: Children's show on "Wil, der Wolkenstürmer" by Wladimir Klitschko & Tatjana Kiel
Take part and win handicrafts, books and much more, live quiz & reading – with star guest Tatjana Kiel

Big raffle, tips worth knowing, live quiz and exclusive reading on "Wil, der Wolkenstürmer, und der Traum vom Fliegen": On Saturday, October 22, migo Verlag invites children and families to an interactive hands-on show. From 1 to 2 p.m. in the interactive hands-on show in the Congress Center (Room Spektrum), children will learn how they can strengthen their willpower and realize their dreams based on the experiences of Dr. Wladimir Klitschko. The boxing world champion will greet all participants from Kiev, and moderator and migo publishing director Carmen Udina will also bring star guest and co-author Tatjana Kiel live on stage. As part of the show, there will be prizes for handicrafts, migo books and much more.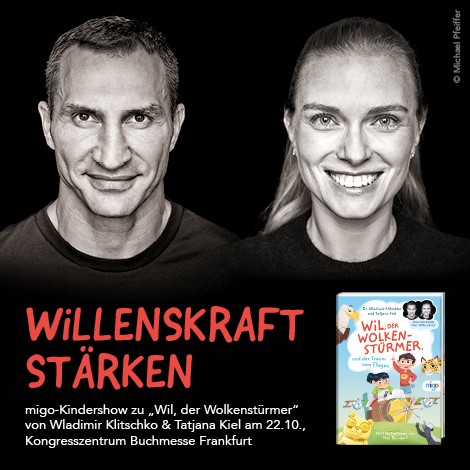 Speaker