75 Times: Author Salman Rushdie on Frankfurter Buchmesse as a place of democratic exchange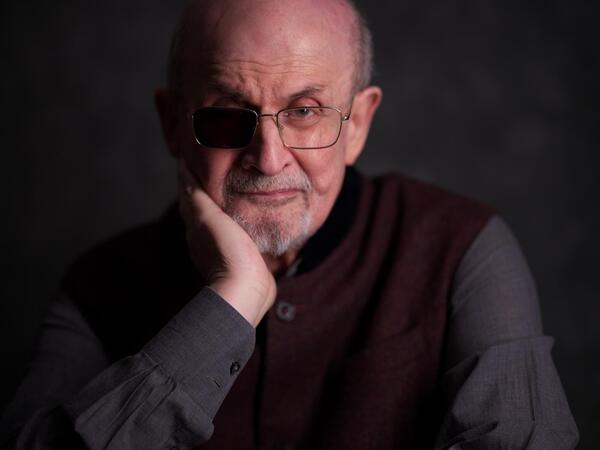 Frankfurter Buchmesse is celebrating its 75th edition this year.
Together with twelve other publishers, C. Bertelsmann is participating for the 75th time without missing a Frankfurt Book Fair as an exhibitor.
For this reason, we talked to Salman Rushdie in an interview about his personal relationship with the Fair, Frankfurter Buchmesse as a place of democratic exchange and the personal significance of the Peace Prize of the German Book Trade for him. The author has been part of the publishing programme of C. Bertelsman for many years and will receive the Peace Prize of the German Book Trade this year.
This year, Frankfurter Buchmesse looks back on 75 eventful editions. What history connects you personally with Frankfurter Buchmesse?
I have visited the fair on two occasions, and on both occasions they meant a great deal. In 2015 I was invited to give a keynote speech at the fair's Opening Press Conference. That was a great honor for me.
How important is the relationship with your German publisher to you?
I am very close to my German publishers. I feel that they have put great efforts into publishing my books, and I, in turn, am happy to do whatever I can to support them.
Your books show how powerful literature is and how it influences history. Do you think the importance of literature is changing in an ever-changing society?
In spite of the development of many other forms, we are still, in many ways, a print-led culture. It is still through books that new visions and new ideas enter the world, and are afterwards adapted elsewhere.
What responsibility does literature have in your view?
I resist the idea that writers have responsibilities. The American Nobel laureate Saul Bellow once said, "We don't have responsibilities, we have inspirations," and on the whole I agree with him. 
Your books have had a major impact on your personal life. Does writing give you a freedom that has been taken away from you in another place?
Writing arises out of freedom, of course, but please don't think that I have lost any other freedoms!
To what extent is Frankfurter Buchmesse a place of democratic exchange? And how can it influence political or social trends?
Frankfurter Buchmesse is one of the most important cultural forums in the Western world. When I have visited it has made me feel extremely optimistic about the future of books - because at the fair we see an enormous and thriving industry. Its influence lies precisely in the free exchange of ideas, through books, between many cultures. Such exchanges are vital to social transformation, and to democracy.
We are pleased that you are being awarded the Peace Prize of the German Book Trade this year. What does this award mean to you?
I am pleased and honored by this award, which is one of the most important in the world of books and art. To see my name set beside those of (to name only a few) Amartya Sen, Anselm Kiefer, Susan Sontag, Chinua Achebe, Tsitsi Dangarembga, Svetlana Alexievich, David Grossman, and Mario Vargas Llosa is a true privilege. 
Frankfurter Buchmesse Special: Literary Gala
Meet Salman Rushdie live at the 75th edition of the fair as part of the "Frankfurter Buchmesse Special: Literary Gala" (21 October, 7 p.m.). Also expected are guests Thomas Hettche, Amir Gudarzi, Christopher Clark, Cornelia Funke and Lizzie Doron. Thea Dorn and Denis Scheck will host the gala.