75 Times true classics: "The volumes of our Universal library can be seen as part of our stand at the Fair - a very special symbiosis."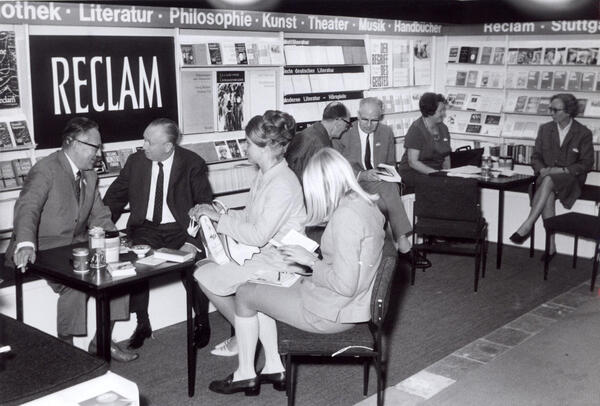 Reclam stand at Frankfurter Buchmesse 1968
© Reclam Verlag
Reclam Verlag is a true classic at Frankfurter Buchmesse. Since the first edition of the fair, which took place in 1949 in Frankfurt's Paulskirche, the publishing house has presented itself at the book fair in Frankfurt.
The Reclam Verlag team celebrates this occasion with unique impressions and personal stories about Frankfurter Buchmesse.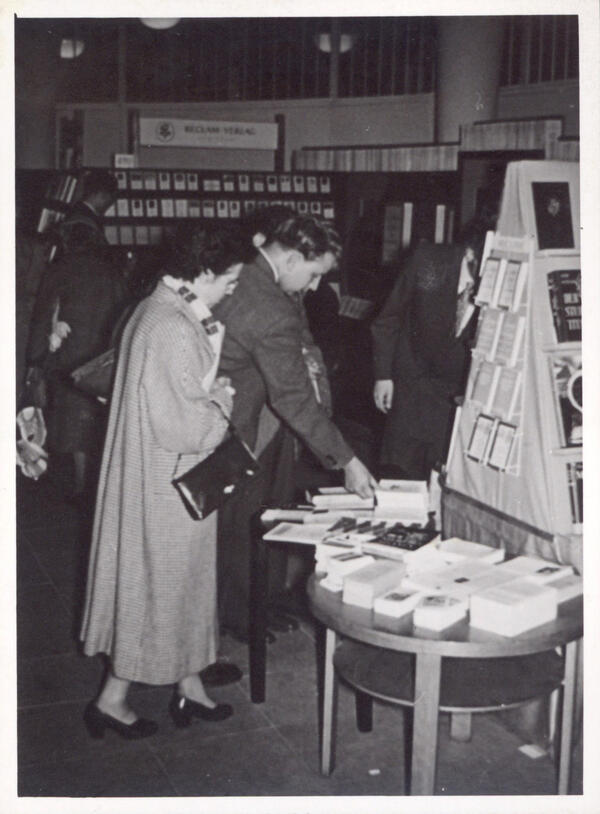 Visitors at the Reclam stand at Frankfurter Buchmesse 1957
© Reclam Verlag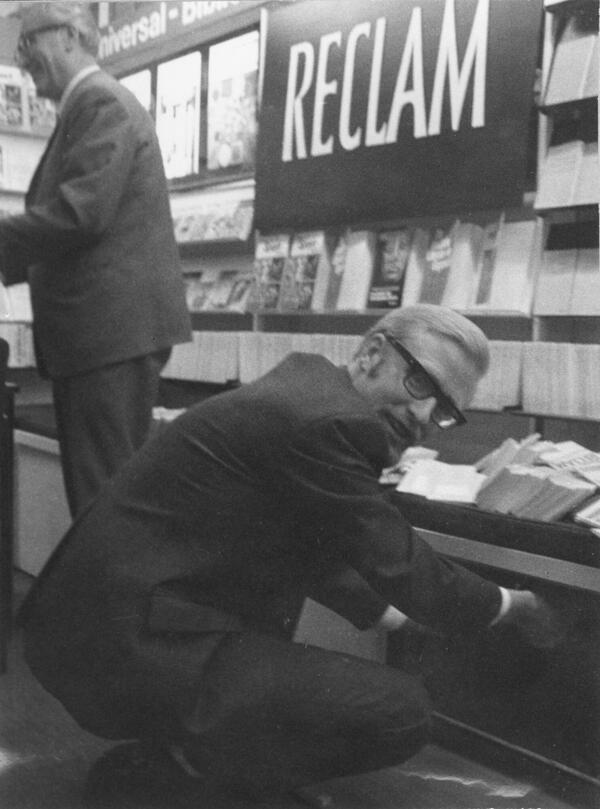 Mr Wilhelmi at the Reclam stand at the Frankfurter Buchmesse 1971
© Reclam Verlag
What memories do you have of your very first Frankfurter Buchmesse?
I was five years old and Helme Heine was drawing in front of an audience of children who were allowed to ask for his drawings: I was able to take his "banana cow" home with me! That may have been my first step towards a career in publishing? Certainly the beginning of a great love of books. (Dr Petra Mayer, Programme Manager Universal Library / School and University)
Is there a fair that has particularly stayed in your memory?
Once the publisher (and horse breeder) Dr. W. Georg Olms was honoured for his services to Arabic and Islamic studies texts: he was given an Arabian stallion that was led out of a horse trailer in the courtyard. I expected this beautiful animal to become restless and shy in the flurry of camera flashes, but it was looking around curiously and highly intelligently. (Dr Hannes Fricke-Sonnenschein, Editing)
Your favourite photo subject at Frankfurter Buchmesse?
The Messeturm disappearing in the grey mist (a reliable autumn motif) and our bright yellow book wall! (Lena Wehbring-Wolf, Head of Press)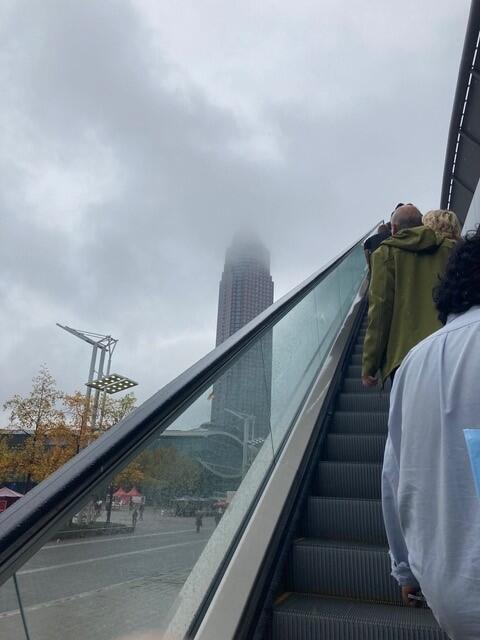 Messeturm in the fog during Frankfurter Buchmesse 2022
© Lena Wehbring-Wolf
What is your personal fair experience like? Are there any rituals?
The best ritual is clapping along with the collective applause at the end of the set-up day every year. (Melanie Michelbrink, General Manager Sales / Marketing)
The Frankurter Buchmesse celebrates its 75th edition this year. Reclam Verlag has been an exhibitor at Frankfurter Buchmesse since its first edition in October 1949. What does the Frankfurter Buchmesse mean for the publishing house?
In the autumn, the Frankfurter Buchmesse is the best opportunity for expert exchange, the days are full of appointments and to-dos ... and yet it feels like a big family reunion. #KeineMesseOhneReclam! (#NoFairWithoutReclam!). (Lena Wehbring-Wolf, Head of Press)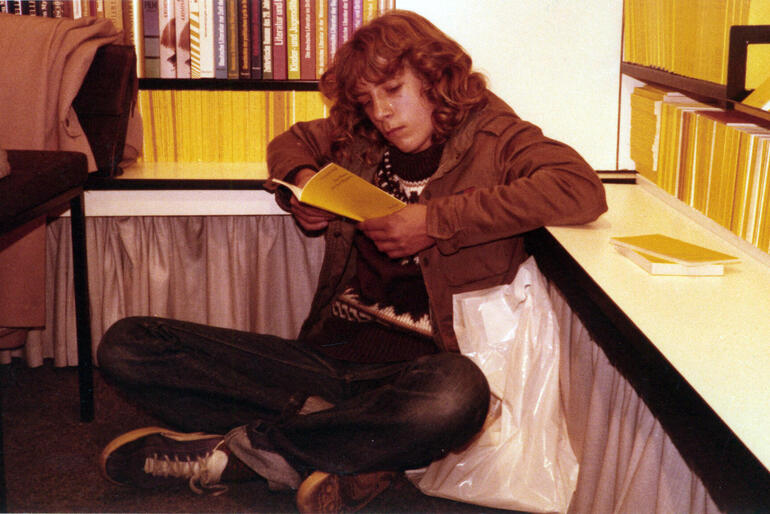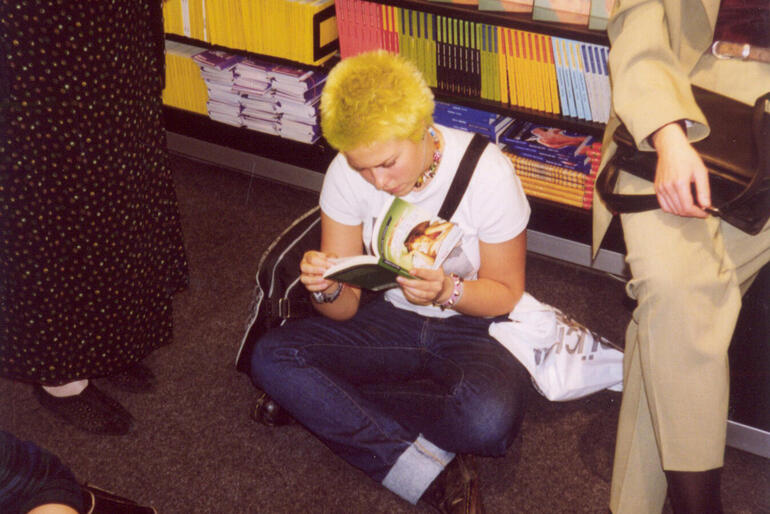 From left to right: visitors to the Reclam stand at Frankfurter Buchmesse 1980 and 1998, © Reclam Verlag
With what goals does Reclam come to Frankfurter Buchmesse every year? Have these goals changed over time?
The main goals have remained the same over the years: the optimal presentation of our titles, cultivating existing contacts as well as making new ones, discovering new trends and contents, but above all: experiencing the lively exchange with professional colleagues, service providers and visitors. (Alexander Koeppl, Management)
Is there a part of the stand that has been coming to the fair for a very long time?
The volumes of our Universal library can be considered part of our stand - a very special symbiosis. (Dr. Petra Mayer, Programme Manager Universal Library / School and Studies)
Which stars have posed in front of the Reclam wall?
Many important and impressive intellectuals, artists and politicians! Those who have posed are, among others: - Theodor Heuss - Hannelore and Helmut Kohl - Joschka Fischer - Jan Philipp Reemtsma - Heinz Rudolf Kunze - Reinhold Messner. (Alexander Koeppl, Management)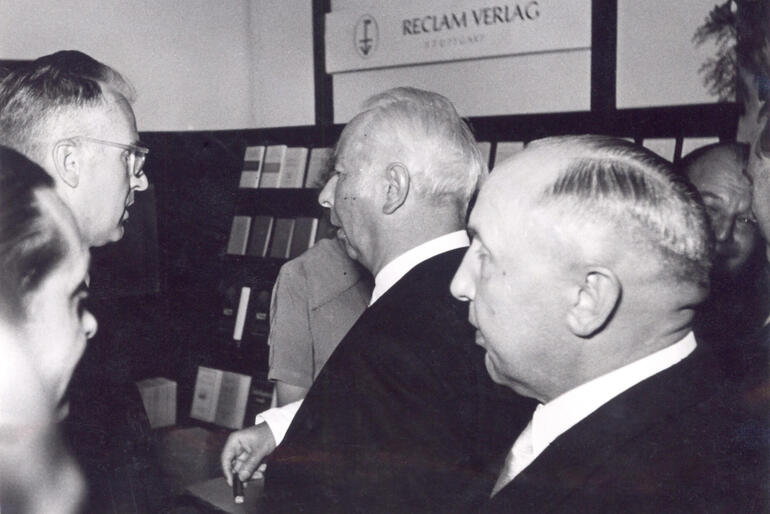 From left to right: Joschka Fischer with Dr. Fallbacher at Frankfurter Buchmesse 2004 / High-ranking visitors at the Reclam stand at Frankfurter Buchmesse 1951: Heinrich Reclam with Theodor Heuss and Gotthold Müller, © Reclam Verlag
In the past, what went wrong in the preparation or during Frankfurter Buchmesse and, at best, no one noticed?
We (like most) did not foresee the Nobel Prize Award for Elfriede Jelinek in 2004, and within minutes almost all the copies of our only print edition of one of her works had been stolen. Our resourceful sales manager then chained up the last volume in the truest sense of the word so that we had at least one copy to show for it. (Dr Hannes Fricke-Sonnenschein, Editing)
Which item should not be missed at any Frankfurter Buchmesse?
Our sales colleague's home-brewed ginger shot, which successfully wards off all colds! (Dr. Christina Müller, Editing)
Three things you don't need during the Frankfurter Buchmesse?!
The classic fair cold on the very first day, shoes that are too new and a broken coffee machine at the stand. (Andrea Friedel, Press Department)
What should the Frankfurter Buchmesse look like in the future? What should it offer the industry?
The Frankfurter Buchmesse has the chance to make the medium of the book interesting for a broad and also a young audience. It can and should continue to open up to the public and develop corresponding new attractive offers so that its appeal for the book extends far beyond the actual days of the fair! (Melanie Michelbrink, General Manager Sales / Marketing)
What would you write on a congratulations card for the Frankfurter Buchmesse?
You have always moved with the times and the 75 years really don't show on you! Thank you for the great forum you offer the book industry, and here's to the next 75 years together! All the best, your Reclam Verlag
Five things that you should not forget to pack in your luggage for the Frankfurter Buchmesse.
- Appointment calendar
- business cards
- cough drops
- wool scarf
- chocolate (Magdalena Heuer, Sales / Fair Organisation)
The most beautiful fair encounter I had was with...
Curious pupils. (Wilfried Vollmer, Editing)
Which Reclam book could have been at the Buchmesse for 75 years? Which classic from your publishing house won't go out of fashion?
Our school classics "Goethe, Schiller & Co." are always there and always relevant. Büchner's "Woyzeck" is making a special appearance this year as a transnational high school diploma theme. And: We now even have the edition "Woyzeck. In Youth Language!" - written by a Hamburg schoolgirl. (Dr. Petra Mayer, Programme Manager Universal Library / School and Studies)
Has the Reclam look changed in the last 75 years?
The overall appearance: bigger, brighter, more colourful! (Magdalena Heuer, Sales / Trade Fair Organisation)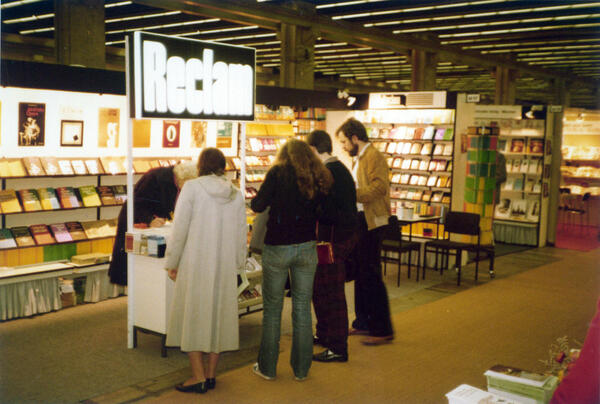 Reclam stand at Frankfurter Buchmesse 1981
© Reclam Verlag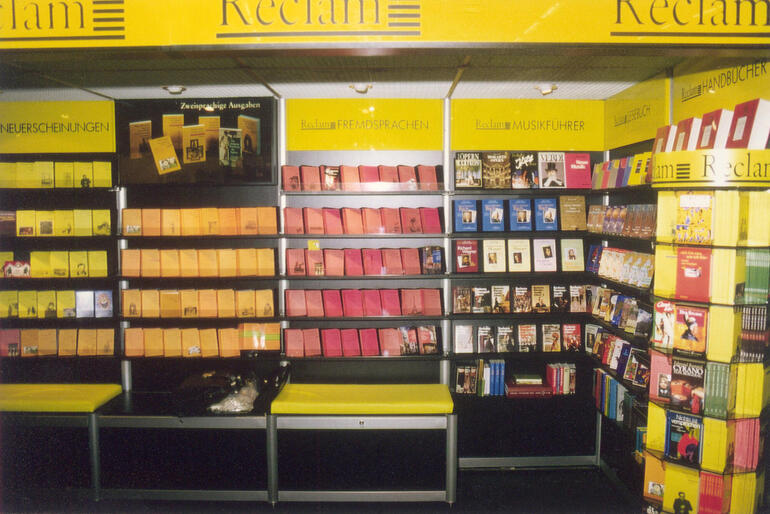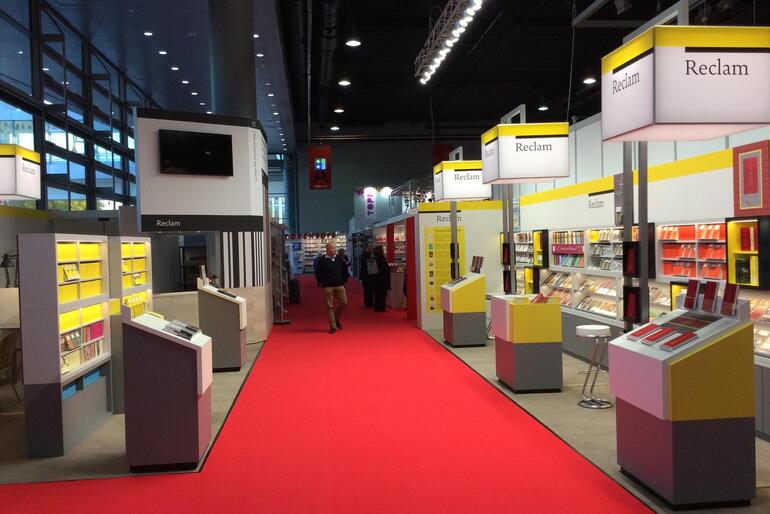 From left to right: Reclam stand at Frankfurter Buchmesse 1993 and 2018, © Reclam Verlag
Probably everyone has held a Reclam book in their hands at some point. What fact should we definitely know about the history of the publishing house?
Reclam Verlag has been around for almost 200 years: In 2028 we will celebrate our big anniversary! (Lena Wehbring-Wolf, Press Manager)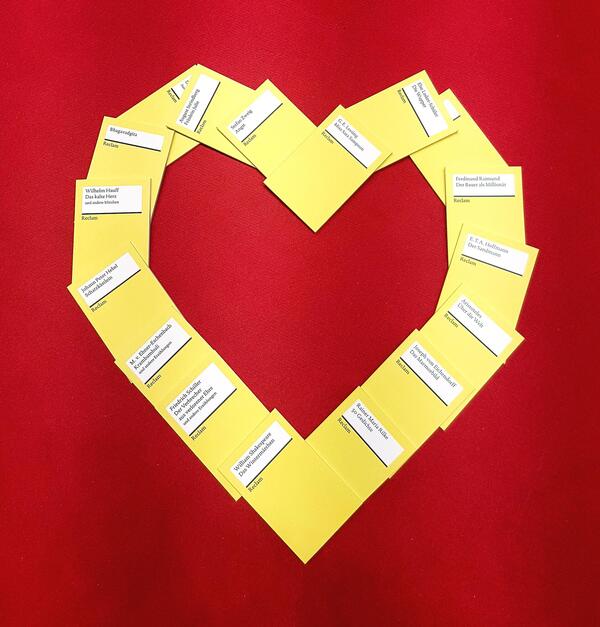 A Heart for the Universal Library from the Reclam Verlag portfolio
© Reclam Verlag
How does the fair feel for those who remain with the publishing house? Is the mood rather wistful or are they happy that they can finally work in peace?
Abandoned, left alone. Keyword: FOMO! (Andrea Friedel, Press Department)