Messe Frankfurt security service
Security is a big, important issue at Frankfurter Buchmesse. Who looks or thinks about the chairs in view of the many things that have to be observed? No one! Messe Frankfurt's security service has come up with a unique story or the anniversary, exclusively for #fbm23. Main protagonist: one of these otherwise unnoticed, invisible chairs. Spoiler: "I am not a place to rest comfortably."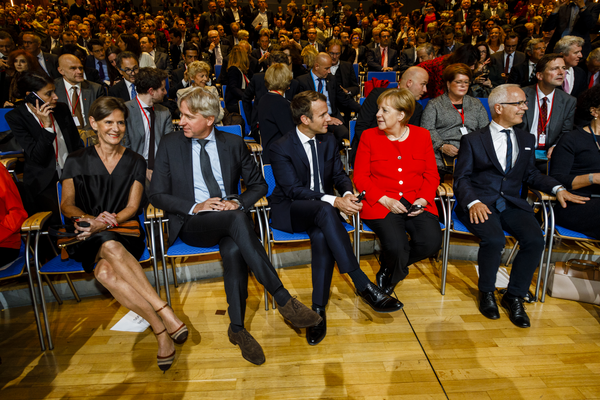 © Frankfurter Buchmesse - Marc Jacquemin
Opening ceremony 2017 with (from left to right) Juergen Boos, Director of the Frankfurt Book Fair, France's President Emmanuel Macron, German Chancellor Angela Merkel and Heinrich Riethmüller as President of the German Publishers and Booksellers Association (Börsenverein)
Hello,
Nice of you to drop by!
Actually, I don't like to be in the spotlight, but on the occasion of the75th. Frankfurter Buchmesse, I'm happy to make an exception. Let me introduce myself briefly: I am the chair, not just any chair, I am a special chair – a "safety chair". I am standing in the Congress Center of Messe Frankfurt, in the Harmonie hall. Bodyguards are taking their seats on me. So where I sit, security is very important.
Always in the second row, I carefully make sure that famous people sitting in front of me are well protected. I am not a place where you can rest comfortably. On me, you have to be able to get up immediately.
In order for us to have a great event here at the book fair and for everyone to feel safe, a lot of cooperation and thought is needed. That's what the security officers do in long meetings.
In the meeting room of the Operation and Security Center, everything comes together before the start of the fair. There is a lot of discussion and debate, and often a well-prepared security plan changes at the last minute. But don't worry. Only professionals work here, so no one notices anything about the security measures.
And then comes my part as "security chair". I'm always there at the opening ceremony, when events get really important, when the guests come from all over the world to ceremoniously open Frankfurter Buchmesse. I'm always very curious to see who will be sitting on me. A note on my backrest indicates it: Security of the Guest of Honour country.
Then the big moment comes and everyone stands up to welcome the Guests of Honour.
I remember only too well Emmanuelle Macron in a dark blue suit. He looked very smart, or Crown Prince Haakon of Norway and King Felipe of Spain in a discreet black suit. And the ladies: Queen Máxima from the Netherlands, Queen Letizia from Spain, the Norwegian Crown Princess Mette-Marit.
Enough stories!
This year, Nataša Pirc Musar, the President of Slovenia, is coming. It's sure to be good.