Sustainability at Frankfurter Buchmesse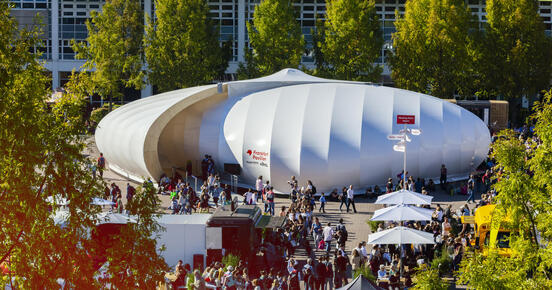 How we implement sustainability at Frankfurter Buchmesse
Frankfurter Buchmesse is the most important international marketplace for content of all kinds, a place where people from over 100 countries come together, and a major cultural event. As an event of such a large scale, we are aware of our special responsibility and aim to contribute to the achievement of the 17 Sustainable Development Goals (SDGs) of the United Nations' Agenda 2030. We view sustainability as an ongoing process that encompasses ecological, social, and economic aspects. In this context, we consider the activities of the company Frankfurter Buchmesse GmbH, the measures within the context of the October event, as well as year-round international activities. At Frankfurter Buchmesse, we have been working on the topics of energy efficiency, waste disposal and recycling since 2008. A cross-departmental sustainability focus group has been active since the beginning of 2023. The group's activities will initially be concentrated on ecological factors.
Measures taken by Frankfurter Buchmesse regarding the organisation of the fair
We want to plan and organise sustainable, environmentally friendly, climate-neutral events. To achieve this, we support our employees, service providers, exhibitors and visitors in making their work and their stay at the trade fair more sustainable step by step, in initiating effective measures and in adapting the framework conditions accordingly.
Our objectives and targeted measures are as follows:
We aim for a tangible and measurable improvement in ecological sustainability and are developing corresponding services and offerings around the fair.
We share our experiences and best practices for sustainable event planning with the public and work on solutions for sustainable trade fair appearances.
Sustainability is an integral part of the product development and evaluation process of Frankfurter Buchmesse and is an integral part of its further development.
We promote and value sustainable work by our employees and the service companies involved.
We provide our employees with guidance for sustainable work, such as a workplace and business travel guide.
We strive for a carbon-neutral execution of the event Frankfurter Buchmesse and are in constant communication with all stakeholders regarding this.
As organisers of an international leading trade fair, we aim to be a role model for the industry.
In the future, we aim to provide exhibitors with the necessary data for their carbon footprint calculations as part of Frankfurter Buchmesse's event programme, enabling discussions on sustainability, especially in the publishing industry.
As a member of the Association of the German Trade Fair Industry (Ausstellungs- und Messe-Ausschuss der deutschen Wirtschaft – AUMA), we support its industry positioning on sustainability.
Measures taken by Frankfurter Buchmesse regarding the organisation of the fair
For several years now, the Frankfurter Buchmesse team has been working together with Messe Frankfurt, owner of the Frankfurt fairgrounds, and Accente, the in-house catering & hospitality services company, on measures to increase the ecological sustainability of the annual Frankfurter Buchmesse event.
Messe Frankfurt has passed the audit for the internationally recognised environmental management system in accordance with the Eco-Management and Audit Scheme (EMAS). With the EMAS validation, which also meets the requirements of environmental management norm ISO 14001, the company commits itself to continually improving its environmental performance. On the Messe Frankfurt website, you can find further information on the sustainability strategy of Messe Frankfurt. See the Green Catering section of the Accente website for more information on their sustainability initiative. Below, you will find an overview of the areas in which Frankfurter Buchmesse is active, demonstrating how we work together with partners, exhibitors, service providers and visitors to the fair.
Green electricity
By using green electricity throughout Frankfurter Buchmesse, as a company we are striving to further reduce the CO2 emissions of this major event. The electricity provided to exhibitors at Frankfurter Buchmesse has been green since 2010. Since 2020, Messe Frankfurt has exclusively used green electricity at the exhibition grounds, sourcing 100% renewable energy.
Towards a more sustainable fair infrastructure
Messe Frankfurt has had an energy monitoring system in place since 2007. As a result, the base energy load at the Frankfurt venue was reduced by 30 per cent in 2020 as compared to 2014. To further contribute to a more sustainable trade fair infrastructure, the hall lighting was converted to LED, demand-oriented temperature regulation was installed and lighting is now controlled centrally. The system stands at Frankfurter Buchmesse have been equipped with LED illumination as standard since 2017.
Frankfurter Buchmesse also benefits from measures taken by the fairground operator, Messe Frankfurt, which has three photovoltaic systems on the exhibition grounds that generate approx. 2.4 GWh of electricity – equivalent to the electricity needs of approx. 450 households for one year. From 2024, Messe Frankfurt will obtain 30 per cent of its electricity requirements from a solar park in the Uckermark region of Germany. A further 30 per cent of the energy requirement shall be provided by wind energy.
Digitalisation
Frankfurter Buchmesse is trying to further reduce CO2 emissions through digitalisation measures. For instance, we are working to reduce waste generated at the fair by limiting the number of printed materials (flyers, hall plans, etc.). Alternatively, we offer free digital services, such as the Frankfurter Buchmesse app or the buchmesse.de website, a central and daily updated information hub.
We also consider digital alternatives in cooperation with exhibitors, service providers and partners of Frankfurter Buchmesse. The survey and registration forms for exhibitors, for example, are only provided digitally.
Waste management and resource protection
We strive to use materials in a way that conserves resources. We also carefully separate waste both during the fair and after, including during stand construction, dismantling and disposal. In this context, we also ask our exhibitors to support us, see waste disposal. Messe Frankfurt's goal is to establish a functional recycling economy. With the help of its partner Meinhardt Städtereinigung, the recycling rate is already over 90%.
In order to reduce energy and waste generated at the large-scale Frankfurter Buchmesse event, energy/electricity and waste-saving measures were developed in 2017 and 2018 in cooperation with TÜV-Süd and Messe Frankfurt. The measures have been implemented and continuously developed ever since. In order to reduce water consumption, rainwater is used as flushing water for the WC facilities on the exhibition grounds and the green areas are also irrigated with rainwater.
Our system stands, which are used by the majority of exhibitors, are re-used every year. Most of the stand material is stored either on the exhibition grounds or in the nearby town of Walldorf.
Since 2021, we have reduced the carpeting in the hall aisles. The installed carpet boasts Cradle-to-Cradle® Bronze certification. It is almost 100 per cent recycled and subsequently reused as plastic granulate.
Frankfurt Pavilion, our event stage at the Agora, is completely rebuilt every year using existing materials that are stored in Frankfurt outside the fair. Frankfurt Pavilion also received the IF Design Award for its consideration of these sustainability aspects, among other things.
We are consistently striving to enhance the sustainability of our exhibition spaces, stages and system stand offerings. Furthermore, we are committed to increasingly using reusable materials throughout our operations.
In order to reduce our own waste at Frankfurter Buchmesse, this year we are cooperating for the first time in pilot projects with two organisations: Trash Galore and GWR Frankfurt. Material that cannot be used again at the fair, such as carpet in the Literary Agents & Scouts Centre or banners from the guidance system, will be recycled and benefit non-profit organisations.
We would like to offer our visitors climate-friendly options for travelling to Frankfurter Buchmesse. The exhibition grounds are centrally located in the Frankfurt city area and are very well connected to public transport. For the journey to Frankfurt itself, we offer an event train ticket in cooperation with Deutsche Bahn. This train ticket is available at a nationwide fixed price on the Deutsche Bahn website. At buchmesse.de/visit, we provide further information about public transport options.
New in 2023: In order to enable the trade fair visitors and exhibitors to travel in an environmentally friendly way, exhibitor passes and trade visitor tickets now include the use of local public transport (RMV) to and from the trade fair.
When conceiving our programme, the Frankfurter Buchmesse events team includes topics and experts which address sustainability in the book industry and beyond. In Frankfurter Buchmesse's digital Calendar of Events, interested parties can search specifically for the subject area of sustainability and have the relevant events displayed and saved for their visit to the fair.
Measures around our foreign activities
We also take care of sustainability and the environment around our activities abroad. 
Sustainable project planning: The major appearances are always embedded in the pre- and post-program.
Building ecology: We contribute to the environment by using resource-saving materials and reusing stand elements. We also use locally available materials as well as recycled materials for components that cannot be reused, such as graphic films and flooring.
Transportation: We work with local construction companies and use resource-efficient transportation.
Green travel: Whenever possible, we use rail instead of air and offset our carbon footprint. We also evaluate the need for travel and enhance appearances with digital events. 
Sustainability theme: The theme of sustainability in the book and media industry is transported in our program.
Merchandising: In merchandising, we pay attention to ecologically produced, usefulproducts.
Do you have questions about sustainability at Frankfurter Buchmesse?
If you have any further questions, please ask.
Give us a call or drop us a line. We will be happy to help you.
Send Message
Sustainability focus group of Frankfurter Buchmesse: Meet our team
Charlotte Boschen, Key Account Manager, Sales
Mechthild Bartel, Manager Fair Operations, Exhibition Management
Andrea Fiala, Head of Sales, Sales
Dorothea Grimberg, Key Account Manager, Sales
Nicole Grüner, Key Account Manager, Sales
Lara Hertz, Manager Programme & Events, Events
Svenja Pütz, Social Media Manager, Communications
Gabi Rauch-Kneer, Vice President, Exhibition Management
Barbara Roelle, Key Account Manager, Sales
Pernille Starck, Manager International Projects, International Projects
Tanja Väth, Manager Fair Operations, Exhibition Management
Luisa Wagner, Marketing Manager, Marketing
Claire Vital, Manager Sales Operations, Messemanagement