Our #fbm23 event stages
Experience exciting talks and live events on the fair's stages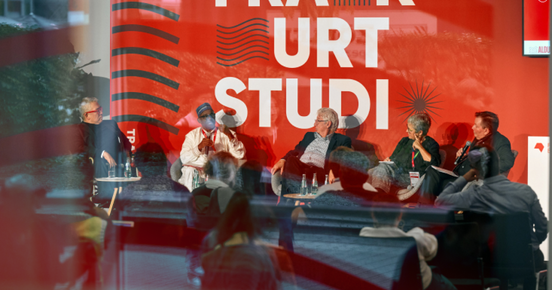 The book fair's anniversary will feature a wide variety of specialist events with renowned speakers on the fair stages.
Exchange views on cultural and socio-political topics in the Frankfurt Pavilion. Gain valuable expertise to advance your business at Frankfurt Studio. The Translation Centre once again offers a comprehensive stage programme for translators this year. Also returning: the Publishing Perspectives Forum from 18 to 20 October 2023. The first two days will cover the latest trends and market data from global book markets, followed by mini-conferences on Audiobooks (18 October) and Children's and Young Adult Books (19 October). On the final day (20 October), the Forum will offer an in-depth academic publishing programme.
This year, we introduce three new event venues: the Frankfurt International Stage, the Aldus Up Stage and the Education Forum. Experience an exciting range of specialist events with valuable networking opportunities from Wednesday to Friday.
The fair stages: a reflection of a diverse industry
Discover our special topics and the digital formats
Celebrate the 75th Frankfurter Buchmesse with us